Any assumptions that the Virgin Islands will follow Puerto Rico into federal oversight if the territory's financial situation worsens may be mistaken, Delegate Stacey Plaskett told residents at a town hall meeting on St. John on Wednesday evening.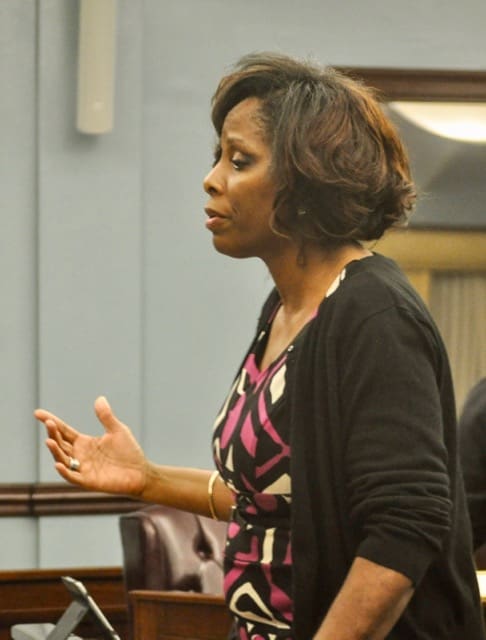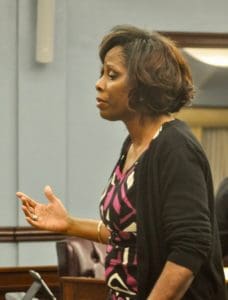 Plaskett said she believes the current U.S. Congress may not have the desire to intervene should the V.I. government fail to turn around its debt crisis. She told residents she had relayed the same prediction to members of the chambers of commerce in both V.I. districts during "frank discussions" earlier in the week.
"I don't necessarily believe that if we collapse the federal government will come in," Plaskett said. "And the reason I'm saying that is that right now we have a Congress that is constituted by a majority that does not believe that it is the role of the federal government to step into local jurisdictions, or states or other municipalities."
Plaskett said that the appointment of a federal oversight board for Puerto Rico in 2016 was more the result of pressure from Wall Street creditors than out of concern for residents of the U.S.'s most populous territory. In the case of the Virgin Islands, she said, bonds are secured by federal rum excise taxes. Although the V.I.'s per capita debt is substantially larger than Puerto Rico's, its total amount of debt is a fraction of its larger neighbor's.
In other cases in which small U.S. territories have faced economic challenges, Plaskett reminded residents, the federal government has not intervened.
"The Northern Mariana Islands actually had their retirement system collapse four or five years ago. It actually collapsed. And what happened in Congress? Crickets," she said.
Government retirees from the Northern Mariana Islands were faced with the reality that they would only be paid approximately half of their pension checks, she said, until the local government found new revenue, which ended up coming from casinos.
"So to say the federal government is going to come in, that isn't necessarily going to happen," Plaskett said.
Earlier this month Plaskett announced that her office had made a discovery that might help the V.I. government bring in some much needed revenue.
Approximately $100 million, she said, was potentially owed to the Virgin Islands by the U.S. Treasury due to a long-term miscalculation of shares of rum excise tax split between the V.I. and Puerto Rico. (See Related links: Plaskett Says V.I. May Be Due More Rum Revenues)
When questioned about that discovery on Wednesday, Plaskett said it would largely be up to Gov. Kenneth Mapp to pursue the issue, and that Puerto Rico would likely fight hard against any attempt to shrink its share of federal rum revenues in favor of the Virgin Islands' share.
"The person who has the most standing and authority to challenge this is the governor of the Virgin Islands, not the delegate from the Virgin Islands. So if the governor does not agree with me, or is not in sync, or does not fight it, then it's not going to happen because Puerto Rico is not easily going to give up that money."
Plaskett said she has already written a letter to the treasury about the "inappropriate miscalculation," as well as a letter to Mapp.
"The best case is we get the money retroactively and that they continue to make the changes going forward. The worst case is that nothing happens. In between those options is that at least they begin to make the changes in the calculation."
Plaskett was also challenged on Wednesday to pursue an amendment to the Revised Organic Act that would lower the number of V.I. senators from 15 to half that number or less.
She replied that it would be easier for the USVI to adopt the Organic Act as a constitution and then amend it locally rather than for her to pursue amendments through the U.S. Congress. But she added that a reduction in V.I. senators was something she supported.
"I've been very open to saying that I believe our number of senators needs to be reduced. I don't have any problem telling our local senators that I think it's madness how many we have."
Meanwhile, Plaskett painted a picture of uncertainty in Washington, D.C., following a change in presidential administrations.
"No one is really clear on what's going to happen," she said.
Plaskett said that in her second term she will remain on the House Committee on Agriculture and the Committee on Oversight and Government Reform. She also spoke of proposing a new congressional committee to deal with issues unique to U.S. territories, which she said have "structural economic impediments, as well as deep social challenges" as a result of being "America's failed experiment with colonialism."
Plaskett hosted a town hall to meet with residents on St. Croix on Tuesday. Another town hall will be hosted on St. Thomas on Thursday at Victor's New Hideout in Sub-Base at 6 p.m.