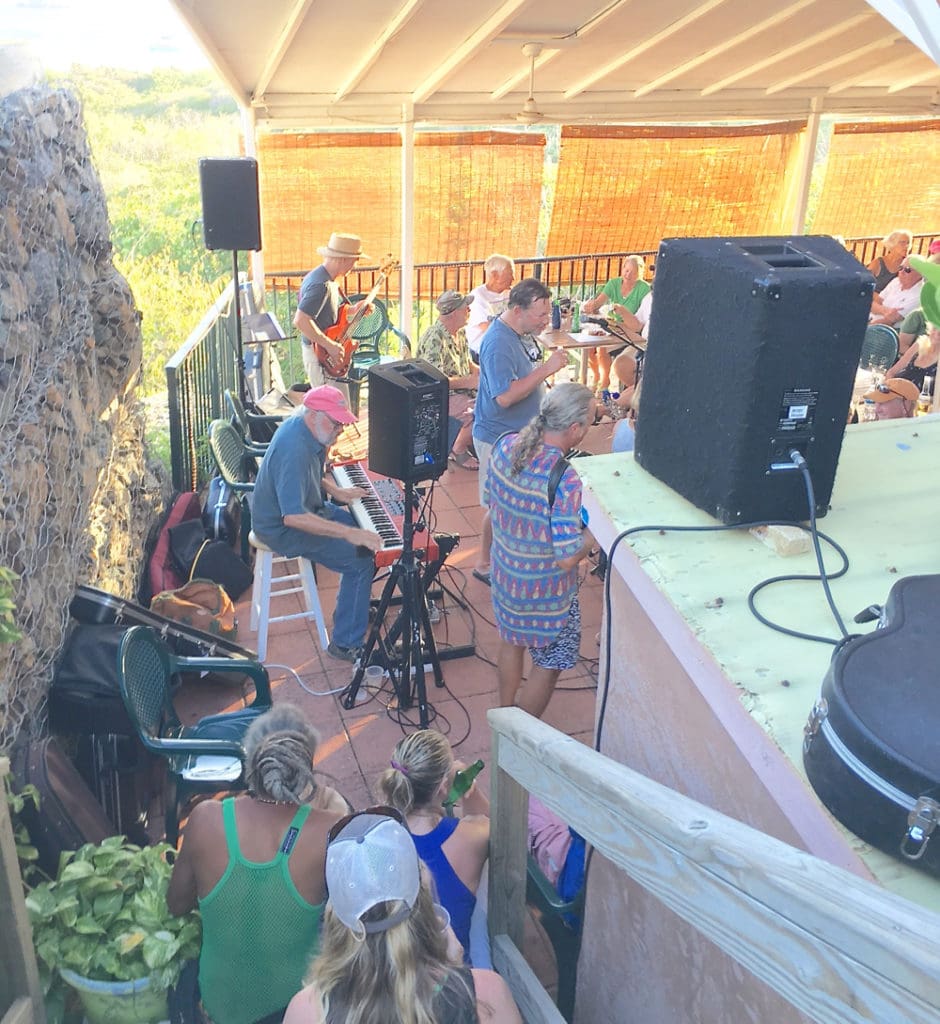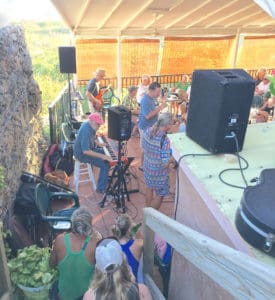 It may cost a lot to buy food, rent a house, or even ride a ferry to St. John. But once you're on the island, there's a lot of low-cost fun to be had.
By day, you can go to a world-class beach and hike a wooded or windblown trail. By evening, you can attend one of the four weekly open mic events held around the island in Cruz Bay, Coral Bay, Cinnamon Bay, and Estate Concordia.
Open mic night first became popular at the Sun Dog Café in Mongoose Junction in Cruz Bay 10 years ago. Looking to expand beyond his lunch business by serving dinner and providing music, owner Michael Barry consulted singer/guitarist Mark Wallace.
Barry, an amateur guitarist himself ("I have five 'go-to' songs.") wanted variety.
"I didn't want a band and have to listen to 'Proud Mary' every Wednesday night," he said.
When Mark Wallace suggested holding an open mic night during which anyone could step up to the mic and sing or play a tune, Barry also had reservations.
"I wanted to avoid serial mediocrity," he explained.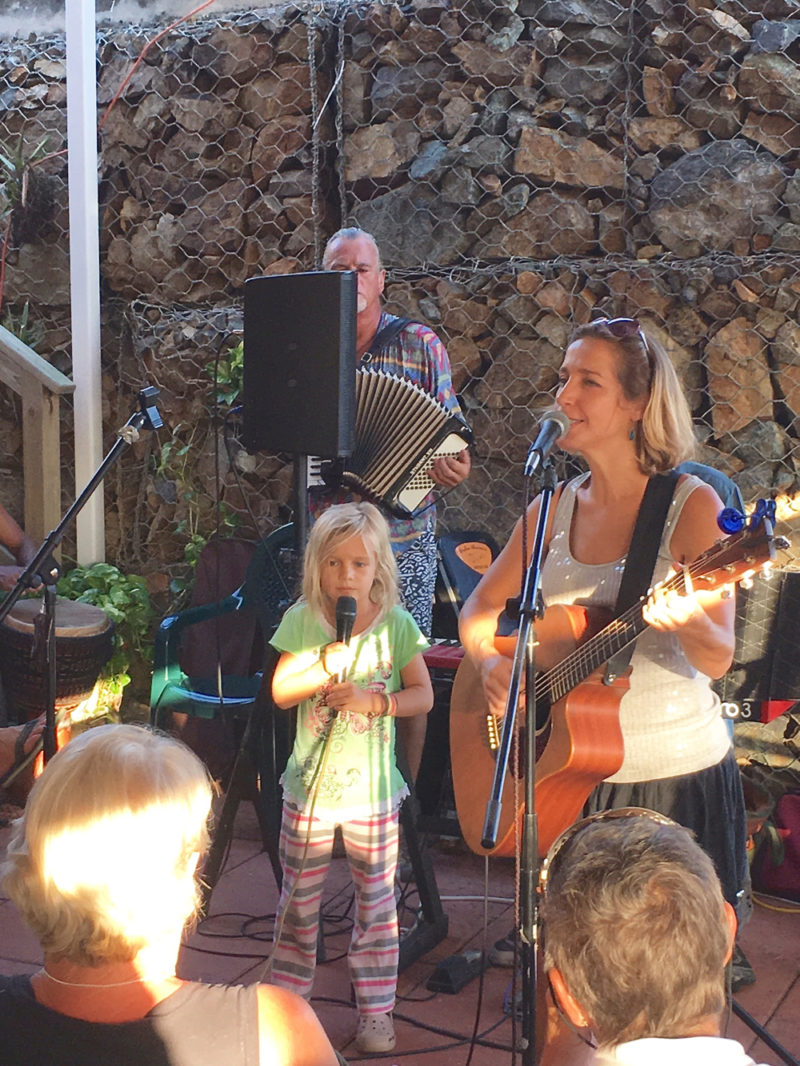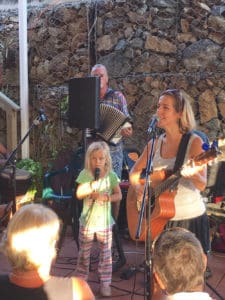 They hit upon a happy solution. Wallace would host the event and anchor the band, calling upon amateur musicians he knew who were looking to become professional to join the musical conversation.
Soon Wednesday became the night to go to town to hear music. A steady group of local musicians whose performances ranged from wobbly to thrilling mixed it up with visitors, including the bass player for Spirogyra and folk singer Jonathan Edwards.
But the weekly event proved to be "too popular," especially during high season, according to Barry. The crowds of as many as 150 people – many of whom were sitting on steps, blocking entryways, and taking up precious parking spaces – created problems for other retailers in the complex.
Three years ago upon request, Barry switched open mic night at the Sun Dog Café to Sunday nights from 6 p.m. to 9 p.m., when there is less going on at Mongoose Junction. The big crowds have fallen off, but the weekly event still has a following.
"It's the chemistry; people are very generous here," said Barry, who credits Wallace with giving participants the leeway and the support to sound their best.
The notion that Wednesday night is open mic night seems to have taken root in the local psyche. When Barry agreed to change his night at the Sun Dog Café to Sunday, a group of musicians decided that they would keep the tradition going in Coral Bay. Among them was Michael Beason, who now hosts open mic at Pickles.
The event, which officially runs from 4:30 p.m. to 6:30 p.m. but often gets going a bit later, is held outdoors.
"It's very laid back. The sunset comes through the trees. There's chickens hanging out, and kids playing with hula hoops," said Coral Bay resident Sandi Stein.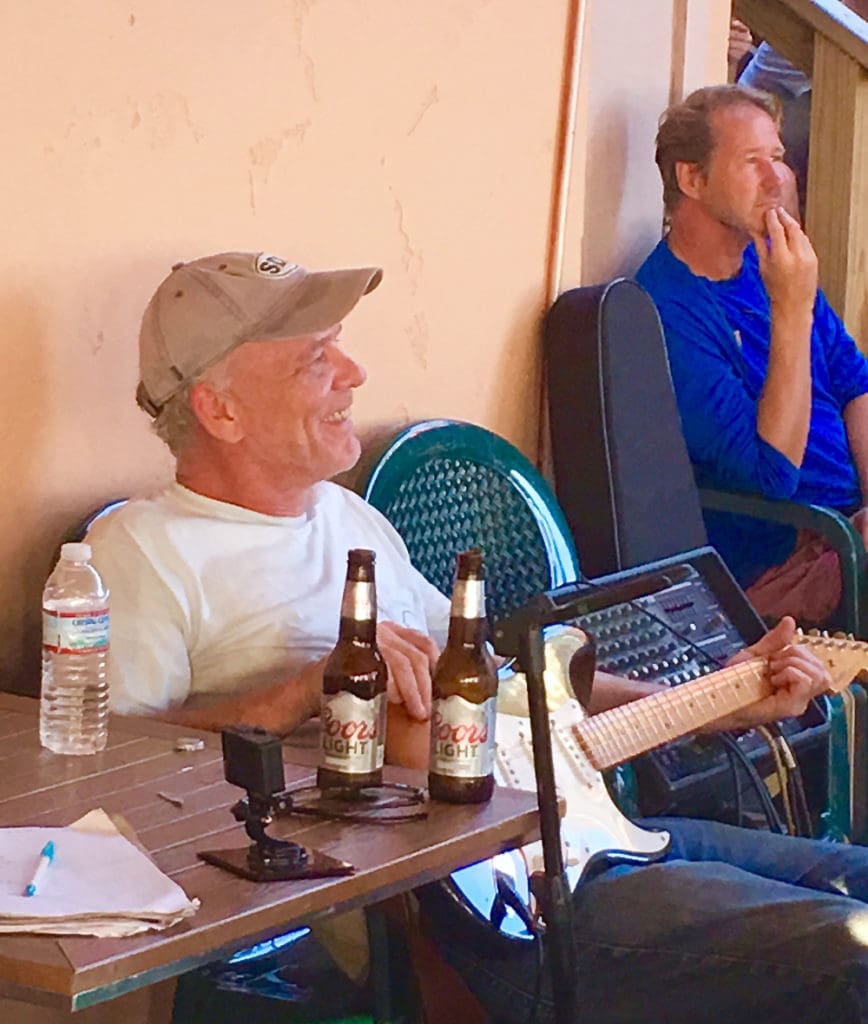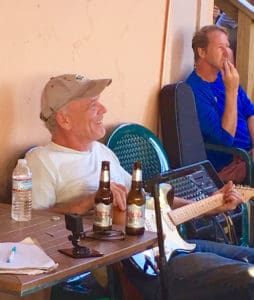 Typically 50 to 75 people show up, and "Last week was packed," said Stein. It has gained a following partly because of the food prepared on Wednesdays by Mark and Mark. That's Mark Harvath and Mark Horgan, the former proprietors of M&M Donkey Diner. Each week they choose a different cuisine – Italian, Indian, Thai, Irish -– to name a few of the recent ones.
Rudyard Kipling said, "East is East and West is West, and never the twain shall meet." In the case of St. John, his proclamation has proved somewhat correct. As the population in Coral Bay and the eastern parts of St John has continued to grow, musicians have looked for venues closer to home to perform, thereby skipping the trek west to Cruz Bay on Centerline Road with its more than 90 curves.
One quiet venue that volunteered to host an Open Mic Night has now evolved to become one of the hottest spots on the island. It's Café Concordia, the restaurant at Concordia Eco Resort. Located near the end of the bus route at the southeast end of the island, Café Concordia has the perfect setting: a covered open-air restaurant with a view of Salt Pond Bay, and a picnic area upstairs for overflow crowds.
And they do get crowds. The regular Monday open mic happy hour (which runs from 4:30 to 6:30) is wildly popular. In fact, if you want to get a table or an easy parking space, you'd best arrive by 4 p.m.
Credit for the events' success goes to co-hosts Lauren Magnie and "Johnny B" Bullock, who, like a lot of people on this end of the island, are known by their first names (and in Johnny's case, middle initial as well.)
Lauren, who sings and plays guitar, has been a co-host for five years. She calls up the performers who have signed up on a list and keeps the music rolling with unhurried ease. Her deft background vocals enhance the performance of those who arrive on stage with a touch of trepidation.
Johnny B. provides back-up on electric guitar, bringing to the music whatever is needed, whether it's a few strummed chords or a wailing bottleneck riff on a raging tribute to Chuck Berry.
Whether the music is soft or loud, the energy level is high.
"It feels like church for the week. It's a positive energy exchange," Lauren said.
"I look forward to this every week," said one Coral Bay resident, who was dancing in the aisles as the session wound up.
On most days a half-dozen local musicians show up to play in the house band, including Ken Betts on keyboards, "Ital" Anthony on drums, Steve Burkholder on bass, Rich Greengold on sax, and "Whistler Doug" Van Nostrand on drums.
"Sometime we get three harmonicas, two saxophones, and two accordions," said Lauren. Every musician is welcome to join in "As long as we have enough electrical cords and places to plug in," she said.
For Ken Betts, a musician who's primarily self-taught, participating in the band gives him a chance to play and learn.
"We get a lot of good visiting musicians. I get to play with all these good people. Open mic night gives locals who play at home on the couch a place to try out their music. And it provides opportunities for kids."
On last Monday's session, a 12–year old boy who was visiting from Florida stepped up to the mic and made his way through a John Legend tune by reading the lyrics off his phone. The crowd gave him a rousing ovation.
He was by no means the youngest participant. Lauren's seven-year–old daughter Elena has been performing at open mics for years. Accompanied by her mother or her father Bo, she had no trouble stepping up to give her renditions of "Yakkity Yak" and "Hit the Road, Jack."
Lauren and Bo Magnie have been performing on St. John as a duo, as soloists, and in various combos for more than 10 years. Most recently Bo teamed up with Miss Ingrid, the sensational vocalist with the Ish band, and is hosting a Wednesday night open mic night at the Raintree Café at Cinnamon Bay Resort on St. John's north shore.
The restaurant and resort at Cinnamon Bay are under new management for the first time in 46 years, and major upgrades are underway. The weekly open mic night, scheduled from 5 p.m. to 8 p.m, is still in its fledgling stage, according to one participant, but the potential for success is great, especially if next year it can be held on a night that doesn't conflict with a similar event.
Open mic nights work for musicians, beginning or experienced, and it works for restaurant and bar owners as well. When musicians come to play, they bring their friends. Everybody eats and drinks, and in the words of John Lennon,
Everyone had a hard year,
everyone had a good time.
Everyone put a foot in,
everyone saw the sunshine.