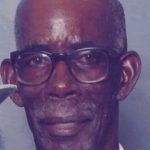 Services will be held on Saturday, April 8, for Gutliffe Cornelius Matthias, better known as "Cornelius Matthias," "Mr. Matthias" or "Corney," of St. John, Virgin Islands, who died on March 23 on St. Thomas. He was 92 years old.
He is preceded in death by his wife, Evelyn Howard Matthias; and his sons: Ira Matthias and George Matthias.
The viewing will be held at 10 a.m. followed by a funeral service at 11 a.m., Saturday, April 8, at the Calvary Baptist Church in Hard Labor, Estate Friis. Burial will be at the Calabash Boom Cemetery on St. John.
He is a native St. Johnian and a longtime resident of St. John. He retired from Caneel Bay Resort after working for the company for over 54 years.
He is survived by his sons: John, Obed, Nigel, Douglas and Dave Matthias; daughter, Ovilda Matthias Lake; son-in-law, Daniel Lake; daughters-in-law: Mary Matthias, Minerva Matthias, Merle Matthias, Lilia Matthias and Maria Matthias; grandchildren: Quinton Matthias, Lavel Lake, David Matthias, Nigel D. Matthias, Gwendolyn Ned, Rosalyn Virola, Ebony Matthias, Adrianna Brown, Keva D.M. Matthias and Malagros D. Cervantez; 16 great-grandchildren; a host of nieces, nephews, cousins and many other relatives too numerous to mention; as well as other relatives in Tortola, Seacows and Pleasant Valley.
In lieu of flowers, donations can be made to the Calvary Baptist Church Building Fund, P.O. Box 568 St. John, VI 00831
Ground transportation will be provided on St. John, leaving from the Cruz Bay Ferry Dock at 8 a.m. and 9:20 a.m.
Professional Funeral Service are entrusted to Turnbull's Funeral Home. Telephone: 779-6565; e-mail: turnbullsfuneralhomevi@yahoo.com