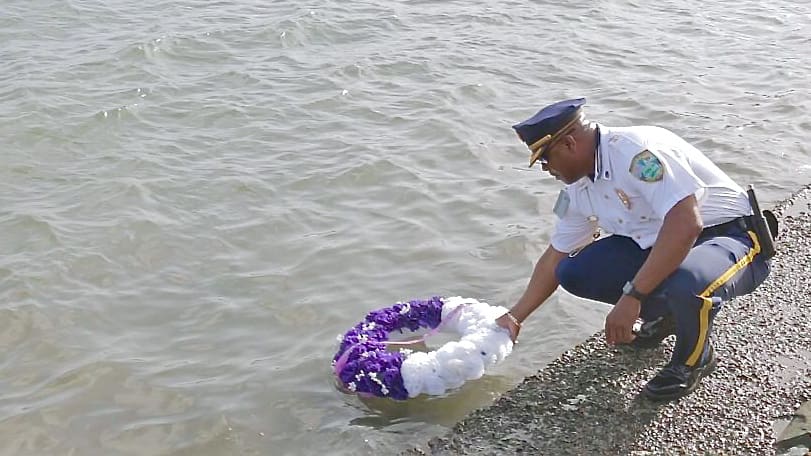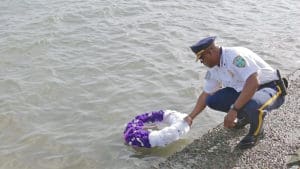 National Police Week celebrations kicked off on St. Thomas Monday with a first responder parade that officials said honored those who have fallen and showed appreciation for those working every day.
"Over the years, we lost a lot of different officers due to different ambushes or other incidents in the line of duty," St. Thomas-St. John District Police Chief Jason Marsh said. "So, this is our effort to pay tribute to all of those officers who have fallen and, for the ones that are presently working, it shows them how much we appreciate them and the work they put in every day."
Photos of fallen officers, including Colvin Georges, Ariel Frett and Liston Gumbs, were posted inside the gate of the Alexander Farrelly Criminal Justice Complex, and those in the parade gathered afterward across the street on the Waterfront apron to cast a wreath out to sea in their honor.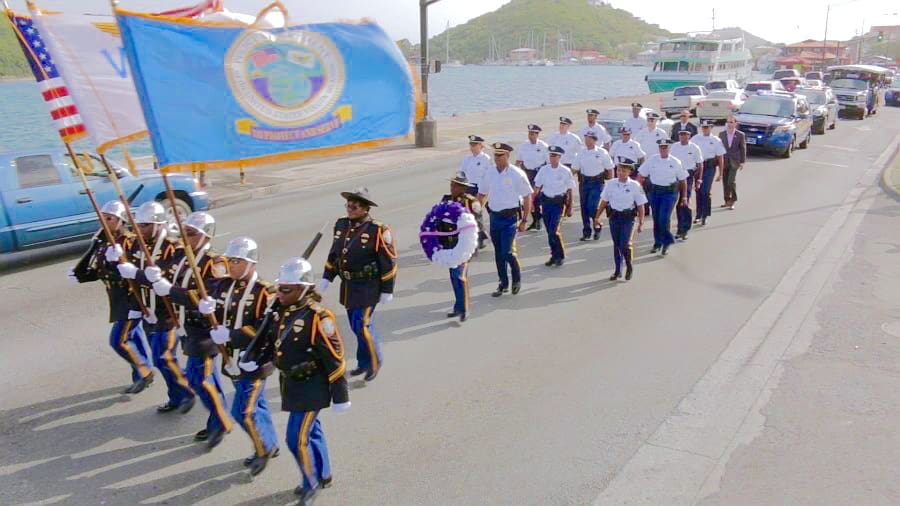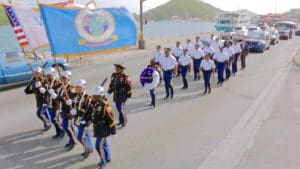 Marsh said laying the wreath together and marching allowed the department's officers to come together as a unified force and show the community "who we are."
Marsh said officers will go into the schools this week to read to students, hold open houses to give residents the chance to come in and visit the different command zones and wrap up over the weekend with a fun day at Emile Griffith Ballpark.
Community members are encouraged to come out and participate.
The schedule for the remaining events for the territory follows.
St. Thomas St. John District
Tuesday
9:30 a.m. – Mariel Newton Command Show and Tell Health Expo at Alvin McBean Ballpark
Wednesday
2 p.m. – Show and Tell Cruiz Bay, including a demonstration by the K-9 unit, Bomb Unit, Forensics, Highway Safety and Fire Service.
Thursday
8:30 a.m. – Police in the Schools. Officers will travel to selected schools in the district to read to students.
7 p.m. – Family Game Night, USO Building, V.I. Retired Police Organization (VIRPO) headquarters. A fun night of food and drinks with dominos, bingo, pool and other games.
Friday
5 p.m. – Membership drive, fish fry at VIRPO headquarters. Active department employees with 20 or more years of service will be briefed on retirement benefits, family scholarships and other services.
Saturday
11:30 a.m. – Family Fun Day at Emile Griffith Ballpark. A full slate of games including basketball, baseball, three-legged races, spoon races, dominoes and bingo, along with food and refreshments, bouncy castle, face painting and more.
Sunday
11 a.m. Law Enforcement Family Beach Day at Magens Bay, Shed 3.
ST. CROIX DISTRICT
Tuesday
11 a.m. Ann Schrader Command open house
Movie Night @ Caribbean Cinemas
Wednesday
10 a.m. – S.O.B. Open House
6 p.m. Kick Ball at D.C. Canegata Ballpark
Thursday
11 a.m. – Ancilmo Marshall Command open house
6 p.m. – Bowlers With Badges bowling night at Tropical Ten Pins
Friday
Wilbur Francis Command open house
9 p.m. – Police Appreciation Ol' School Dance at Headquarters Pavilion. Music Provided By Jah Woods Of Supatracks International And DJ Porrrtta. Cash bar and light refreshments.
Saturday
9 a.m. – Bike Ride from VIPD Marine Base to Chenay Bay Resort and back to the Altona Lagoon.
11 a.m. Criminal Investigation Bureau Pig Roast at the Altona Lagoon Complex