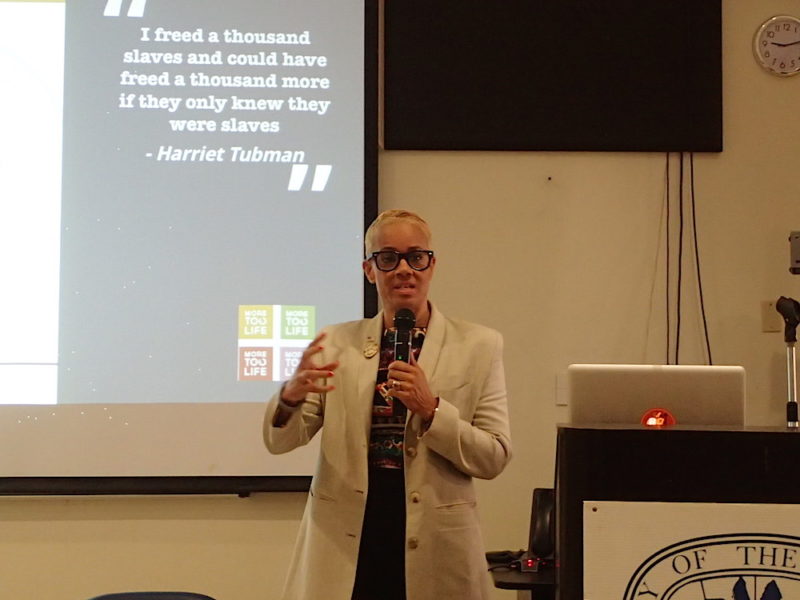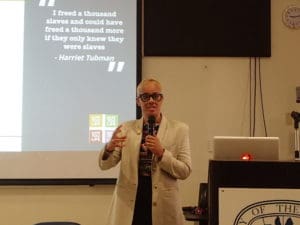 A survivor of human trafficking and a local police detective were among the dynamic speakers at the Youth Violence Prevention Summit sponsored by the University of the Virgin Islands Center for the Study of Spirituality and Professionalism on the St. Croix campus Tuesday.
Brook Bello, keynote speaker and founder of More to Life, Inc., a non-profit organization focused on kidnap and rape victims, described some of the years she spent as a child held captive for sexual exploitation.
After being raped at the age of 10, Bello ran away from home with a friend and both girls were enticed by a "nice" couple that, after luring them into their home in Los Angeles, stripped and beat them and injected them with heroin. They were kept prisoner and raped repeatedly. Bello said she was attacked by as many as 15 men at a time and had so many forced abortions she is unable to bear children.
"I wasn't ever there. I was looking for my safe place to fall," she said.
Bello did not talk about her escape but mentioned her friend also is living a rich, productive and successful life.
"The past doesn't dictate the future," she said.
An actress, author, filmmaker, minister and human rights activist, Bello has been recognized nationally and was honored as an international hero in 2017 by United Way Worldwide.
According to Bello, 30 percent of the girls under the age of 18 have been raped and 65 percent of those children are girls of color. More than once, she asserted that a young girl with an older man is a rape victim and not in a normal relationship.
"There is no such thing as an older man with a young girl. She doesn't want to be there," she said. "If she's under 18, she's a victim. We need to call the hotline."
According to Bello, sex trafficking victims are usually between the ages of six and 14, and as young as three years old.
Human trafficking for rape is on the increase, she said, and gang members in their teens and twenties are more frequently the kidnappers.
Most of the human trafficking victims die within four to seven year of captivity. Those who survive, she said, live with fear, depression, guilt and post-traumatic stress disorder.
"Men are the biggest part of the problem but also the biggest part of the solution," she said, explaining that girls are vulnerable because they look for a male role model or protector.
"There is something about the presence of a man of honor that changes everything," and places responsibility on boys and men to respect that position of power, she said.
Bello's organization focuses on preventing rape through education and empowering young people. More to Life also connects victims with services including medical, social and legal services and mental health assistance.
Another presenter who stunned the audience in the Great Hall was Lt. Naomi Joseph of the V.I. Police Department. During her 30-year career, she has supervised the Special Victims Unit and ran the daily activities of the Criminal Investigation Unit.
Now, as the chief detective of the Criminal Investigation Unit, Joseph sees crime and violence up close and personal on a daily basis. She spoke about the shootings on St. Croix between rival gangs last week and the lack of trust in the community that hinders enforcement in apprehending criminals. Without public assistance, the retaliation will continue, she said.
"Community policing is the only method we have. You working with me and me working with you," she said.
Joseph said the VIPD will continue their work in protecting the populace or "running towards" the bullets.
Other speakers included Anne Gaines, with the Sarasota Florida Health Department and More To Life, who as a victim's advocate matches clients with the services they need and works to prevent sexual violence and human trafficking.
The Rev. Carlos Perkins of St. Luke's AME Church and the Rev. Lennox Zamore of the Ebenezer Memorial Baptist Church also spoke to the audience that included stakeholders from the domestic violence community, a group of Four H Club members and workers from the corrections community.
Sens. Novelle Francis and Dewayne Degraff were scheduled to take part in the conference but had to cancel their participation due to senate hearings.
The conference will be presented Wednesday on the St. Thomas campus. More information can be obtained by contacting Wendy Coram Vialet, CSAP director, at 340-693-1003.