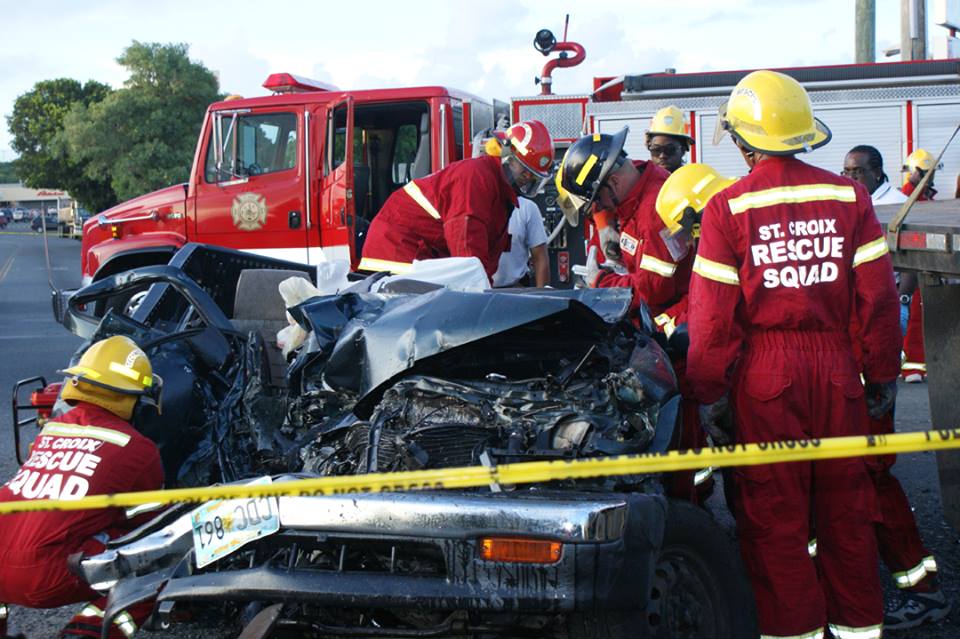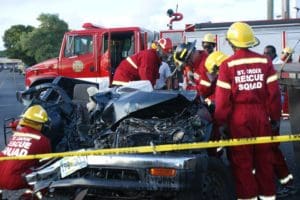 The V.I. Fire Service is now collaborating with St. Thomas Rescue and St. Croix rescue to expand rescue operations such as vehicle extractions.
The organizations have been training together to coordinate their actions and familiarize themselves with each other's equipment.
Tuesday, representatives of the rescue squads, the Fire Service and VITEMA held a news conference in Christiansted to announce the change and demonstrate a vehicle extrication.
"For years, St. Croix, St. Thomas and St. John Rescue, which are not governmental agencies and are volunteers, have been responding to vehicle accidents when there is a need for somebody to be extricated or somebody is trapped in a vehicle," Antonio Stevens, deputy chief of training for the V.I. Fire Service told the Source.
But the V.I. Fire Services has recently trained its personnel to also do the extractions, so that whoever arrives at the scene first can take the lead.
"We don't want to take anything away from Rescue but we look at it as being able to respond in a timely manner," Stevens said. "Our firefighters are there 24 hours a day," while Rescue personnel may have to respond from home if a 911 call comes in the middle of the night. They will respond as fast as possible, but will have to get their equipment and get to the scene of the accident.
Now, when a call comes in, both will respond, but if the Fire Service arrives first, it has the training and equipment to do the extrication, he said. This is an expansion from their specialized role as firefighters.
Fire Service Director Clifford Joseph said St. John has already been doing this and is the model for this pilot project. Now it begins on St. Thomas and St. Croix.
"Especially on St. Croix, a lot of people who volunteered with St. Croix Rescue have left the island, so we want to make sure we do our port," Joseph said. "It will be a faster response, that is the number one thing, without question. … The ball will be rolling and you will not be waiting just on the volunteer Rescue entirely. In the interim (while they are on the way) if there is a fire call we are already on the scene."