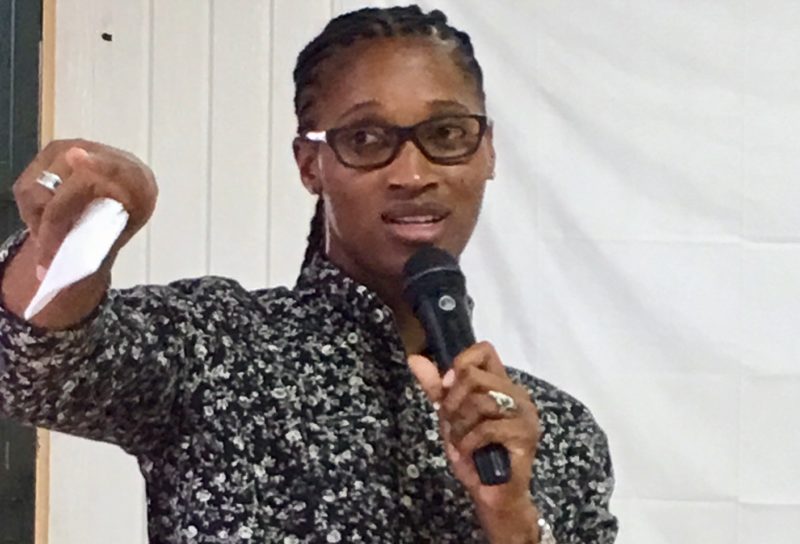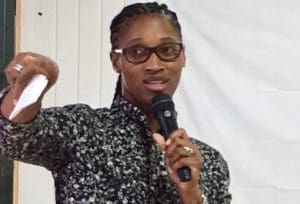 Janelle Sarauw, who was sworn in as a senator 12 days ago, could have chosen to hold her first town meeting on St. John at the cushy, air-conditioned Legislative Conference Room on St. John, but she preferred to hold it at a nearby wooden building used by the Department of Sports, Parks, and Recreation.
"We're holding it in this dilapidated building where I worked for two years so people could see," Sarauw said at the Tuesday night meeting.  "It needs to be torn down and rebuilt for our youth."
Sarauw delivered the good news that the rickety wooden building is slated for demolition in October.  The Department of Sports, Parks, and Recreation has received funding of $450,000 through a Community Block Grant to construct a new facility which will serve as a center for youth and community activities.
Sarauw called the meeting to hear concerns from the St. John community.  "I am not an expert," she said, "but I'm willing to listen, and come back, and bring with me key stakeholders," she told the audience.
The meeting began slowly as audience members sampled food from a buffet and listened to the melodic sounds of steel-pan player Ronald Lee.
Sarauw's chief of staff, Simone Edwards, began the forum with a prayer "to open hearts and open minds to engage in healthy discussion and dialogue." Although many tough issues were raised throughout the three-hour meeting, an atmosphere of respect and cordiality prevailed.
Celia Kalousek, executive director of the St. John Community Foundation, began by raising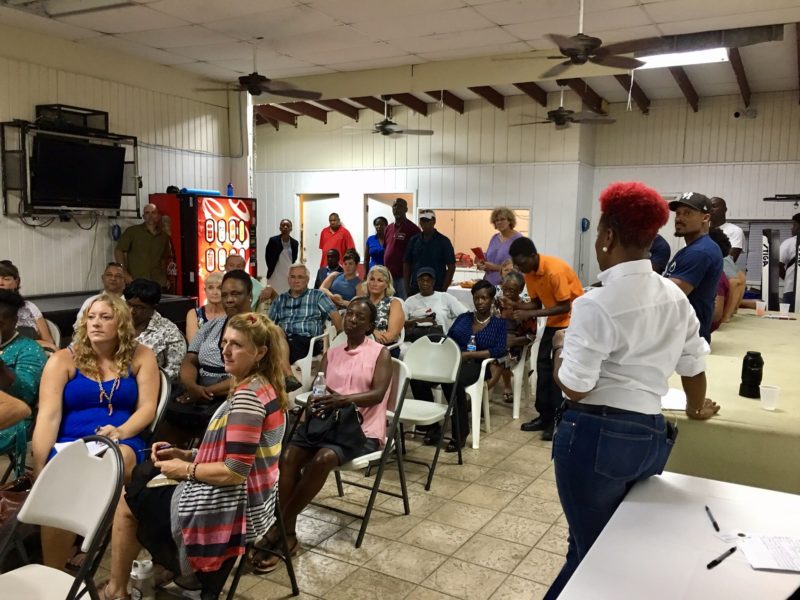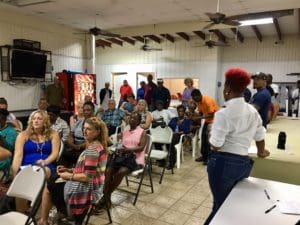 the problem of the government's failure to release funds that have been committed to programs for non-profit agencies like hers.  She said the Senate has approved the funding, but the Office of Management and Budget won't release the monies to keep the Dial-a Ride program running. "We have $70,000 in unreimbursed costs now," she said.
The Dial-A-Ride Program provides transportation for the homeless population and at-risk groups on the islands.  Kalousek also said that the island needs more staff and programs for mental health care.
"We do need more mental health outreach," Sarauw responded.
Community mental health needs were also raised by Vivian St. Juste, executive director of the Family Resource Center which operates a part-time counseling program at the community health center. "I want St. Johnians to make a big noise about no full-time dedicated social worker on St. John," she said.
The poor condition of the Julius E. Sprauve School, the only public school on St. John, was raised by Carla Sewer, who now teaches in the school's summer program funded by the 21st Century Community Learning Program.  "The structure of the school is not stable.  There's a broken water cooler in the hallway.  There's no glue for a class project.   It almost brings me to tears because I'm a St. Johnian, and that's where I went to school," she said.
Sarauw responded that it was her understanding that $70 million in school repairs had to be deferred because of the government's fiscal crisis.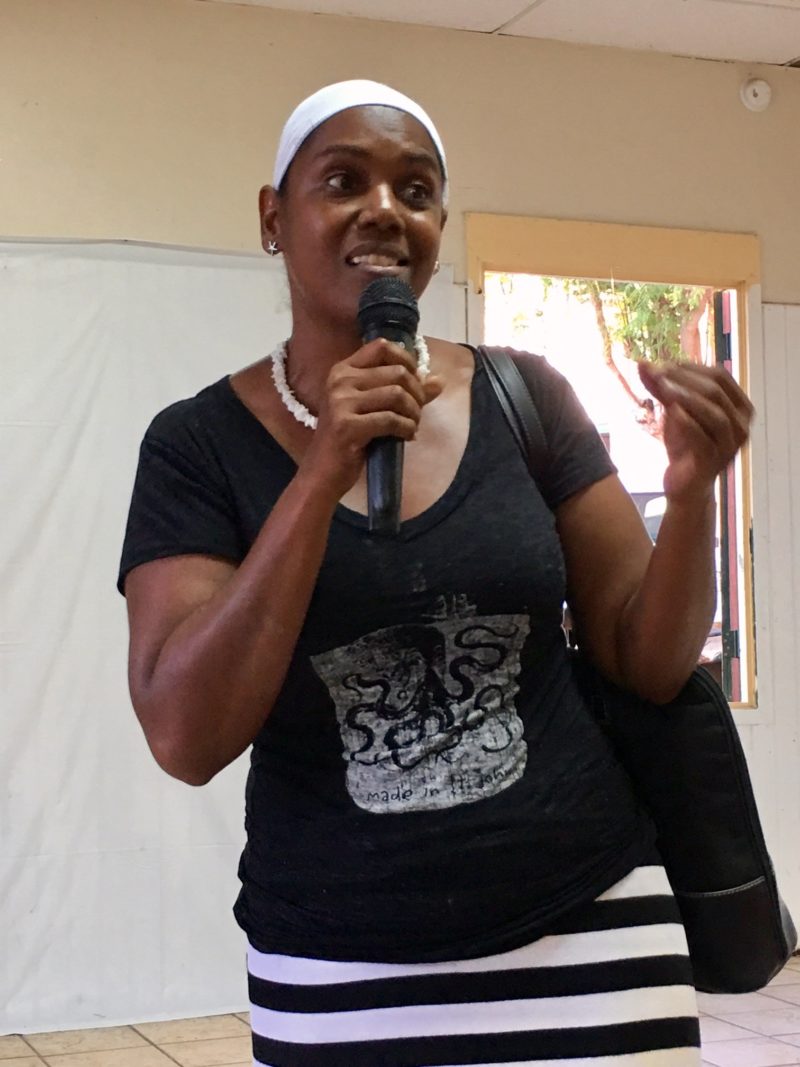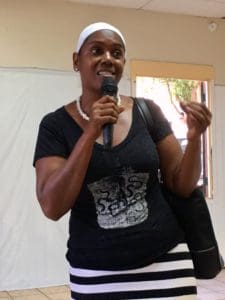 Several people raised questions about long-dormant plans to build a new school away from the congestion in Cruz Bay.
Hadiya Sewer Gibney, who helped moderate the meeting, said the territorial government had developed a plan with the Virgin Islands National Park to do a land swap to provide a site for a new school, but the US Congress had not approved the deal.
Senator Jean Forde, who attended the meeting along with Senator Marvin Blyden, said the territory's poor bond rating made it impossible to borrow the money for capital improvements like a new school.
Former Senator-at-Large Robert O'Connor Jr. said the plan for a new school dated back to his term as a senator in 1989. He was mainly concerned with issues of taxation and income inequality, and blamed the territory's fiscal problems on the lack of economic development.
"How do we St. Johnians exist in a climate that becomes more and more difficult to work and make it on St. John?" O'Connor asked.  "We can't pay our property taxes.  The park is getting larger and larger as wealthy people donate their land to the National Park, and there's no space for us, no opportunities for us."
"We do need to diversify the economy," Sarauw said.  "I agree with what you said.  There is mass gentrification on St. John."
Brummell Germain, a small business owner, said too many tax breaks are given to large companies while small businesses receive little in the way of economic incentives.
But Enid Doway said the issue was not so simple.  "I worked for a gentleman who headed an EDC [a company that receives Economic Development Commission tax benefits].  "My boss supplied the money for equipment for a hearing impairment program in the school," she said, and then the government failed to match the contribution they had promised.  "The government is not keeping up with their end of the deal," she said.
Other community members brought up issues involving rising property taxes, inadequate housing, congestion near the Cruz Bay dock, a recent permit to install swim buoys and moorings in Cruz Bay beach, the legalization of marijuana, and the lack of availability of critical services on St. John.
Ian Samuel brought up the question of separating St. John from the St. Thomas-St. John district.  Priscilla Rivera Hintz Knight noted that the voters on St. Thomas and St. Croix seem to have more influence than St. Johnians in electing a candidate to the St. John at-large seat.
Sarauw promised that the Senate would address election reform.
The meeting ended with an update on programs for youth and a discussion of the challenges community groups face.  Several people noted that there were more volunteers working with the dogs at the Animal Care Center than with children in recreation programs.
Sarauw concluded by commending the St. John staff of the Department of Sports, Parks, and Recreation, and after thanking participants for their thoughtful comments, invited the audience to hang out, continue the conversation, "and eat some chicken."