As darkness fell across the Virgin Islands Tuesday, it was accompanied by the howling winds and lashing rain of Hurricane Maria, which reached the territory as " an extremely dangerous category five hurricane," the National Hurricane Center reported at its 11 p.m. Tuesday update.
Wind speeds atop and on the windward sides of hills and mountain and on high-rise buildings could be much stronger than the near-surface winds indicated in this advisory, the NHC said.
Responding to the NHC's report, the V.I. Territorial Emergency Management Agency issued a dire warning.
"Remain braced against the reasonable threat for major hurricane force wind," VITEMA said. "To be safe, efforts should fully focus on protecting life. Properties remain subject to devastating to catastrophic wind impacts. Now is the time to urgently hide from the wind. Failure to adequately shelter may result in serious injury, loss of life, or immense human suffering."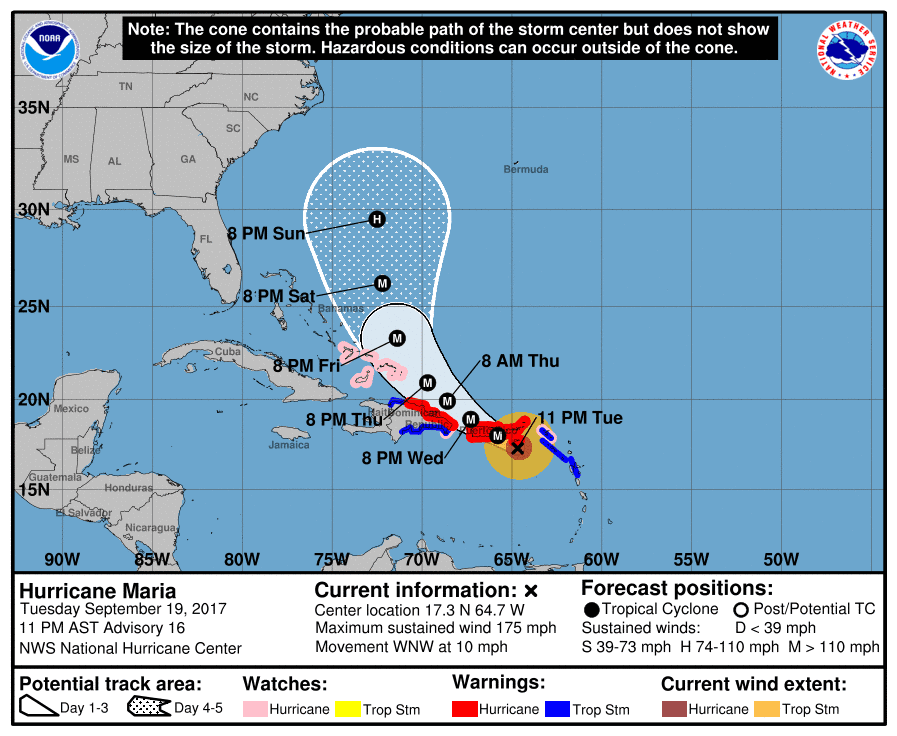 "Remain sheltered until the hazardous wind subsides. Be ready to quickly move to the safest place within your shelter if extreme wind warnings are issued."
The VITEMA bulletin also warned of "life-threatening storm surge" and flooding.
Earlier Tuesday, an Air Force Reserve reconnaissance aircraft measured a peak flight-level wind of 180 miles an hour with barometric pressure at 909 millibars, which is the 10th lowest minimum pressure recorded in an Atlantic basin hurricane.
Radar data from Puerto Rico has shown the development of concentric eye walls and a double-wind maximum.
"Since the outer eye wall has become better defined and the winds are increasing within the outer eye wall, it is likely that Maria's intensification will finally cease, the NHC's meteorologists wrote. But Maria still is expected to remain an extremely dangerous, category five hurricane until landfall in Puerto Rico early Wednesday.
Maria was moving between west-northwest and northwest at about 10.3 miles an hour, a course that would bring it near but possibly not directly over St. Croix.