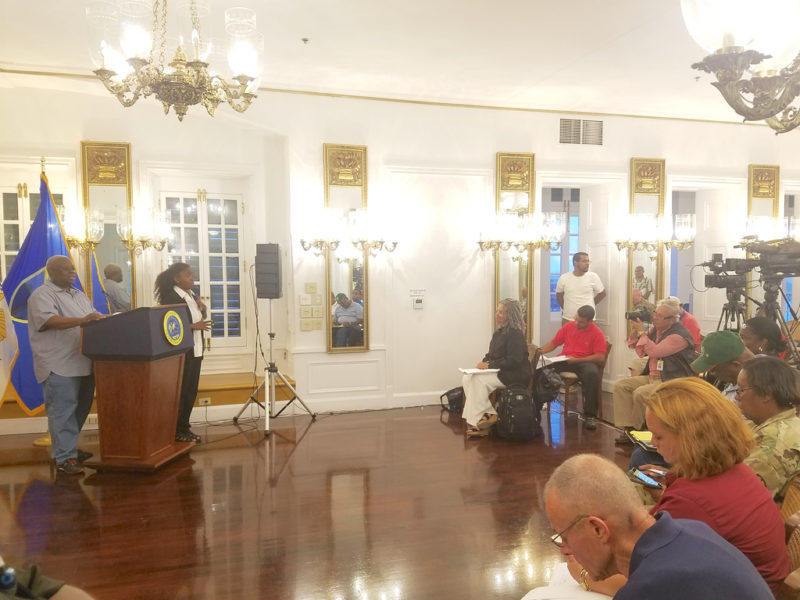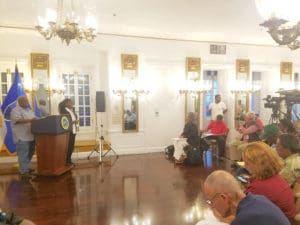 Gov. Kenneth Mapp was upbeat Tuesday at his daily news conference, announcing that the territory may be opening up for cruise ship visitors by the end of October, the start of tourist season for the territory.
Mapp also made some drastic and welcome changes to curfew on all islands and announced detailed information on mercy ships taking people off-island.
As of tomorrow, curfew will be from 6 p.m. to 8 a.m. on St. Thomas, St. John and Water Island, and from 6 p.m. to 11 a.m. on St. Croix. This was a necessary change, Mapp said, especially for St. Croix, because there are individuals dying of natural causes and families are having a hard time planning funerals and making arrangements around the allotted suspended curfew hours of noon to 4 p.m.
However, though curfew has been eased on both islands, there have been incidents with individuals driving in the dark and catching their vehicles on utility lines and crashing into poles that may be out of place, so the governor urged everyone to use high caution when driving.
In some more good news for the territory, AT&T is having what Mapp called massive amounts of equipment flown into the territory in order to improve communications. AT&T is also being upgraded to a Tier 1 relief agency, allowing the company to land large cargo planes in the territory. In the last 24 hours, 35 AT&T technicians arrived in the territory to do repairs.
AT&T also promised to credit customers for the time that AT&T was not able to provide service for their customers in the US Virgin Islands.
Smiling, Mapp announced that "The generator that was stolen from the AT&T site – the FBI found it."
The generator has now been put back into place and Mapp followed up that, "The person who made it findable, you forgot to take your fingerprints off the machine."
Mapp said a cruise ship will be in port Friday for individuals who need to get out of the territory on mercy voyages. The allotment for the Virgin Islands will be 1,000 passengers, with the breakdown being 750 people from St. Croix, 200 from St. John and 50 from St. Thomas.
Many individuals have already registered for these spots and, due to that, only 300 more registrations will be accepted for St. Croix.
Information on obtaining spots can be obtained by calling 340-713-6801 from 9 a.m. to 2 p.m. Wednesday. Those who may qualify for a spot on the mercy ship, based on urgent status, medical, elderly, high risk pregnant women, etc. will need to go to a visitor center on the islands of St. Croix or St. John.
On St. Croix, 100 people will be registered at each of the following locations from 12:30 to 3:30 p.m.: Cotton Valley Fire Station, V.I. Cardiac Center, and Ann E. Abramson Pier.
On St. John, 200 will be registered at the Powell Recreation Facility. There will be no registrations on St. Thomas, as the 50 spots available have already been registered. Individuals have to physically go to the locations listed above and cannot register by calling the phone number.
No water or MREs will distributed Wednesday. On St. Thomas, 4,607 individuals were served at the distribution centers today, which was a good sign of recovery according to Gen. Deborah Howell, as St. Thomas is becoming less dependent on MREs and water distributions.
Also Tuesday, 319 members of the Puerto Rico National Guard returned home. Referring to the devastation that the members of the National Guard were coming back to in Puerto Rico, Howell said, "When you can't account for your personnel, these are your children, your heart bleeds."
On a different note, Howell announced that military police are starting to enter the territory and that security will definitely tighten overall.
"Be forewarned, my help is here, " she reiterated.