Apple Gidley's novel, "Fireburn," hit bookstores on Oct. 1, and that was no accident. Amazon released its copies that same day, also intentional. Oct. 1 marked the anniversary of St. Croix's 1878 worker rebellion known as Fireburn.
Undercover Books & Gifts will host a book signing with Gidley from 4:30 to 6 p.m. Dec. 14.
In "Fireburn," Gidley spins a tale around Anglo-Danish Anna Clausen, who returns home to St. Croix after 10 years in London. She discovers her father ill, life on Anna's Fancy in disarray, and the island on the verge of upheaval.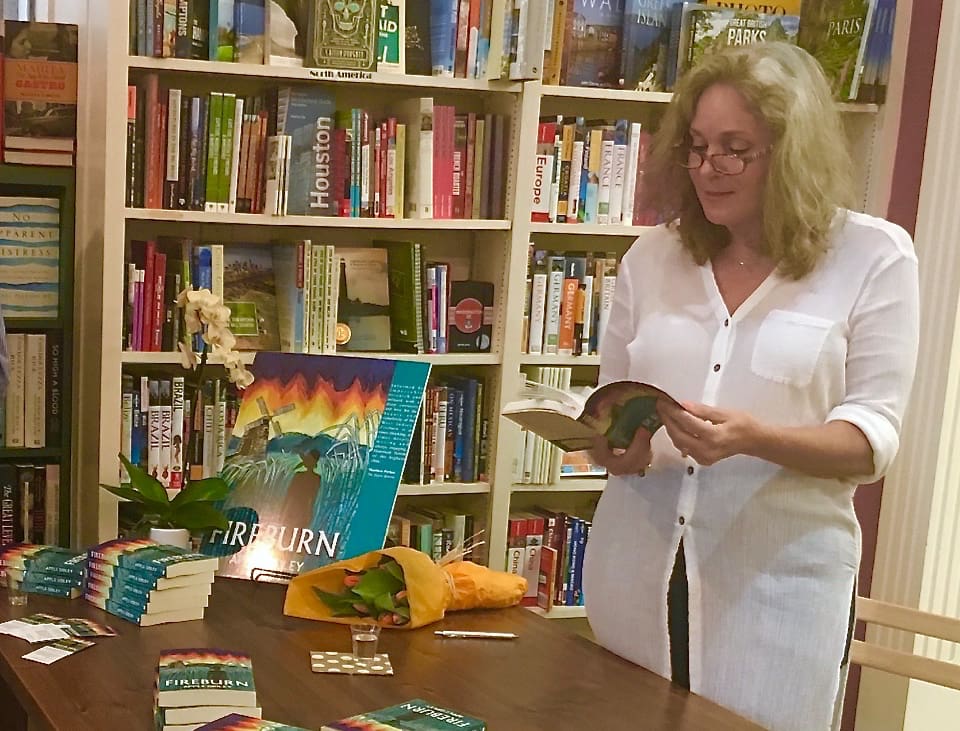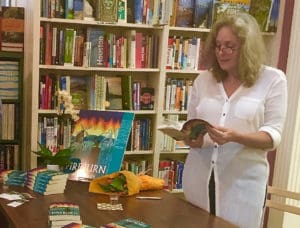 When her father passes, Anna takes the reins.
Fireburn covers the era from 1876 to 1887, when St. Croix's once vibrant sugar industry was crumbling. While slavery had been abolished, plantation workers still toiled in dismal conditions. Gidley weaves history into her story of Anna's struggles to maintain the plantation and to win the trust of disgruntled field workers. Her foreman Sampson, on Anna's Fancy since they were both children, stands beside her. Their strong mutual regard raises eyebrows.
"I'm now hooked on writing historical novels," said Gidley, who divides her time between St. Croix and Houston. "The hard part is staying focused on one particular period as the research is fascinating."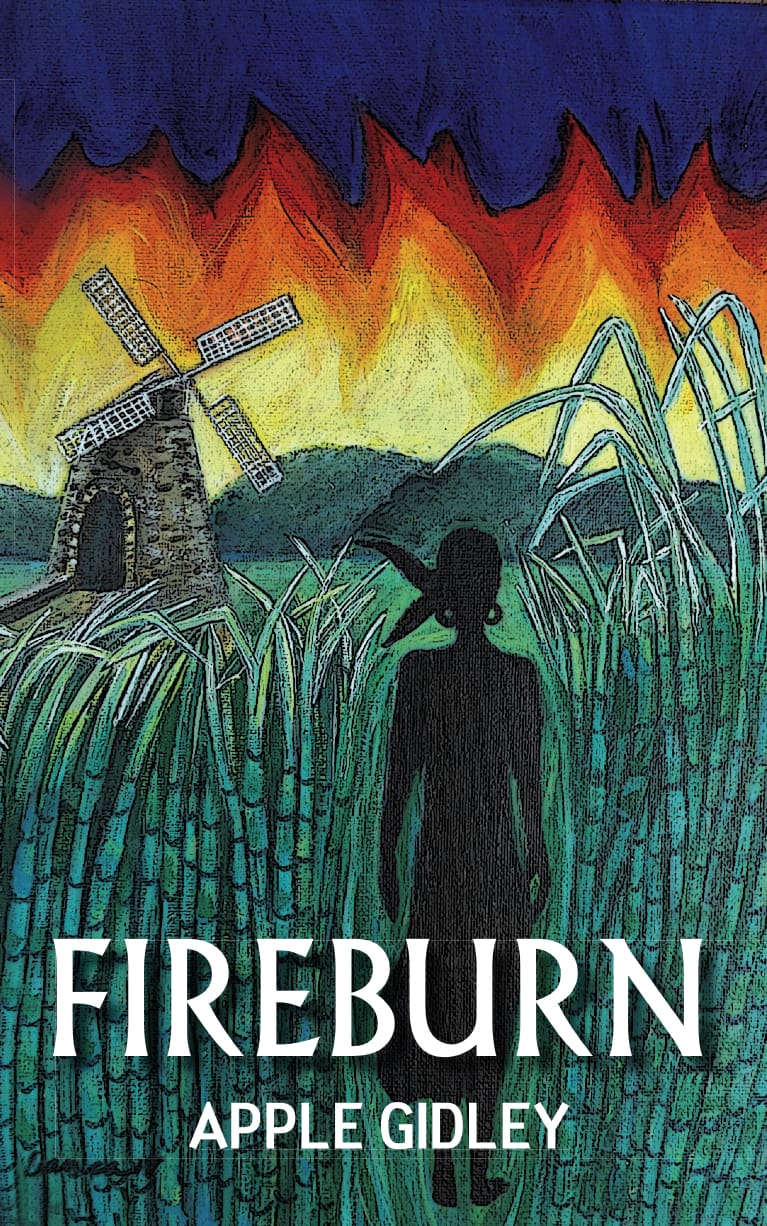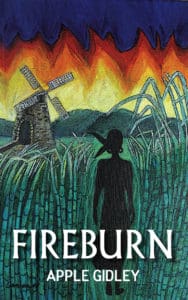 She loves all kinds of writing but fell into historical fiction by chance. Isabel Brady, Gidley's real estate agent, invited her to Transfer Day celebrations at the Lawaetz Museum on March 31, 2014. Talk turned to the upcoming Transfer Day Centennial in 2017.
"I wondered what it was like to live on our beautiful island in those days, and the seed was sown," she said.
Once Gidley began her research and encountered the Frederiksted fireburn, her focus detoured to 1878.
"You can't just research 20 years," Gidley said. "You need to study the longer history to learn how things came about." The worker revolt snagged her full attention.
Gidley will return to 1917 in her sequel, "Transfer of the Crown." She's at work on that now.
Gidley started "Fireburn" with two main male figures, but during the writing three strong female characters emerged: Anna, Ivy, and Emeline. The novel became their story.
"Very quickly I realized I wanted strong women. I needed a male to balance that, so I gave Sampson a bigger voice," Gidley said.
As she increased Sam's importance in the story, he began expressing his point of view on the pages.
"I love the freedom of fiction, though it's scary how the characters take you over. They started writing themselves," she said.
The cook, Emeline, starts off as feisty but winds up a warm, insightful woman. Neils, a young biracial boy that Anna adopts, found his way into the story and will play a leading role alongside Hubert Harrison in the sequel. Anna recedes, and Ivy becomes a major figure next time around.
Or so it seems at present. Gidley does not work by outline.
Back to the revolt of 1878: Gidley asked Danica David to paint Fireburn's cover.
"Having been to a lot of art shows on island, I knew I wanted to use a Crucian artist. I picked up the 2017 Caribbean Museum Center for the Arts calendar and saw Danica's triptych of the queens, and I knew I had found the right person," she said, referring to David's "VI Queens" for the month of October in CMCA's Island Art and Soul Calendar.
According to Gidley, the book's cover has drawn tremendous praise. She marvels at the David's use of color and how she captured exactly what she herself had envisioned.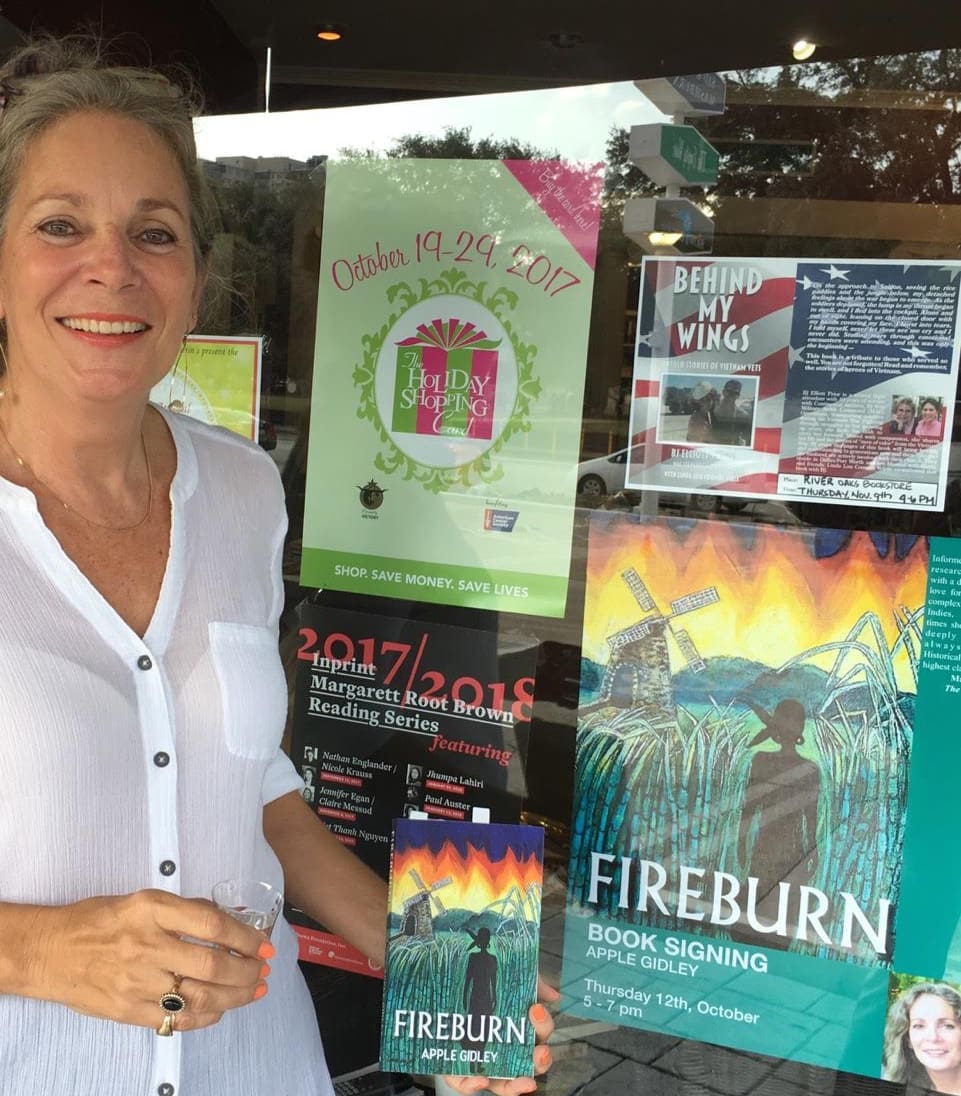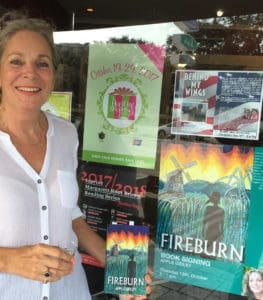 An Anglo-Australian, Gidley is a lifelong expatriate who has lived in 12 countries. She married another expat, John Gidley, and the couple raised their two children in the same lifestyle. As it happened, Gidley's varied jobs around the world led to her career in writing. In Houston, she worked for a dive store and wrote their monthly newsletter. In Papua New Guinea, she worked for a coffee trading company and, as a 19 year-old training the office staff, she learned a lot about people. In Equatorial Guinea, she worked for the British Foreign Office as honorary consul and wrote geopolitical reports.
"I reported to the British ambassador in Cameroon on what was happening politically in the country. I helped British businesses meet the right people, sprang Brits from jail, and generally was the 'go to' person for Brits," Gidley said. "Great fun, but it got a little hairy sometimes."
"I loved it because I am a political junky. I found it fascinating – like writing a crime thriller," she said.
A Houston relocation company interested in current information on Equatorial Guinea subsequently hired Gidley to write an in-depth geopolitical account of the country. This project sparked her interest in research.
"I later found out the report was sold on to various multi-nationals, predominantly oil companies. Needless to say, I didn't reap any benefits," she said.
Gidley also served on international conference panels for Families in Global Transition and was featured as a keynote speaker at one such symposium. That's when people started asking, "Why aren't you writing all this down?"
Brilliant idea, but …
The publisher Gidley contacted advised her to establish a platform if she wanted to be considered for publication. A can-do sort, Gidley took up blogging. It was 2010. She blogged, and she wrote her memoir at the same time. (She still blogs, at www.applegidley.com.)
It took Apple Gidley one year to write "Expat Life Slice by Slice," to edit it, and to have it edited. Great Britain's Summertime Publishing released the book in 2012.
Since then, Gidley has written articles for publications including Global Living Magazine, International Living Magazine, Telegraph Expat, Global Connections, and Tales Magazine, along with numerous guest blogs. While most of those articles centered around expatriate living, Gidley now leans toward actual travel stories and short stories.
And historical fiction.
"I read every book I could find on St. Croix and the Danish West Indies. I either bought, borrowed or stole!" Gidley said of her research. Online she found a census from the era, and in the Estate Whim Museum library she found letters sent home to Denmark by a plantation man describing the rebellion. She traveled to Copenhagen to get a sense of the old city.
Gidley credits the ladies in the library at Whim for their help with research. Local archeologist David Hayes answered her many questions, especially about fort colors. Robin Sterns, author of "Say it in Crucian," assisted with dialogue; the Writers' Circle of St. Croix provided feedback and encouragement. Gidley gleaned further tidbits by chatting with islanders.
She offers aspiring writers straightforward advice: Stop talking about it and start doing it.
"I write a little everyday, even if it's actual rubbish. Some days words don't come; some days I write 2,000 words. I've learned there is no point in forcing it," said Gidley. "I'll do something else instead – write a blog or a short story, or take a walk."
John and Apple Gidley searched for 20 years to find the right place to retire. Italy and Spain made the short list, as did Tortola, where they have family. In 2013, on the Coldwell Banker website, Gidley spotted a house in historic downtown Christiansted, and she boarded a plane for St. Croix.
"I knew it was our place, not only the house, but the island," Gidley said. "People have been so very welcoming." Taxi drivers in town fondly call her "The English lady on the hill."
Within six months of moving to the island, she came down with chikungunya, but that has not swayed her. Nor has Hurricane Maria.
"It will take a lot more than chikungunya or a hurricane to do that," she said.