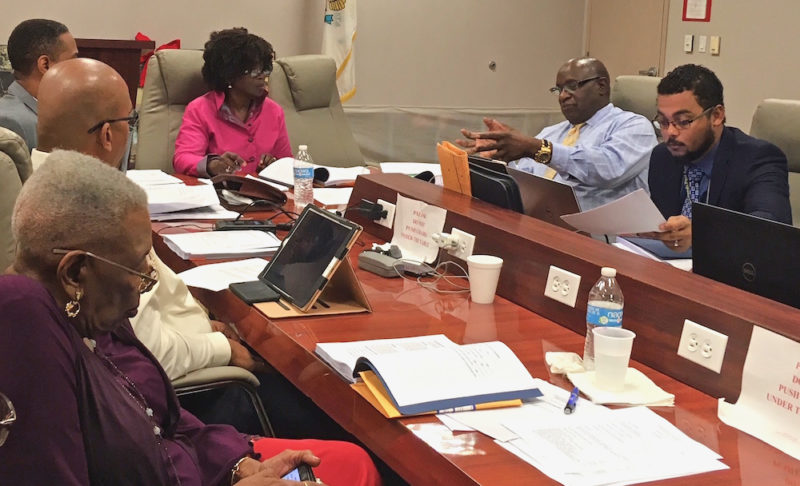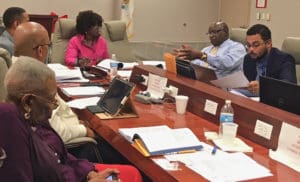 The V.I. Port Authority Governing Board learned about hurricane damage and destruction at both airports and VIPA's leased properties at its meeting Wednesday, and it voted on funds and vendors to begin repairs.
The board approved a large general service contract for Miami-based Lemartec Corporation that will cover a three-year period to hire and manage subcontractors on St. Thomas and St. Croix. A dollar amount wasn't specified, although an initial investment of $1 million was mentioned. Payment terms will be negotiated for each task to repair and rebuild VIPA's 118 properties that sustained damage, beginning with the roofs to both airports.
While the roof of St. Croix's Henry E. Rohlsen Airport has been repaired to stop leaks, VIPA Executive Director David Mapp said it will need to be replaced. On Wednesday, the board approved a $70,900 contract for construction design to American Infrastructure Development, Inc. to get the job started.
Mapp said insurance will pay for both airport roofs.
Because the parking lot system on St. Croix was severely damaged by Hurricane Maria and is not functioning, the board accepted a $130,000 quote by Inter Caribbean Multi-service Corp. to repair it.
Not entirely related to hurricane damage, the board also approved almost $160,000 to design a master plan for the Subbase District on St. Thomas. VIPA operates the cruise ship pier nearby and the area is filled with a mixture of shops, office buildings, warehouses and mechanic shops. According to VIPA, without an overall plan there have been several haphazard renovations since 1939 when the area was developed as a U.S. Navy training facility.
A discussion about security at VIPA facilities led to approval to hire seven new police officers over the next two years. Board chair Laurel Hewitt Sewer said St. John needs more than two officers to cover all shifts.
The board approved several leases, including a sublease agreement for Leatherback Brewery Company at St. Croix's Roebuck Industrial Park. Leases were also approved for Websta's Aviation Services, Inc. and ContiFederal on St. Croix and Cardow, Inc., the Bookstore 340 and nine kiosk businesses on St. Thomas.
Chief Financial Officer Anna Penn discussed the authority's financial status as of Sept. 30. During that time VIPA experienced an operating loss of $3.5 million but totaled net assets of $13.5 million. Penn said $123 million is owed to VIPA. Accounts receivables collection is behind, she said, due to damages and loss of business suffered by the authority's tenants.
Delinquent clients include American Airlines, Seaborne VI, the V.I. Department of Planning and Natural Resources, TSA, Spirit Airlines, Jetblue Airways and the V.I. Waste Management Authority.
After an executive session, Atty. Gen. Claude Walker announced the group had agreed on the salary and selection of a director of aviation and a property manager. The board also took undisclosed action on Seaborne VI.
Attending the meeting were Sewer, Walker, Yvonne Thraen, Marvin Forbes, Tourism Commissioner Beverly Nicholson-Doty, Jose Penn and Nelson Petty, Jr., acting Public Works commissioner.