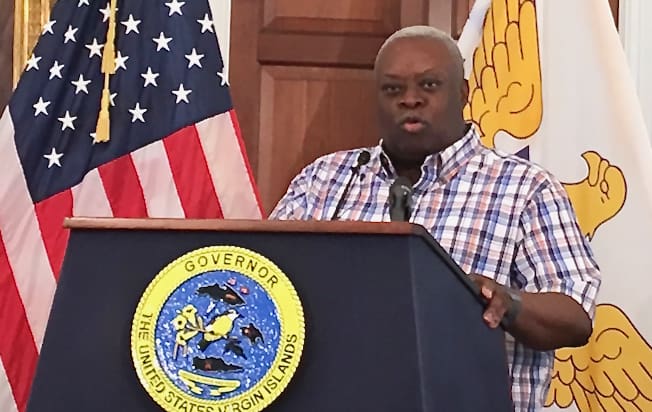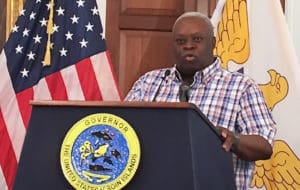 After a brief government shutdown, the U.S. Congress approved a $300 billion dollar spending bill Friday to run the country, and included $89 billion for hurricane and wildfire disaster recovery for Texas, Florida, California, Puerto Rico and the Virgin Islands.
"By what the U.S. Congress has done and President Trump has done, we are calculating the benefit to the Virgin Islands will exceed $7.5 billion for our recovery," Gov. Kenneth Mapp said at a news conference Friday.
Mapp had previously said $7.5 billion was the amount needed to pull the territory back together after two Category 5 hurricanes in September. The amount included rebuilding the hospitals, schools, roads and revamping the electrical system.
The aid will not come at one time, but will be drawn down as it is needed through the federal agencies monitoring the use of funds. In December, the V.I. Public Finance Authority contracted Witt O'Brian and Ernst and Young to oversee the funds from this side at $20 million a year.
Mapp said he spent Friday morning studying the bill – the Bipartisan Budget Act of 2018, which keeps the government running until March – and conferring with advisors to determine how much money might be available to the Virgin Islands and from which agencies.
So far, Mapp believes the territory will be eligible for around 10 to 20 percent, or $2 billion of $11 billion set aside for Puerto Rico and the Virgin Islands to repair and rebuild electrical systems. Plans have already been discussed, he said, to put power lines underground and install wind generators and solar cells in various locations. The use of micro-grids and 30 percent renewable energy will lower the monthly costs for residents to around $.12 – $.15 per kilowatt-hour, Mapp estimated.
Hospitals and the health care system will also receive significant financial help to recover, including $142 million in additional Medicaid funding. Mapp said three new, smaller hospitals are being planned at their same locations on St. Croix, St. Thomas and St. John that will carry the current names.
"It is clear repairs to both hospitals are no longer an option," Mapp said.
The federal government has designated $2.46 billion for elementary, secondary and private schools affected by hurricanes and wildfires. The governor said the territory will be able to build six new schools and repair the rest.
The bill also extends the Virgin Islands temporary rum tax cover-over rate for five years adding around $250 million to government coffers.
Funds should also be available to the Virgin Islands and other disaster areas from other federal agencies, such as:
– HUD will allocate as much as $28 billion to rebuild damaged homes, buildings and public housing. Mapp believes the Virgin Islands will be eligible for around $244 million.
– U.S. Customs and Border Patrol will have access to almost $150 million to repair and strengthen damaged facilities.
– The territory's federal roads will be repaired with around $23 million from the Federal Highway Administration's $1.3 billion allocation. Non-federal roads can be repaired by FEMA funds, Mapp said.
– Vitran should receive around $3 million from the Federal Transit Administration's $330 million disaster fund.
– The Federal Aviation Agency should provide around $5 million to repair airports, signage, lights etc.
– The U.S. Army Corps of Engineers will use over $17 billion to reduce the damage risks of future floods and storms in all affected areas.
– The Virgin Islands and Puerto Rico will share $14 million for repairing and replacing Women, Infants and Children (WIC) facilities.
"The aid doesn't come in a single check of $7.5 billion," Mapp clarified. "$89 billion is not the last iteration of funding for disaster areas."
The Bipartisan Budget Act of 2018's list of recovery appropriations can be found online at https://www.appropriations.senate.gov/imo/media/doc/020718-SUPPLEMENTAL-SUMMARY.pdf