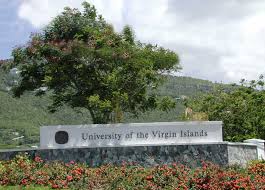 Community Invited to Sessions to Discuss UVI's 2018-2023 Strategic Plan The University of the Virgin Islands would like input from the Virgin Islands community for the development of its 2018-2023 Strategic Plan entitled "Greatness Through Innovation." The sessions will afford the community an opportunity to discuss and share innovative ideas on how to advance UVI.
Meetings will be held on St. Thomas, St. Croix and St. John.
• July 9, 2018 – The Administration and Conference Center, First Floor, Room 142, 6 – 8 p.m. on the St. Thomas Campus.
• July 11, 2018 – Albert A. Sheen Campus on St. Croix, Great Hall, 6 – 8 p.m.
• July 12, 2018 – The St. John Legislature Building, 6 – 8 p.m.
For more information, contact Sharlene Harris, interim vice president of Information Services and Institutional Assessment, at 693-1460 or via email to: [email protected]
UVI to Host Summer Band Camp from June 25 to July 28 The University of the Virgin Islands (UVI) Music Department presents the 2018 Summer Band Camp. The camp is a four-and-a-half-week comprehensive summer instrumental music program designed for junior and senior high school students, ages 12-17. The camp will commence on Wednesday, June 25 and conclude on Saturday, July 28.
Campers will assemble at UVI's Music Education building from 8:30 a.m. to 4 p.m.
The camper will be offered Monday through Friday:
• Individual weekly private instrument lessons
• Solo literature for all campers
• Sight-reading, theory, and arranging
• Concert band and jazz ensemble
Special invited guest speakers will present on topics such as:
• Instrumental repair
• Personal music experiences
• Conflict resolution
• Social behavior
• Sexual abuse
Applications are available at the following school's music departments:
• Charlotte Amalie High School – Luben Daniel/Roslynn David
• Ivanna Eudora Kean High School – Monet I. Davis/Shamoi Rodgers
• Addelita Cancryn Junior High School – Niels A. Gooding
• Bertha C. Boschulte Middle School – Calvin Jones/Vanessa Tamar
• St. Croix Educational Complex High School – Kevre' L. Hendricks
• Albeana Lake Comprehensive High School – Lennox Vanterpool
• Emmanuel Benjamin Oliver Elementary School – Clayton Emanuel
• Gladys Abraham Elementary School – Georges Thomas
• Ulla Muller Elementary School – Howard Peters
A non-refundable fee of $150 is required in order to process the application.
Campers are required to pay $350 to be admitted for participation in the camp. Campers who require lunch are asked to make a payment of $220.
For more information, contact Austin A. Venzen at 998-8867 or email [email protected].
Pesticide Applicator Safety and IPM Training for "Commercial and Private Applicator License" The University of the Virgin Islands Cooperative Extension Service (UVI-CES) encourages all interested individuals, especially those interested in applying for a pesticide applicator license, to attend training sessions on integrated pest management and pesticide safety.
Trainings will be held at the University of the Virgin Islands Albert A. Sheen Campus in the Research and Extension Center in Room 133, located on the east side of the campus from 9 a.m. to 4 p.m.
On Thursday, June 21, the topic for discussion will be Structural Pests and on Friday, June 22, the topic for discussion will be Ornamental and Turf Pests. Examinations will be offered on Tuesday, June 26.
The Pesticide Education Safety CORE program will be offered all day on Thursday, July 19; and the Agriculture Plant Pest category will be presented on Tuesday, July 24, both held on the Albert A. Sheen Campus.
Federal law requires any person who applies or supervises the use of restricted use pesticides (RUPs) to be certified. Trainings are offered to teach applicators of Environmental Protection Agency (EPA) laws and regulations, applying RUPs properly and effectively, comprehending labels, calculating rates, introducing best pest management, and practicing safe pesticide use.
For additional information and to register, contact Amy J. Dreves, Ph.D., the UVI-CES pest management specialist, at 692-4045 or email [email protected].
UVI Students Place First in Global Top 100 – Business Strategy Game UVI students of the Business Strategy Class of Spring 2018 achieved a first place ranking in the Global Top 100. The students earned the top position on Global Top 100 ranking for their company's Business Strategy Game (BSG) performance during the week of April 2 through April 8.
The students' company, Future Kicks, tied for first place with 20 other teams out of a total of over 13,500 playing the simulation. Co-managing the company were Joash Liburd, Kriston Petty and Brenton Skeete.
More information is available in a news release on the Media Section of the UVI website – https://www.uvi.edu/
New Student Orientation for Summer 2018 Set – July 11 – 12 The University of the Virgin Islands will hold Summer Orientation from Wednesday, July 11 to Thursday, July 12, for new students enrolling on both campuses. All newly accepted students are required to participate in orientation activities prior to the start of the semester for academic advising and development of their class schedules. Orientation also includes sessions to introduce new students to UVI, networking with other students and instructors, campus tours, and "National Student Exchange" meeting.
New student advisement and registration are scheduled for Wednesday, July 11, on the Albert A. Sheen Campus on St. Croix and Thursday, July 12, on the St. Thomas Campus.
"We look forward to welcoming our Buccaneers who have chosen to get a jump start on their academic pursuits," said Hedda Finch-Simpson, dean of Students on the Sheen Campus. "As a part of the UVI family, students will be provided with a "uniquely Caribbean" learning experience. Orientation is intended to acquaint students to life on campus to ensure their rapid success socially and academically."
"The University is excited to welcome new students to our campuses for Spring 2018," said Verna Rivers, dean of students on the St. Thomas Campus. "Planned activities will get them ready to be successful academically. Campus tours will inform them of computer lab access, including needed resources like our 24/7 computer labs and our Center for Student Success."
More information is available in a news release on the Media Section of the UVI website – http://www.uvi.edu/
UVI Rewards Students for Innovation and Entrepreneurship University of the Virgin Islands Hackathon participants, Business Design Program participants, 13D competition competitors and UVIDEA club officers of both the Albert A. Sheen and St. Thomas Campuses were recognized at the first Annual Innovation and Entrepreneurship gala luncheon held on Saturday, May 12.
This event celebrated the growing innovation and entrepreneurship ecosystem at UVI. The Hackathon, Business Design Program, and 13D competition students all received awards.
More information is available in a news release on the Media Section of the UVI website – https://www.uvi.edu/
New Member Appointed to UVI's Board of Trustees A new member had been appointed to the University of the Virgin Islands' (UVI) Board of Trustees. Dr. John A. Quelch was appointed by Gov. Kenneth Mapp to fill the vacant position on the Board. He has been appointed to join its 12-member body and will fill the vacancy left by former Trustee Carol Fulp. His appointment came into effect on April 4, 2018.
"It is our pleasure to welcome Dr. Quelch to the Board of Trustees. Dr. Quelch comes with years of expertise, and the contributions and guidance that he has to offer will be valuable to the future of the University," said Chairman Henry Smock. "His resume is quite extensive and impressive both in regard to academia as well as business."
More information is available in a news release on the Media Section of the UVI website – https://www.uvi.edu/