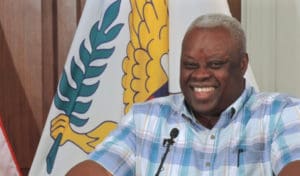 What could be better for an incumbent governor running for re-election than suddenly to have enough money to make most of his constituents' problems go away?
Gov. Kenneth Mapp appears to be in such a situation and is making the most of it.
Most of the publicity surrounding his proposed agreement with ArcLight to reopen the St. Croix refinery has concerned funds being channeled to jump start a hotel development on St. Thomas and to the Government Employees Retirement System to fend off bankruptcy for a few more years.
In his letter to the Senate accompanying the agreement he wants lawmakers to ratify, he mentions many other beneficiaries too.
The first big beneficiaries would get money from the $70 million ArcLight has agreed to pay the government when the deal closes; $10 million will go to help a long-planned hotel development in Havensight get past the planning stage. (See Related Links, below.)
Another $10 million will go to pay residents who are owed tax refunds, while $7 million is proposed for the Waste Management Authority to pay past-due vendors.
Other allotments proposed by the governor are:
– $4 million dollars would be allotted for the Paul E. Joseph Stadium project
– $3 million would go to the St. Croix Capital Improvement Fund.
– $3 million – the judicial branch's operating budget.
– $2 million – St. John Capital Improvement Fund.
– $1 million – rebuilding the St. John Battery, which was destroyed by Hurricane Irma.
Still, all this proposed largess is not pleasing everyone. As the details of the proposed agreement became public, residents used social media platforms to question why more of the money was not being used for education or St. Croix's infrastructure or the damaged territory hospitals.
Even Mapp's plan to start reinvigorating GERS might run into problems when the proposed agreement comes under consideration in the Senate at the end of July. His proposal would have $25 million going to the Public Finance Authority to make a down payment to purchase Havensight from GERS. Some might see this as a power play by the governor to get more control over GERS in what has been seen as a turf battle between the executive branch and GERS.
In his submittal letter, Mapp said if the proposals are ratified it will usher in "a new era of employment, commerce and prosperity in the territory in general and St. Croix in particular."