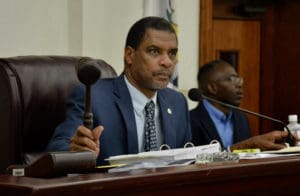 Officials from the V.I. Water and Power Authority were dismissed from a budget hearing Wednesday after Senate Finance Committee Chairman Kurt Vialet said the Legislature's post-audit division did not receive the necessary financial information from the utility.
Each year the Legislature requests from each of the government's departments and semi-autonomous agencies information so that a post-audit report can be formulated for use in budget hearings. Senators base their questions on information in the reports.
This year, WAPA officials did not respond to the request for information before showing up to their hearing, and acting Executive Director Lawrence J. Kupfer said he did not know if anyone received the request.
"I don't know whether things fell through the cracks or who that request went to, but I don't recall, and I was looking at my emails today after I got an email from a member of your staff with that report, I don't know who that request went to," Kupfer told Vialet.
He added WAPA would be happy to supply any information that was supplied in the past. WAPA did provide written testimony.
Post auditor Jose George checked his records and said there was a signed correspondence dated Feb. 26 from a Damali Rogers indicating WAPA had received the request for information.
Without a post-audit report, Vialet said, "the members of this committee don't really have any opportunity to do any analysis of the Water and Power Authority, or to do any comparison."
Vialet ended the hearing by saying the request would be resubmitted to WAPA, and after a post-audit analysis is completed a new budget hearing for the utility will be scheduled.
An earlier budget hearing Wednesday for the Division of Personnel, the government's human resources arm, indicated little change to that division's recommended appropriation from Fiscal Year 2018 to 2019.
Gov. Kenneth Mapp's recommended budget for the division for FY 2019 is $42.45 million, of which $41.9 million comes from the General Fund. While that number appears much larger than Personnel's $4.1 million General Fund appropriation for FY 2018, the division's director Milton Potter explained it is because funds previously found in the miscellaneous section of the budget are now being extracted from the General Fund.
The $39 million moved from the miscellaneous section mostly consists of $37.44 million for government retiree health insurance costs, a similar amount to that found in the division's most recent budget.
The division also has two new projects funded in its recommended 2019 budget – a records management/scanning project at $225,000, and a customer service standards training and tracking program for $92,000.
Wednesday's hearing was an information gathering session with no votes taken. Present were Sens. Vialet, Myron Jackson, Nereida Rivera-O'Reilly, Neville James, Marvin Blyden, Dwayne DeGraff, Tregenza Roach, Novelle Francis, and Jean Forde. Sen. Brian Smith was excused.