In this series the Source introduces the community to the platforms of the candidates for governor and gauges their approaches to issues in the territory. The Source sent each gubernatorial team the same questions and is running the answers in the order in which the candidates responded. (See Related Links, below.) We aim to publish all the candidate's answers prior to the Aug. 4 primary, contingent upon the candidates providing their responses in time.
This story covers the views and planned initiatives of candidate Soraya Diase Coffelt, who is running as an independent.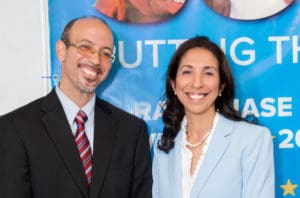 Soraya Diase Coffelt has served as an attorney and a V.I. Territorial Court judge. During her time as a judge she initiated the moot court competition for high school students to test their analytical and reasoning skills as they argue cases related to current issues in law. Coffelt ran for governor in 2014 as an independent, with Republican John Canegata as her running mate. She was nominated to be V.I. attorney general in 2015, but resigned after 10 days.
Her 2018 running mate is Dwight Nicholson, who has worked for WAPA for more than 14 years as manager of operations, superintendent, and director for WAPA on St. Croix. Nicholson also ran a campaign for a seat in the Senate in 2008.
Source: The V.I. government has a $100 million-plus annual deficit, currently cannot borrow on the private market and is not paying many of its obligations, to GERS, to WAPA, territorial nonprofits, sewage treatment contractors, trash haulers, health care contractors and more. But the territory has never missed a debt payment on its $2 billion in debt. How can the territory avoid default?
Coffelt: We must grow the tax base and reduce waste, abuse and misuse of the public's money.
In summary, our VI FIRST strategic plan will do just that. As soon as we are sworn in, in January 2019, we will have teams of experts assembled to assist us with managing the government. We will immediately review all spending plans for all departments and agencies and cut wasteful, unnecessary spending. Nothing will be off the table, including such items as the huge number of government vehicles in the Governor's Office, unnecessary travel, expensive hotel stays and restaurant expenses.
We will not issue a contract without thoroughly vetting and receiving multiple, competitive bids, not based on political favoritism or friendship but what is right for the budget and our people. The governor's fleet of 30 vehicles, including the armored cars, will be sold off, except for fuel efficient ones, and we will lead by example and live, travel and drive modestly.
Here are some specific details as to how we intend to cut wasteful expenditures dramatically as we implement our strategic plan. Of course, these are not all of our plans, but only some of them:
OBJECTIVE ONE: Reduce fraud and corruption in government.
Strategy One: Reduce fraud and corruption in government by undertaking a multi-phase approach.
Tactics to implement include the following:
– Immediately follow V.I. laws that require financial accountability and transparency.
– Establish a multi-agency V.I. Public Corruption Task Force with V.I. and federal law enforcement.
– Advocate for more funding of and autonomy for the Office of the V.I. Inspector General and expand the scope of audits to be conducted in 2019-2020.
– Ensure that the federal and V.I. Inspectors General's audits' recommendations are implemented, and alleged criminal acts promptly referred for prosecution to the V.I. Attorney General's Office or the U.S. Attorney's Office Work with V.I. Attorney General to expand white collar crime investigation and prosecution division.
OBJECTIVE TWO: Cut all wasteful spending and misuse of public funds to free up dollars for reinvestment into needed areas.
Strategy One: Require all department and agency heads to develop a plan to eliminate waste and misuse of public funds for each area by a definite date, including, but not limited to, discretionary spending on vehicles and travel.
Teams of experts will work with each department and agency head to develop each plan.
Strategy Two: Review all plans submitted with each department and agency head and direct the implementation of waste cutting policies.
Tactics to implement include the following:
– As mentioned previously, immediately comply with all Federal and V.I. Inspector General audit recommendations to improve financial management and accountability
– Sell off the governor's fleet of armored vehicles and other unnecessary vehicles. Choose government vehicles that are fuel efficient.
– Establish the governor's residence at Government House or Catherineberg on St. Thomas, whichever is most cost effective, and live modestly, making all spending receipts available to the public.
– Commissioners and agency heads will be required to submit prior year's budgets and current cost saving policies by a definite date.
– Governor's office issues new executive orders on expending monies, especially directing that travel between the islands be severely curtailed and teleconferencing centers identified and used by government departments and agencies.
– Commissioners and agency heads implement new policies and report budget savings to governor and Legislature.
Strategy Three: Set clear goals with accountability for all commissioners and agencies' leadership; provide incentives when department/agency improvement goals are met or exceeded.
Tactics to implement include the following:
– Implement proven strategic and project plan methodology and work and set KPIs (key performance indicators.) Specific improvement goals for each department and individual employees will be set.
– Conduct surveys randomly in future and track progress.
– If KPIs are not being reached, further evaluation as to why will occur and additional actions taken.
Strategy Four: Diligently work toward full compliance with court-imposed consent orders in our different departments to eliminate the astronomical costs of off-island monitors and use the money saved for employee bonuses and training, and for the purchase of modern equipment.
Tactics to implement include the following:
– Review existing compliance plans, and evaluate timetables and look for ways to move milestones forward without compromising goals.
– Evaluate the effectiveness of current contractors or personnel to deliver on past milestones and comply with new schedules.
– Tally the savings derived from condensing schedules.
– Rally employees to understand the importance of compliance and to buy-in to accelerated compliance schedules.
OBJECTIVE FOUR: Require each department and agency to adopt rules and regulations or update existing ones so that V.I. law is applied equally to all persons and that the public will know how each department/agency will operate with proper procedures in place and be able to keep each in check.
Strategy Five: Governor's office issues executive order establishing deadline dates for review and/or issuance of new rules and regulations by each department/agency.
Tactics to implement include the following:
– V.I. laws often do not establish how laws are to be enforced or applied or about the procedures to be used within government entities. Departments and agencies must promulgate and administer rules and regulations that govern how laws will be enforced and ensure that laws are enforced equally and fairly. Commissioners of each department and heads of all agencies will be required to appoint a task force to conduct a review of existing regulations, if any, and update them, or draft new regulations.
– Departments/agencies comply with VI law regarding promulgation of rules and regulations.
See section C below for our plan to grow the economy and tax base.
In short, the tax base will grow, not through higher tax rates or fees, but by growing the economy and population base.
Source: Should Congress form a board like that in Puerto Rico, to decide how much to pay on which debt?
Coffelt: No, because once we are elected, we will be taking over the financial reigns and begin implementing the VI FIRST Plan. We will be financially accountable and transparent and will show the federal government that we are able to solve our financial problems on our own. The federal government wants accountability and transparency so that money it provides goes to projects to benefit the people.
Source: What is your fiscal and economic plan?
Coffelt: It all starts with a clear vision for the Virgin Islands – to become the economic powerhouse and leader in the Caribbean. It will be attained by implementing a detailed, long-term strategic plan with five components that work together to transform the lives of all Virgin Islanders.
Our transformational plan VI FIRST consists of the following:
F – Fight for our families – children, fathers and mothers – which includes strengthening our education system to promote literacy and job training programs for children and adults.
I – Ignite our tourism industry through diversification and investment.
R – Rebuild our business community to become extremely business friendly. We will make doing business in the Virgin Islands fair and easier to start and maintain for our residents and others.
S – Strengthen critical public services. Critical public services such as electric, health care and infrastructure will be improved, particularly now since we have access to federal disaster grants and other monies, and are eliminating the waste and misuse of public money.
T – Transform the inner workings of our government so that we trust our government. This includes fighting corruption and becoming public service oriented.
The journey to attain each transformational idea begins by setting measurable goals. To attain each goal, specific objectives are identified and then for each objective, specific strategies and tactics are created.
Once in office, the Governor's Office will have teams of experts in all fields assist us in planning and moving forward. The Legislature will be a key partner as well.
The Governor's Office will also organize a private-public steering committee with representation from the Legislature, as well as commissioners, government agencies, boards and the private sector to oversee the development and implementation of the economic growth phase of the plan.
Input into the plan will be extensive, including primary market research.
Once our plan is put into motion, personnel, budgets, and timing will be set and shared with all Virgin Islanders. Progress toward our goals will be reported quarterly.
The ultimate success of the plan will be the result of the hard work and dedication of all government and private sector workers, as well as the individual efforts of all Virgin Islanders. As a united "one," we will transform the Virgin Islands from a place of hopelessness for many, to a thriving community for all.
Source: Many young Virgin Islanders are seeking educational and financial opportunity outside of the territory. What plans will you execute to encourage those that remain to stay, and to get those that have left to return?
Coffelt: As a mother of two sons who were born and raised in the Virgin Islands and went away to college, Soraya too wants her sons to return home and contribute to our community. In order to encourage them and others like them to return home, we need to improve the quality of life in the Virgin Islands.
We all know the challenges: lack of specialized higher education, high crime rate, extremely high cost of living, roads in disrepair, and unreliable electricity, to name a few.
When Soraya returned home after graduating from law school, the economy was booming and there was hope for me to earn a good living as an attorney. Dwight followed the same path and came home after obtaining his engineering degree and developing professional skills in the states. It was our profound love for the Virgin Islands and a thriving economy that brought us both back. Our children will return too.
To stop the migration and start rebuilding the population, we need to put the VI FIRST plan into effect. We should not stop our youth from exploring the world beyond the Virgin Islands, but we can make it a place they want to return to raise a family in a community surrounded by history, culture, temperate weather and turquoise waters.
We always want to attract the Sorayas and Dwights who left to obtain their education and professional experience.
Source: What would you propose to address the collapse of GERS in light of the $3 billion-plus shortfall and projected exhaustion of all funds between 2020 and 2023?
Coffelt: Soraya attended both town hall meetings that GERS held in February, 2018 on St. Thomas and on St. Croix. She heard the information offered by all representatives on behalf of GERS as well as the many questions posed by the people present. GERS offered various options and recommendations, including but not limited to:
a. Reduce Tier 1 benefits by 30 percent;
b. Impose a sales tax dedicated to GERS; and
c. Reduce legislative and judicial benefits to 70 percent of Tier 1 benefits.
What we need is a current dollar figure attached to each recommendation as to the benefits to be derived and these dollar figures can be calculated by the actuaries retained by GERS. We will not know which is the best recommendation or group of recommendations until we know the dollar figure that each will bring to the system.
Soraya also read the Mercer study of the GERS system dated October 26, 2016. This study was commissioned by the governor and paid through PFA. The study confirms many of the options and recommendations made by GERS and adds another one – to reduce the administrative costs of GERS itself. Importantly, at page 13, it states: "Every dollar spent on administrative (non-investment) costs is a dollar that cannot be used for benefits." This study noted that as of FYE 9/30/15, GERS had administrative costs of $16.5 million while Guam, which has a comparable system, had costs of $4.5 million. However, the study further noted that lowering administrative costs in and of itself will not make our system solvent. It is clear that administrative costs must be adjusted so that additional monies are saved and used for benefits.
Once we know the current dollar figures of each recommendation, we can make a better, informed decision as to how we can best proceed. We would make that decision available to the public and have town hall meetings to discuss our recommendations. We would also support a referendum on the issue. It is imperative that we do all that we can to resolve the pending challenges at GERS as its insolvency will directly affect every segment of our population:
– Current government employees
– Retired beneficiaries of the plan
– Taxpayers living in the territory
– Visitors who make a purchases in the territory, and
– Indirectly affect everyone by resulting in a further drag on the economy.
Loss of benefits means less dollars circulating in the economy by retirees.
Taxpayers already burdened and may leave the Territory"
Source: How will you help make government more transparent?
Coffelt: The answer is contained in the fifth transformational idea of the VI FIRST plan: Transform the inner workings of our government. This platform idea provides clear strategic vision and direction to the teams of experts and government entities charged with making progress and being accountable and transparent to the people of the VI.
Our goal is to "Rebuild the credibility of the Virgin Islands government, beginning with the Governor's Office and be vision oriented and transparent."
Our first strategy is to make all aspects of government finances and activities transparent to the people of the V.I. by fully complying with the government in the Sunshine Act and open all meetings for the media and public to attend, except where expressly prohibited by law.
Tactics to implement include the following:
– Issue an executive order to all commissioners and heads of governmental agencies that public notice of all meetings must comply with the law.
– Require that public notice be through all forms of media possible.
– Ensure that meeting spaces can adequately accommodate public and media.
Our second strategy will be to fully comply with the Government Transparency Act of 2012 that requires the Bureau of Information Technology to establish and maintain an official internet website that is electronically searchable by the public at no cost and that contains a comprehensive database of recipients and expenditures of the territory's funds. This law requires that BIT present information in the database in a manner that is intuitive to people, including graphical representations. Tactics to implement include the following:
– Develop a team to review existing website for capabilities to perform needed functions.
– Have team work with commissioners and heads of agencies to gather the necessary information.
– Upload all information.
– Input keywords into search engine to populate the universe of data.
– Pilot test website.
– Announce the new website via media and allow the public to search public records.
– Ensure information is uploaded on a regular schedule thereafter.
Our third strategy is to re-establish communication channels with all bond-rating agencies, including Moody's, Standard & Poor's, and Fitch.
Tactics to implement include the following:
– Contact each bond-rating agency and determine the information they require to begin assessing the financial situation.
– Re-establish contractual ties with each rating agency acknowledging applicable criteria and polices, as has been done in the territory's past.
– Supply the information to each bond-rating agency and provide updates as needed.
We will communicate regularly with the public about our financial standings and be open with how the people's money is being spent.
Source: Why are you running?
Coffelt: There are many teams in the race for governor/lieutenant governor. Soraya and Dwight share similar reasons for running. We both want to take self-service out of public service. Additionally, we are tired of more than one-third of our children not reading to grade level by the end of third grade; the low number of career and trade skills classes in the public schools; and the lack of hope for our youth. We are extremely frustrated by the same old politics and policies that prevent life from getting better for the people of the Virgin Islands. We are not slick politicians, but regular people, just like everyone else. We have the character, passion, vision, and the VI FIRST Plan to make us the No. 1 place in the Caribbean to live, work, and visit.
We are going to transform the government, change the culture within it, and run it more customer/people focused, serving the needs of the people of the territory and rebuilding trust among potential investors. When we do this, our economy will start to grow and we will all share in the benefits of this renewed growth. We have some very hard work to do, and we need to stop with the talk and empty promises and get things done.
Source: Why should voters choose you instead of another candidate?
Coffelt: Without a vision as to where we are going for the next decades, we cannot achieve the true transformation that we need to achieve. A leader must have a vision for the islands. Soraya studied Chinese business and law in China for five weeks in 2016 and she has seen how a leader with a vision can have such a tremendous impact. She learned that China's leader in 1990, Deng Xiaoping, set a vision for Shanghai – he said that if China was a dragon, Shanghai was its head. He set a goal to have Shanghai become the rival to Hong Kong and be the most important commercial center in Asia. It did become that, as it has its own stock exchange, has seen tremendous economic growth and modernization, and is the most important industrial base in the nation. It is known as the Paris of the east with its unique charm and culture.
Similarly, we have a grand vision to lead the Virgin Islands into the next decade of 2020 – transforming the Virgin Islands into the economic powerhouse and leader in the Caribbean. We have the private sector experience to successfully implement the VI FIRST plan and build expert teams that will assist us to operate the government and accomplish goals on time, on budget and right the first time. We are servants of the people and will place their interests first for a change. We will transform the government to work for them and not the other way around.
Source: How do you feel about legalization of marijuana and why?
Coffelt: First, it is against federal law to possess marijuana. As long as Congress says it is illegal, so it will be under the Coffelt/Nicholson administration. Because it is against federal law, banks that are FDIC insured will not allow monies deposited into it from marijuana sales. The airspace and waters above and around the Virgin Islands are regulated by the federal government, so it would be illegal to travel with it at any time outside an island. U.S. Attorney General Jeff Sessions has taken a tough stance against the legalization of marijuana and the new U. S. Attorney for the Virgin Islands, Gretchen Shappert, echoes his stance. In January, 2018, AG Sessions broke from the Obama administration's position on marijuana, allowing federal prosecutors to enforce federal marijuana laws more aggressively.
Second, Soraya spent several years as a judge assigned to the Family Division of the Superior Court and saw firsthand the drastic negative effects that illegal drug use has on our youth, especially our young men, and their families. Apart from the federal prohibition, Soraya does not support making marijuana more accessible to our youth through legalizing its use.
While it may appear that states such as Colorado are experiencing a windfall and it is tempting to jump on the bandwagon, we do not believe we need to legalize marijuana to attract visitors or save our failing economy. We have too much to offer and with our plan to diversify and invest in tourism, we do not need to rely on mind alternating drugs to build our tourism experience.
Also, states that have legalized marijuana are experiencing troubling issues. There are studies establishing that there have been increases in fatal car accidents, teen visits to the emergency room for marijuana-intoxication, as well as armed robberies, as monies are being kept in safes in establishments selling marijuana.
Many have spoken about how marijuana can revitalize the agriculture industry. We have plans for growing our ag industry and these plans involve growing food and becoming food sustainable, through investment and modernization. We do not believe we should use valuable land space growing marijuana for recreational use.
Source: What can you as an elected official do to help alleviate violent crime in the territory?
Coffelt: Our VI FIRST plan establishes the foundation for all growth on strengthening our education system. Literacy must be a key component in education, with each child reading to grade level. When a child falls behind, remedial assistance will be given to bring that child up to grade level. The importance of literacy must be brought to the awareness of the community, including parents.
In addition to making sure that each child reads to grade level, we will expand the career and technical skills classes offered in schools, beginning with middle school. As a judge, Soraya observed that many students begin dropping out of school from middle school and then get involved with crime and drugs. It is critical that we give our children hope by helping them learn skills based on their gifts and aptitudes. We should assist them to learn the skills they need for a prosperous career and future.
Soraya has spoken often about our young men being in a crisis, because the education system has failed them. They lose interest in school because of the lack of direction and counseling. Many juveniles who came before her as a judge told her that they were not going to college so there was no need for them to stay in school. Therefore, school should offer two avenues for achievement – college preparation and career preparation through skills classes. A student should be able to make the decision in middle school as to which path of study the student wants to undertake. Also, testing results will assist in determining what are the 13 strong aptitudes of each student, to further guide the student in selecting a career.
Additionally, police officers need continued training and modern equipment to fight crime. More training is being offered now that the police department is under a federal consent decree requiring this training, so this is very promising.
Community policing is critical for the reduction in violent crime. Police officers should become more intimate with their communities and this will allow each community to regain trust in the officers. When a crime occurs, people will then trust the police and be more willing to come forward and assist in solving a crime.
Source: How do you see your role in overseeing government agencies?
Coffelt: The job of the Governor's Office is to set the vision, provide the plan of action for the departments and agencies, and ensure that the plan is being carried out.
The Governor's Office will take the lead to organize teams of experts in each field to assist commissioners and other agency heads to assess what is happening in each area, cut the waste and misuse of the people's money, and plan for the future.
We will evaluate the leadership in each department and agency and they will earn their job based on expertise, and the ability to get the job done, not based on political party affiliation, cronyism or nepotism.
We will listen to the needs of each leader and provide the personnel, training and support infrastructure as needed, within reason.
Additionally, in regard to the rebuilding of our economy, we will establish a private-public steering committee with representation from the Legislature, as well as commissioners, government agencies, boards and the private sector to oversee the development and implementation of a plan. Input into the plan will be extensive, including primary market research.
The ultimate success of all plans will be the result of hard work and dedication of all government and private sector workers, as well as the individual efforts of all Virgin Islanders. As a united "one", we will transform the Virgin Islands from a place of hopelessness for many, to a thriving community for all.
Source: How will you ensure the territory is prepared for future major disasters like hurricanes?
Coffelt: We can never fully protect against all natural disasters, but we can be better prepared. For all potential disasters, we must have an incident command system in place, which is a management system for command, control and coordination of an emergency response in the event of any type of a crisis. Dwight has been trained in this field and with the leaders VITEMA, the National Guard, Police Department, Fire Services, etc. , this system will be in place and working efficiently. Especially before hurricane season each year, updates and simulation practices must take place.
We must plan and prepare for hardening our electrical system and have a better plan to get critical resources quickly and efficiently to our people after a disaster strikes. We will have more distribution centers to include our churches, mosques, and synagogues so that we do not require our people to wait in long lines in the hot sun for hours just for some canned Vienna sausages and bottled water. We will have fuel available, and we will be prepared to stop all looting. We will pay our public servants, such as the National Guard service members, on time. We will have roadways cleared of trees and guts cleared, as well as assess where roadblocks are likely to occur and plan ahead of the season.
Hurricanes are not our only risk. We are in a seismically active zone and could be hit by a major earthquake and tsunami. We need to have our alert systems repaired now! We need thorough plans and training to prepare for a catastrophic earthquake like the one that struck Haiti in 2010.
Source: What will you do to mitigate the effects of climate change on the territory?
Coffelt: There is still debate as to whether the earth is in a natural cycle of warming. Nevertheless, we must be proactive in regard to our sensitive environment.
For electricity production, we need to move away from fossil fuels in the Virgin Islands and develop more renewable energy such as solar and wind, both of which we have plenty of. We recently had solar energy consultants tour the islands and speak on radio shows and at a community meeting to discuss how quickly and cost effectively we can transition to solar energy.
We have lost a lot of trees from the hurricanes. Replanting those trees is very important.
It has been scientifically established that air travel leaves a huge carbon footprint. We will require more videoconferencing for government officials, which would also be less costly than the frequent flights between the islands for routine matters.
Since vehicle transportation is said to contribute to one of the largest percentages of greenhouse gas emissions, we will also promote more car-pooling and efficient, reliable, and timely public transportation.