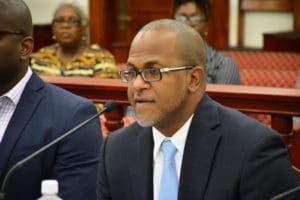 The Senate Finance Committee on Thursday questioned the Office of Management and Budget on what they called unfunded salary raises and poor management of federal grants that often end up expiring and being returned to the federal government.
OMB Director Julio Rhymer was presenting the agency's recommended fiscal year 2019 budget, which is up by $28 million. The OMB's recommended appropriation for the next fiscal year stands at $31 million; last year, it was $2.98 million. The large variance, according to Rhymer, is mostly due to the transfer of some $20 million from the Miscellaneous Section of the budget to the OMB's appropriation for better management and control.
Of the $20 million from miscellaneous, $15.8 million is earmarked for contract negotiations expected to result in salary raises for particular agencies. That amount, according to Rhymer, is included in the more than $28 million that the V.I. Government has slated for salary raises. The other $14 million falls under the Department of Education, which has stated that salary negotiations for new and current teachers are underway with teachers' unions.
Sen. Tregenza Roach (I-STT) said he has concerns related to Gov. Kenneth Mapp's independent decision to raise entry-level salaries for the V.I .Police Department, necessitating raises for existing VIPD officers who have already served a number of years. The action was done outside the context of any collective bargaining agreement. This is in addition to the Education Department's salary negotiations that could add $10,000 to a starting teacher's salary, and the ripple effect that increase would have on teachers with more years of service under their belt.
"The overall concern is that the government is undertaking salary increases in a vacuum, one which affects our ability as a legislature to budget monies that could give effect to any collective bargaining agreement subsequently negotiated in this paradigm we're dealing with," said Roach.
When asked if the government can afford a $10,000 salary increase across all its agencies, Rhymer said, "It's highly unlikely."
He admitted that moving forward, salary raises must go through contract negotiations, but added that the OMB is involved in current pay raise negotiations with the aim of ensuring that they are fiscally sustainable.
"It might be a situation where we negotiate, where we do a negotiation, but it might not be funded all at once, it might be funded over a three-year widow that is sustainable versus 'I'm gonna promise you $1 and know I'm only going to pay you $0.30," said Rhymer.
Lawmakers also expressed concerns over  $4.2 million in funding for critical vacancies, not within the OMB but for other government agencies needing to fill certain positions not originally placed in their budget requests. Sen. Dwayne DeGraff said the practice is basically "inflating" these agencies' budgets, with OMB shouldering the salaries that should have been budgeted for the agencies in the first place.
Rhymer clarified that this is not "double money," as DeGraff suggested. When agencies need to fill positions, OMB directs them to look at any current vacancies and eliminate one or two in order to free up monies to fund the critically needed position. If the agencies exhaust that option they come to the OMB which then taps the critical vacancies fund to fill the gap.
Many of the critical positions agencies need filled involve federal grants, which lawmakers said are poorly managed by local agencies. The Legislature's post-audit division reports that of almost $25 million in federal funding under OMB as of April 2018, $16.25 million remain unspent. Out of 39 different federal grants with expiration dates between 2017 and 2022, only four list zero balances.
Award balances for various grants vary but some stand out due to the sheer amount of money left untapped. Two capital improvements grants from the U.S. Department of Interior for the local Department of Health, awarded in 2013, expired in June with more than $450,000 unused. A 2013 Interior Department grant for capital improvements, this time for the Department of Public Works, expires at the end of August with the grant amount of $1.48 million still completely untouched.
"Something's got to give," said Sen. Kurt Vialet (D-STX), who chairs the Finance Committee. "We're getting federal funds, we don't spend it."
Roach suggested that if the grant managers were also involved in the application, they would have a head start in strategizing how to spend the grant monies.
"They're such detailed applications, and if you simply follow that from the onset, you already have a framework for spending," he said.
According to Rhymer, management of federal grants is two-pronged: first, the federal grant managers within local agencies, and then the OMB, which steps in to monitor compliance through site visits and follow-ups.
"At this time, without the teeth to enforce accountability, it creates a problem," said Rhymer, who received urging from Vialet to have his staff draft policies to address the problem and bring them before the Senate.
Rhymer also reported that the government continues to make payments toward outstanding employer contributions to the Government Employees retirement System.
"You have an actuarial defined contribution on an annual basis that is required  by all employers of the government," said Rhymer. "We are starting to actually fund that on an annual basis. It might not be enough but it's a start versus zero."
The government remains far from current on its payments to GERS, said Rhymer, and is merely making an attempt to reduce its liability, when one takes into account the government's actuarial defined contributions, the liability for government agencies that are not paying into the system on a timely basis and losses in investments.
"Unless you stick $2.2 billion dollars into this system, your liability will continue until you start to put significant dollars to reduce the liability moving forward," said Rhymer.