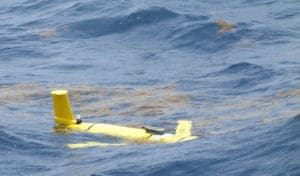 Local mariners who spot bright yellow miniature submarines in the waters of the USVI should not be alarmed. They are part of a multi-agency effort to improve storm forecasting in the territory.
The University of the Virgin Islands, NOAA (which funds the project,) the U.S. Navy, Rutgers University and numerous sub-groups are working together to launch and operate five unmanned Ocean Gliders to monitor the water for salinity, temperature and other properties.
The five miniature vessels will remain in the area through the hurricane season and send back data for evaluation. Two are fitted with devices to hear whales sounds. The "remoras," as the instrument packages are known, are named for the fish that attach themselves to other fish for a free ride and whatever food scraps become available.
The long-term goal is to keep Ocean Gliders in our waters year round.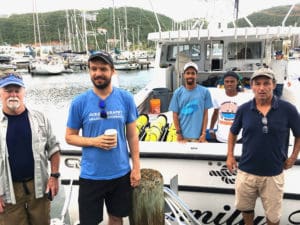 "The gliders have no propellers, moving forward and steering by changing their buoyancy," said Doug Wilson, who retired from a 30-year career as a NOAA Oceanographer and now runs Caribbean Wind LLC. He is a Senior Oceanographer and a Courtesy Faculty Member at the University of the Virgin Islands
The water that rushes over the wings during ascent and descent manuevers determines depth and direction.(See video on how they move, here.)
The gliders are considered the best tools available to collect information that allows scientists to monitor the ocean conditions that affect hurricane intensity. They replace manned research vessels that can cost hundreds of thousands of dollars and $50,000 per month in crew wages.
"Rutgers was the first to operate this model in the late '90s," said Travis Miles from Rutgers University. "We maintain a fleet of 25. They were designed in academia and are now steered by Navy personnel at Stennis Space Center on the Mississippi gulf coast."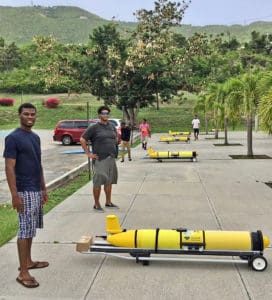 Teledyne Corporation has build more than 500 of the units, which can also measure acidity, oxygen levels and other properties. They communicate via the Global Positioning System and the Iridium Satellite Phone system network. They can descend to 200 meters and are programmed to transmit their information as they reach the surface.
"The big goal is to bring together coastal data from satellites, ocean instruments and numerous high-confidence models to greatly improve hurricane predicting of track and intensity," said Roy A. Watlington, project director of Ocean and Coastal Observing-Virgin Islands (OCOVI.)
A native St. Thomian, Watlington retired from the University of the Virgin Islands after 27 years as professor of physics and research with a total of 40 years in higher education. As principal investigator of UVI's Anegada Climate Tracers Study, he researched climatic signals in seawater exchanged between Atlantic and Caribbean. He is a co-founder of the Caribbean Regional Association for the Caribbean Integrated Coastal Ocean Observing System. Known as CARICOOS, the local organization's multi-pronged mission includes the operation of observing assets, gathering and providing data, creating experimental forecast models and data products. They also manage educational and outreach programs and generally promote ocean research. To that end, Watlington was pleased to announce that their plans for a public website are moving forward and he is optimistic for its launch in a few weeks.
More information, including video of the Ocean Gliders can be found online here and here.