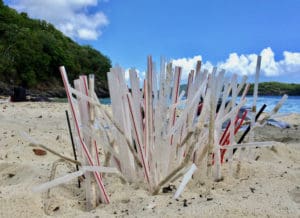 The territory will join the state of California and several U.S. cities in banning most plastic straws, if a bill approve in committee Wednesday is signed into law.
The measure, proposed by Sens. Janelle Sarauw (I-STT) and other senators, would expand the territory's 2017 ban on most plastic grocery bags by including plastic straws. It was first heard in committee in July but was held at that time.
The Government Affairs, Veterans, Energy and Environmental Protection Committee amended the measure to include plastic stirrers, exempt items like juice boxes that come with straws attached, and exempt hospitals, nursing homes and medical supply retailers.
"As small as straws may be, they leave a lasting impact on our marine environment. We have already lost 80 percent of our coral reef cover in the Caribbean region," Sarauw said.
"I understand the concerns expressed about imported products with straws attached but excluding those items in this amendment does not address the problem at hand," Sen. Tregenza Roach (D-STT) said, in opposition to the exemptions. He said the bill is an example of a "good intention" that ended up "watered down."
"This amendment is a step in the right direction and an opportunity for us to change our footprint and reduce the amount of plastic waste generated in our territory," Sen. Nereida Rivera-O'Reilly (D-STX) said.
Sen. Marvin Blyden (D-STT) said he was concerned whether the new law would be effective. He said some stores are still using plastic bags despite that ban.
Voting to send the measure to the Committee on Rules and Judiciary for further consideration were: Blyden, O'Reilly, Sarauw and Sen. Brian Smith (D-At Large). Sens. Myron Jackson (D-STT), Janette Millin Young (D-STT) and Positive Nelson (ICM-STX) were absent.