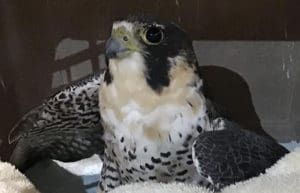 The most recent animal to fall victim to a pellet gun on St. Croix is a peregrine falcon found late Tuesday night in the middle of a road in La Grande Princess. The raptor was taken to the St. Croix Animal Welfare Center where veterinarian Michelle Mehalick took X-rays and assessed the bird's injuries.
The female falcon is two or three years old – breeding age – and traveled thousands of miles from North America to the Caribbean, where peregrines spend the winter.
The pellet struck her in the shoulder and broke her collarbone.
"There is no good reason to shoot this bird. Was it for fun? For sport?" Mehalick asked, adding that the bird may not heal enough to be released back into the wild.
Unless the bird heals properly, she will not be able to fly and survive on her own. Peregrines are one of the world's fastest birds and can dive 200 miles per hour to catch their prey.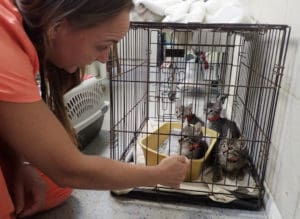 For the best chance at recovery, the falcon was placed in the care of Toni Lance, licensed wild bird rehabilitator. She works with Matt and Erika Silverly of the St. Croix Avian Sanctuary.
On Saturday, Lance said the falcon is eating and is in a cage with a perch that prevents her from aggravating the injury. She will remain in the confined carrier for three to six weeks to allow the wing – broken in two places – to mend. Once she heals sufficiently, Lance will give her a little more freedom and help the bird practice flying after about six weeks. She said she hopes the bird can be released and thinks there is at least an 80 percent chance of success.
"If you see me caring for a bird, you know I'm working for release," Lance said.
Peregrines are protected and the shooting is a federal crime. Anyone with knowledge of the incident can call the V.I. Division of Environmental Enforcement at 340-773-5774, or call the anonymous tip service, Crime Stoppers USVI, at 1-800-222-8477.
Pet shootings on the increase
The SCAWC has seen an increase in animals wounded or killed by pellet guns and has been keeping a log since April. The first of 10 victims was a 50-pound dog on its own property that was shot and killed instantly. Those involved have a suspect in mind, but so far no proof. Next a cat, also on its own property, was shot and paralyzed by a pellet gun. Recently a dog that was euthanized due to severe injuries suffered after being hit by a car, was found to have had had five pellets embedded in its body – no way of knowing for how long.
The shootings can't be tied to one area of the island, but are "pretty much island-wide," Mehalick said.
The AWC veterinarian recommended that residents keep their animals under control so they do not be come a neighborhood nuisance. If there are issues, people should talk calmly with the owners and call the police or AWC if nothing is resolved.
"Pellets don't usually stop the behavior, they just hurt the animal," Mehalick said.
While it is common knowledge that animal abuse is linked to violence against humans – child and spousal abuse – the V.I. Police Department has not taken some elementary steps to break the link. On St. Croix, there is one animal cruelty officer who doesn't even have a citation book. That means that when there is a violation, he cannot write a ticket for such things as lack of license or animals off leash, and add fines to the VIPD coffers, but must file a report and hope for a court case some day.
"VIPD depends on a non-profit to do this work. It would be helpful if they enforced the laws on the books," Mehalick said.
AWC concerns
The Animal Welfare Center continues to operate under dire financial and operational constraints. The organization's building was destroyed in last year's hurricanes and AWC moved to two locations that must be kept staffed and air-conditioned. There are no dog runs, so animals must be leash-walked at the clinic and the Pet Place adoption center. Volunteers are always needed to socialize and walk the dogs.
Already this year, the St. Croix shelter has taken in more than 3,000 animals; 75 percent have been released live through off-island transportation, feral cat neutering as well as adoptions, Mehalick said.
On the positive side, the low cost spay-neuter clinic now has 7,000 patients who pay for services and a realistic contract has been signed by the AWC with the V.I. government. Nothing is final however, until the V.I. Agriculture Department signs the document and then, it is hoped, provides the required funding for AWC services.