Coquito makers vied for top honors and bragging rights Saturday in the 11th annual La Reine Chicken Shack Coquito Festival, and good cheer abounded all afternoon.
While Bully and the Kafoonaz played quelbe for the crowd and moko jumbies danced across the Chicken Shack grounds, Crucians and visitors sampled coquito from table after table under the big tent. Most voiced opinions as to their favorites and went home with a bottle or two at $20 a pop.
Some of the tourists caught the afternoon Miami flight, coquito in tow.
"If you are traveling, the airlines will accept it in a rum box, but you need the sticker," said Miss J, who attaches a list of ingredients whenever visitors purchase a bottle from her.
"I have people from Tortola who order all the time. They come over for the horse races and the car races throughout the year and bring it back home with them," she said.
Entering the competition for the sixth time this year, Miss J, a winner of previous festivals, maintains her customer base.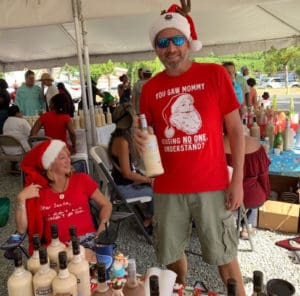 "I've had people who come back to me every single year," she said.
While the original recipe remains her favorite, she also makes chocolate, peppermint, espresso, and pistachio coquitos.
Jason Walker goes by 'Woody" when it comes to branding his coquito. The Air National Guard nicknamed the redhead this when he joined 24 years ago. Like Miss J, Walker presented a variety of flavors: traditional, pepperquito, Frangeliquito, and bushquito.
"I just introduced bushquito this year; this is its unveiling," said Walker of his new lemon grass and spice concoction.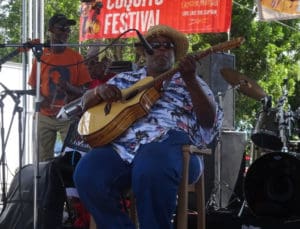 Walker, who placed second last year, displays a crown atop his table. He earned the crown when he entered and won a Board of Realtors coquito competition a couple of years back. That was his first stab at making the famous holiday drink.
"Everyone there encouraged me to enter the Coquito Festival, and I thought 'Are you crazy? Can you imagine how much work that would be?'" said Walker. "So here I am!"
Hans Ramkaram, who splits time between New York City and St. Croix, helped Walker pour tastes for festival goers, but could not indulge.
"I am vegetarian, but I'm going to work with him to bring out a vegan coquito next year," Ramkaram promised.
Meanwhile, Edna Santiago, who decked-out both herself and her table in hot pink, enter her own vegan coquito, Mamacita's Coquito.
Some entrants, such as Shawn of Shawn's Country Coquito and Stuart Locklair of Stuquito, stood by the traditional style that appeals to many folks. Skylar Gremillion, for one.
Hailing from Prairieville, Louisiana, Gremillion boarded the American flight Saturday afternoon with two bottles of the original style, one made by Shawn and the other by Miss J. She and her beau have scheduled the Shawn's Country Coquito for Christmas and Miss J's for New Year's Eve.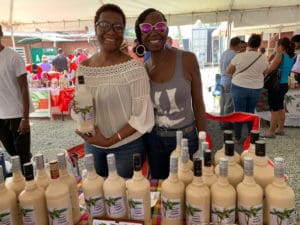 Coquito, a rich and creamy coconut beverage with a Puerto Rican heritage, has a texture similar to eggnog. On St. Croix, most make it with rum.
But Rafael Santiago remembers the old days on Puerto Rico when he and his family made coquito from a moonshine called pitorro.
"We didn't use rum. In Puerto Rico, they shred the coconut, boil it, and squeeze out the milk. That's the right way to do it," Santiago said.
"The real secret is right there in the spices," he said. "And it all depends on how you blend it."
He would reveal no more.
After attendees had sufficiently sampled the sundry coquitos, music and dancing continued long into the night.
The names of winners of the competition were not available Sunday night.