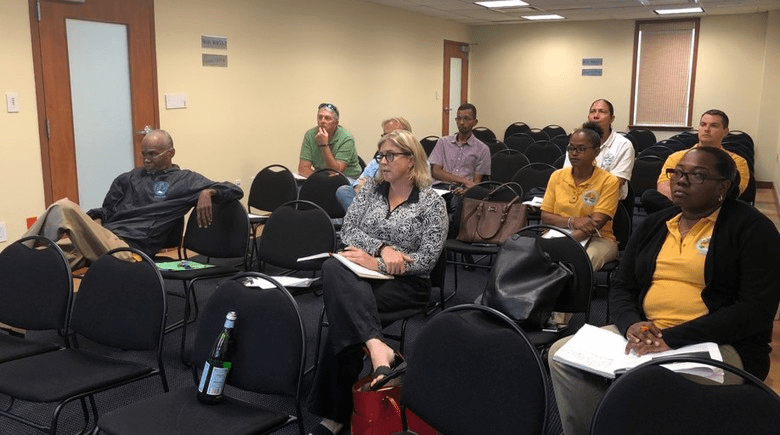 The U.S. Army Corps of Engineers hosted its first interagency meeting in the Virgin Islands since hurricanes Irma and Maria to hear project proposals that could have an effect on the islands' waterways.
The Antilles area office's regulatory section, part of the Corps' Jacksonville district, along with local and federal agencies, gathered to hear proposed projects and help applicants navigate the regulatory permitting process.
All federal agencies have an obligation to ensure that permits comply with applicable laws, such as the National Environmental Policy Act. The ultimate goal of each permitting action is to prevent negative impacts to aquatic resources by the proposed projects.
"We are glad to resume these meetings in the Virgin Islands because there are a number of different projects being proposed, and we recognize that the permitting application process can be challenging," said Acting Regulatory Section Chief, José A. Cedeño. "This isn't a one size fits all process. There are different permits and application requirements depending on each project and scope, and this forum allows all the agencies to assist each individual applicant to make the process easier."
The meeting held Wednesday on St. Thomas was attended by representatives from:
. U.S. Environmental Protection Agency
. U.S. Fish and Wildlife Service
. U.S. National Marine Fisheries Service, Habitat Conservation Division
. U.S. National Marine Fisheries Service, Protected Resources Division
. U.S Virgin Islands Department of Planning and Natural Resources, Division of Coastal Zone Management
. U.S Virgin Islands Department of Planning and Natural Resources, Division of Fish and Wildlife
. U.S Virgin Islands Department of Planning and Natural Resources, Division of Environmental Protection
. U.S. Virgin Islands State Historic Preservation Office
Several projects were presented at the meeting, including proposals for boat and dock repairs, marina reconstruction, shoreline revetment and construction of an emergency response dock, among others. The agency representatives asked questions pertaining to each proposal, addressed concerns regarding aquatic affected species and requested information on measures that would be implemented to protect and ensure minimal disruption to those species.
The meetings are designed to ask questions by both the applicants and the agencies.
The V.I. Department of Planning and Natural Resources Assistant Commissioner Keith Richards highlighted the value of these events, saying the meetings are absolutely vital because they provide the type of discussions, relationships and information that is needed by both the department and the potential applicant.
"The department has a long-standing relationship with the Corps of Engineers. These quarterly meetings or additional meetings work because they allow us to share information, work collaboratively, and allow us to start all projects on the same page," Richards said.
"When we share information between the Corps, local CZM as well as the other sister agencies, it really works in better planning, better preparation for any project that's on water — on land in some instances — but the impact is on both," he said.
Additional information regarding Jacksonville District's regulatory program can be found at https://www.saj.usace.army.mil/Missions/Regulatory/