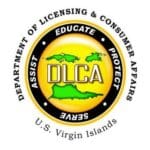 Commissioner of the Department of Licensing and Consumer Affairs (DLCA) Richard T. Evangelista notifies licensees and the public that effective Jan. 1, 2020, the Division of Boards and Commissions – Virgin Islands Board of Barbers, Beauticians and Manicurists (BBM) have increased the required hours for permanent licensure in the respective fields:
Occupation — Previously — Currently
Cosmetology — 1000 Hours — 1500 Hours
Manicurist — 150 Hours — 500 Hours
Esthetician — 250 Hours — 600 Hours
Presently, if a person has a cosmetology or barber license in another state, that person may be eligible for licensure via endorsement in the U.S. Virgin Islands. However, according to the Board's policy, "licensure by endorsement" means that the person is attempting to qualify for licensure in the U.S. Virgin Islands without having to take the USVI Board of BBM examination, but it must be developed by PSI, the same test site that currently develops and administers the USVI Board examinations, according to a press release issued Monday by the DLCA.
Pursuant to Virgin Islands law, "The Board may, in its discretion, waive the examination of and issue a license to practice barbering, beauty culture or manicuring to any person possessing the qualifications prescribed by section 454 of this chapter who is the holder of a license to practice such trade, then in full force and effect, issued under the laws of any state," the USVI Board of BBM agreed to implement licensure by endorsement only to those applicants that took PSI developed examination, as the USVI does, and has at least two years of experience in the practice of barbering, beauty culture or manicuring.
To be considered for licensure by endorsement, the licensure requirements of the individual's home state must be equal to or greater than the U.S. Virgin Islands' cosmetology or barbering licensure requirements. This is achieved by having a current, active cosmetology license in good standing in the home state, and the home state must have comparable or more stringent education and exam requirements than the USVI.
For additional information, contact the Division of Boards and Commissions at 713-3522 ext. 3250 on St. Croix or at 714-3522 ext. 4251 on St. Thomas.