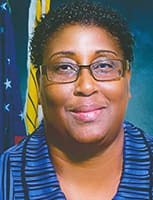 Voting has been suspended in the St. Thomas-St. John District until further notice. On Friday, July 10, Supervisor Caroline Fawkes was advised that an individual conducting business at the St. Thomas Elections System office had tested positive for the COVID-19 virus.
"In an abundance of caution, the St. Thomas-St. John District offices and Early Voting Center (EVC) located at Charlotte Amalie High School's Temporary Cafeteria (Spring Unit) has been closed," said Fawkes.
All workers have been mandated to contact the Department of Health COVID-19 hotlines 776-1519 or 712-6299.
"We are grateful that there are options to participate in the primary elections," said Fawkes. As a reminder, electors can participate in early voting, absentee voting or election day voting.
Act 8294 provides that any qualified elector can vote by absentee ballot in the 2020 primary and general elections to ensure that electors are not disenfranchised by COVID-19. Absentee ballot applications can be found on the Elections System of the Virgin Islands website: www.vivote.gov. Voters are encouraged to use the election process that's best for them, but participation is key, the supervisor emphasized.
The numbers of electors who participated in Early Voting on Friday, July 10, in the District of St. Croix was 37 for a five-day total of 246. St. Thomas-St. John numbers are unavailable until Monday. Early voting continues in the St. Croix District on Saturday, July 11 to Sunday, July 26. Voting hours are from 9 a.m. to 3 p.m. The St. Croix office location is Sunny Isle Annex, Unit 4.
For questions or concerns, contact the St. Croix Elections Office at 773-1021 until further notice.