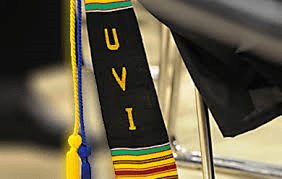 The University of the Virgin Islands (UVI) has established a policy regarding the awarding of honorary doctoral degrees to individuals who have demonstrated outstanding accomplishments. Any member of the UVI administration, faculty, student body, staff or the Board of Trustees, may nominate a person to be the recipient of an honorary degree.
Nominations are currently being accepted in the Office of the President and should be submitted in writing via e-mail submission to honorarydegrees@uvi.edu and must include:
A letter of nomination
Completed nomination form
Curriculum Vitae of the nominee
A document that clearly delineates distinguished achievements and the impact of those achievements, including supporting documents (i.e. scholarly documents, magazine articles, newspaper articles, citations for major prizes, etc.)
Other supporting documents as may be appropriate.
Note: Supporting documentation is of critical importance.
A nomination form and the policy approved by the UVI Board of Trustees for awarding honorary doctoral degrees, including a full listing of the criteria, is available from this direct link: https://www.uvi.edu/files/documents/Institutional_Advancement/Public_Relations/Honorary%20Degree%20Nomination%20Form.pdf
Nominations will be accepted by e-mail until 11:59 p.m. (AST) on Sept. 7. For those submitting by hand or by U.S. Postal Service, they will be accepted until the close of business on that day.
For more information, email honorarydegrees@uvi.edu.