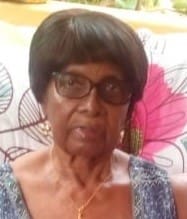 Alberdeen Kingston, also known as "Tina Kingston," of Estate Sion Farm died on Nov. 26. She was 89 years old.
She was preceded in death by her spouse, Carl Kingston; daughter, Allyson Kingston; mother, Beatrice Thomas; father, Frederick Nathaniel; sisters: Anita Walker and Gloria Brown; and brothers: Douglas Walker, Clovel Walker and Melrose Walker.
She is survived by her son: Wayne Kingston; adopted daughter, Bridgette Ferrance; grandchildren: Jasmine Kingston and Aubrey Kingston; adopted grandchildren: Shana Ferrance, Winston Ferrance, Bunny Ferrance, Wilfread Ferrance, Wilson Ferrance Jr. and Aprell Ferrance; and sisters: Elaine Walker, Dona Walker, Vida Galloway, Stephanie Nathaniel and Carmen Nathaniel.
She is also survived by nieces: Dawne Burke, Siarra Burke-Smith, Nicole James, Tanya James, Kimberley Galloway and Carol Kingston, Della Lewis, Zena Walker, Dillis Walker, Jan Walker, Zoe Walker and Monette Walker; nephews: Alric Parsons, Elleck Burke-Smith, Ken Walker, Ian Browne, Jimmy Walker, Clayton Walker and Carden Walker; daughter-in-law, Cheryl Kingston; brother-in-law, Kenneth Kingston; godchild, Sherease; special friends: Ms. Williams and family, Maria Mason, Robin and family, Trisha and family, Bernadette Parillon and family, Kalifa Ferrance and Crawford Ferrance; as well as other relatives and friends too numerous to mention.
the viewing will begin at 9 a.m. followed by the funeral service at 10 a.m., Thursday, Dec. 10, at St. Peter's Episcopal Church. Interment will be at Kingshill Cemetery.
The family respectfully requests that attendees wear a face mask and adhere to the social distancing requirements.