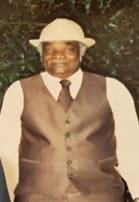 The family of the late Ivan "Pappie" Francis, born in Tortola, BVI, regrets to inform you of his passing. He peacefully transitioned at home on Feb. 17, surrounded by family and his beloved Olive.  "Pappie" was 96 years old.
He was preceded in death by his parents: James and Lucy-Ann Barry-Francis, and his 12 siblings.
Ivan leaves to cherish his memory, his wife of 63 years, Olive C. Francis; his daughters: Janet Rhymer, Janice Francis-Rymer, Julia Francis-Romney, Jacqueline and Jennifer Francis; his sister-in-law, Elodia Weekly, his brother-in-law and wife: Arthur and Charlotte Amey; son-in-law, Lawrence Romney; grandson-in-law, Todd Bellew and granddaughter-in-law: Cindee (Cindy) Hakim; his eight grand-children: Jerome Williams, Antar Collins, Abayomi Hakim, Ayishih Bellew, Enrica and Jayvon Rymer, and Teshaun and Shermel Francis; and 14 great-grandchildren: Justyn and Josh Williams, Sonrisa, Darius and Solyce Collins, Shea, Alyssa, Tonya and Kyndell Hakim, Kaleb, Keziah, Kayla and Kristopher Bellew, and Ricardo Jack.
Ivan was an uncle, brother and friend to many. He leaves behind special friends and neighbors: Clementia Todman and family, Michelle Hart and family, Mr. and Mrs. Paul Jones and family, and Lauriel "JoJo" Gumbs and family; as well as several special nieces and nephews, of Tortola, St. Thomas and the continental United States too numerous to mention.
The first viewing will be from 3-6 p.m., Wednesday, March 3, at Turnbull's Funeral Home.
Funeral services will be held on Thursday, March 4, at the Christchurch Methodist Church, Market Square, with a viewing at 9 a.m. followed with a service at 10 a.m. The interment will take place at the Eastern Cemetery, Smith Bay.
Booklet tributes should be submitted to glendia.caines@gmail.com on or before Monday, March 1, 2021. Wreaths can be ordered from Turnbull's Funeral Home (779-6565) or Springette Flowers (774-2011).
Due to the Covid Pandemic and the public health regulations, masks and facial coverings must be worn at all times and social distancing adhered to. In addition, due to limited seating, anyone who wishes to attend the service on March 4, must RSVP to Janet Rhymer by phone, text or email at 228-0552 or janetrhymer@gmail.com no later than Monday, March 1.
The service will be live-streamed. For link information, contact Olive Francis at 626-2991 or Jackie Francis at 404-375-4890 or call, text or email Janice Francis-Rymer at 284-340-9329 or jan_rymer@hotmail.com.