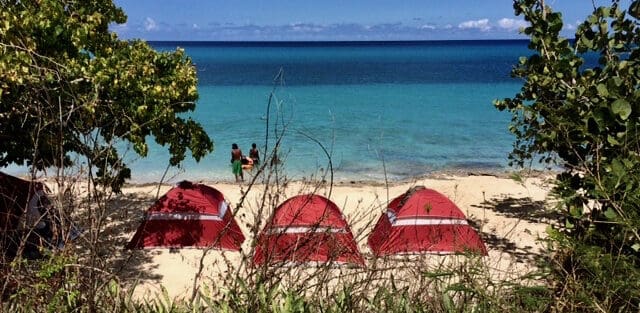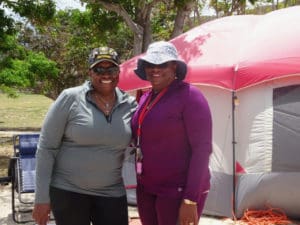 Easter camping is a long-standing tradition in the Virgin Islands, with families and friends flocking to the shore for a week of fun. But for the second year in a row, Easter camping has been called off this year, canceled by COVID-19. This story recounts Easter camping on St. Croix just three years ago, in 2018, repeated here in the hopes that Easter 2022 finds us back on the beach.
From Cramer's Park on St. Croix's east end to Cowboy Beach on the west, Easter campers have pitched tents on beaches across the island. It's Crucian tradition. Although fewer in number this year, locals have set up camp at Salt River, Coakley Bay, and Green Cay Beach, as well.
High winds and big seas have made for adventure this year. As tents collapsed in Thursday's winds, folks resurrected them; they re-secured their stakes in the sand. They braved the seas in high spirits and enjoyed Easter camaraderie. Then, on Good Friday, both waters and winds calmed.
For many, Easter camping is spiritual.
"We like the serenity and just listening to the waves and looking at the stars and the moon – God's handiwork," said Jamilah Harvey Moorehead.
Moorehead and her identical twin sister, Vivienne Harvey Pacquette, scouted out their site at Cramer's Beach on March 18. They arrived before anyone else, as is their custom.
"We're here by ourselves the first week. So we pray and hangout," said Pacquette, gesturing to the beauty around her. "We're enjoying God's creation."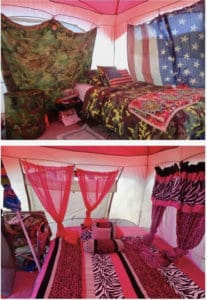 The sisters do confess to glamping – glamour camping. They have appointed their tent in two distinctive styles: one with a hot pink and animal print bedspread and the other with camouflage. Pacquette has decorated her corner with matching pink curtains and throw pillows curtains, Moorehead with an American flag.
"I'm the girly-girl; Jamilah is retired Army," Pacquette said.
The twins have camped at Cramer's since they were six years old and looked back with nostalgia. They talk of Stanley Jacobs, part of the family, and remember him cooking over the fire and calling out "Chicklet ready, chicklet dem ready."
This meant his chicken omelets were prepared and up for grabs.
"It's my most fond memory; Stanley was always a comic," said Moorehead. She recalls that he and his Sleepless Knights would sit around and play music each evening.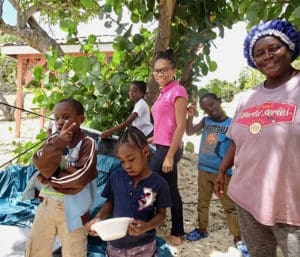 As girls, the twins didn't sleep in a jazzed-up tent. They slept under a tarp. Or under the stars. They ran around among the sea grapes and the flourishing genip trees.
"It was a fellowship of family and friends," Moorehead said.
The sisters, one Christian and one Muslim, expect an Easter service on the beach and both will attend.
"I will sing whatever gospel I know," said Moorehead, and, wearing her black military ball cap with "Retired" across the front, she broke into a show-stopping rendition of "Amazing Grace."
She and Pacquette have spoken with the gentleman in charge of the music and the big speakers at the pavilion. They asked that on Easter Day he start with gospel, go down to R & B, then quelbe and some Sparrow.
"It's all about relaxing," Pacquette said.
A few tents down, Stephanie Brinkley and four generations of her family set up an array of various sized tents around and a cook stove. Brinkley and her 80-year old mother, Mercedes Millington, looked on from the cabana while the younger ones erected a privacy tent for fresh water rinse-offs.
Millington has come camping at Cramer's for 47 years.
There since Tuesday, Brinkley herself has camped every year for decades. She, too, appreciates tranquility.
"We have only the street lights and the starlight. And that's a good thing," she said.