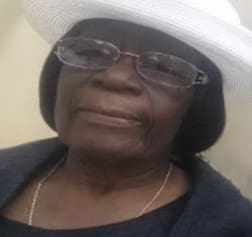 It is with great sadness that we announce the passing of our beloved matriarch Mrs. Edith Evangeline Barry Cameron.
Mrs. Cameron was a local preacher in the St. Thomas-St. John Methodist circuit and the host of "A Moment of Reflection," an inspirational segment that was aired on WSTA and WTJC radio stations. She peacefully transitioned on Wednesday, March 24, in the presence of her loved ones at her residence on St. Thomas, V.I.
She was born on Aug. 28, 1941, on the island of Tortola, BVI, the second of eight children born to the late Phillip and Floresa Barry.
She was preceded in death by her loving husband of 52 years, Mr. Alvido "Wellington" Cameron; her parents: Phillip and Florisa Barry; and her brother, Gladstone Barry.
She is survived by her five children and 15 grandchildren: Glennis Cameron-Christmas, her husband Jerry, and her children: Shane and Irwin "Ashley" Williams; Dean Baptiste Jr.; Dawn Cameron Smalls, her husband Paul, and their children: Dystanie and De'Zanie Smalls; Daren "Chicken" Cameron, and his children: Nykeishau Cameron-White and Knyshau Cameron; Derick Cameron, his wife Jacqueline, and their children: Dejane and Jadene Cameron; Paul "Barber Jahnai" Cameron, his wife Diedre, and their children: Kianna, Maliki, Jahnya, Justyse and Ishmael Cameron; adopted son, James Pryce; adopted daughter, Stephanie Nelson; two great-grand-children: Nirvana and Kayden White (mother Nykeishau White); seven adopted grandchildren: Kiah Estrill, Dr. Nicole Francis, Kyemba Connor, Kenya, Gervaster and Kevinzer Croft; and Nikayla Bryant.
She is also survived by her sisters: Irene Gonzalez, Edris Donovan (husband Roosevelt), Marilyn Pickering and Glance Elaine Richardson (husband Tyronne); brothers: Malvin (wife Berinice) and Kevin Barry (wife Tamara); sisters-in-law: Emeline "Emmie" Smith and Zelma Stoutt; uncle-in-law: Elisha Frazer; godchildren: Kelvin Gonazlez and Elroy "Atama" Turnbull; and many nieces, nephews, cousins, close family members and special friends too numerous to mention.
The first viewing will be from 3-5 p.m., Friday, April 9, at Turnbull's Funeral Home on St. Thomas. The second viewing will be Saturday, April 10, at Wesley Methodist Church in Estate Tutu from 9-10 a.m., with the service following immediately after. Burial will be at Eastern Cemetery in Smith Bay.
Due to the COVID-19 pandemic and public health regulations, the family requests that masks be worn at all times and that social distancing be adhered to.