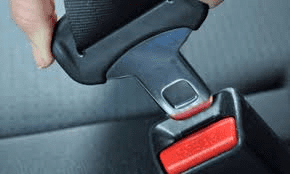 The Virgin Islands Office of Highway Safety has partnered with EZ Driving School to launch a Teen Drivers Outreach Project: Arrive Alive VI. The project, funded by a grant from the National Highway Traffic Safety Administration, aims to educate and encourage correct and consistent seat belt use by both teen drivers and teen passengers throughout the territory.
Seat belt use is proven to reduce the risk of injuries and fatalities for crash victims. This simple life-saving strategy, which takes three seconds to do, is responsible for saving an estimated 14,955 lives in 2017 (NHTSA).
Each year, the VI Office of Highway Safety conducts an observational seat belt survey to determine seat belt usage in the territory. When compared to the 2020 national average usage rate of 90.3%, the V.I.'s 2020 rate of 68.2% begs for improvement. Teenage drivers – along with motorists with children and drivers of pickup trucks – were identified as one of the territory's most at-risk groups for seat belt compliance.
Teen drivers' immaturity, lack of skills, inclination for speeding and lack of experience lead to mistakes behind the wheel, causing teens to have a higher rate of fatal crashes than their adult counterparts.
Police Commissioner Trevor Velinor said, "The collaboration between the VI Office of Highway Safety and a driver's education school is a symbiotic and practical relationship which should be encouraged. With appropriate information and training, young drivers can make safe decisions which preserve their lives and those of their passengers."
The project will support a robust media campaign designed for teens, by teens. Using language and imaging with which teens can identify, the messaging will attempt to convince the at-risk group of their mortality while sharing the physical and financial consequences of non-compliance.
"The financial cost of a seat belt citation is pennies compared to the cost of losing one's life.  I hope our teens heed to the media campaign's message to adopt this simple habit that can save their lives," urged VIOHS Director Daphne O'Neal.
The campaign will commence following a pre-survey to assess teens' current perception of seat belt use. To determine the impact of the campaign, a post-initiative survey will follow.
"Buckle up, VI! Every trip. Everyone. Every time."
For more information on Arrive Alive VI or to learn ways to get involved in traffic safety, contact the Virgin Islands Office of Highway Safety through Daphne O'Neal at daphne.oneal@vipd.vi.gov  or Occupant Protection Planner/Coordinator Denise Gomes at denise.gomes@vipd.vi.gov.  Individuals may also contact the office via telephone at 772-3025 or 473-7383.