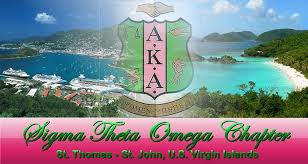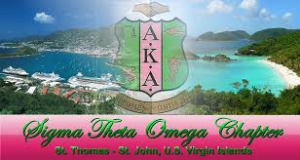 In recognition of National Breast Cancer Awareness Month, Alpha Kappa Alpha Sorority Inc., Sigma Theta Omega Chapter (STO), joins the fight in raising awareness on the importance of early detection.  Members in the St. Thomas/St. John District participated in a series of activities to support the cause. Efforts will continue throughout October to shed light on this disease that is the second leading cause of death among women in the United States.
On Oct. 4, AKA "Painted the Territory Pink" by wearing pink to honor breast cancer survivors and pay tribute to those who have lost the battle against this disease. Early detection is a serious matter for the sorority because it saves lives. On Oct. 15, members shared information via social media platforms, in observance of National Mammogram Day. on the importance of scheduling a mammogram.
It is recommended that women start to have yearly mammograms at the age of 40 to minimize the likelihood of developing advanced breast cancer. Women with a strong family history of breast cancer or other factors that put them at risk, should also have a breast MRI every year once they start having mammograms. Women should also perform routine breast self-exams and regularly visit their doctors.
The ladies of Sigma Theta Omega Chapter in conjunction with Omega Psi Omega Chapter (New Jersey), and the Rho Omicron Chapter of the University of the Virgin Islands Orville Kean Campus will host a culminating event to raise funds for local breast cancer organizations.
The event, "Cooking with the Girls," will serve as a virtual cooking event at 6:30 p.m., Saturday, Oct. 30, via Zoom. Chef Latoya of Virgin Spice will serve as the featured chef and will share her culinary skills, while participants prepare a healthy and tasty meal. Interested persons can register at: https://forms.gle/9SSLZa2Ah5PVsHSj9
Under the sorority's international program theme of "Exemplifying Excellence Through Sustainable Service," the Women's Healthcare and Wellness target focus on breast cancer awareness and prevention. Sigma Theta Omega is pleased to actively engage its community by raising awareness. It is honored to celebrate its local warriors and donate proceeds to breast cancer organizations. The sorority is committed to its national agenda of supporting research on causes, prevention, diagnosis, treatment and a cure.