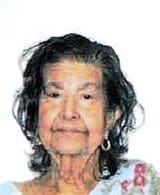 Conchita Rivera, also known as "Conchin" of Estate Sion Farm, died on April 2. She was 91 years old.
She was preceded in death by her husband, Felix Parrilla; mother, Petra Carmona; father, Diego Rivera; sisters: Tomasa and Paquita Carmona, Maria Garcia, Carmelita Gautier and Lolita Rivera; brothers: Jose Martinez and Diego Rivera; and grandson, Gary.
She is survived by her sons: Luis Parrilla and Aureo F. Parrilla; grandchildren: Calvin, Alex, Joey, David, Micah and Nico Parrilla, Tamia, D'Rita, Angela, Monica and Clarisa Parrilla, and Suhail, Elicent, Talia, Aisha and Chayanne Parrilla; great-grandchildren: Kendalisse Languedoc, Tasheim Theodore, Tayelen and Tymani Reeves, Yarin Martinez, Mackaysia Rhymer, Daneli and Joshay; sisters: Milagros Rivera, Angelica Danois and Marcelina Allen; and brother, Angel Rivera.
She is also survived by nieces: Lucy Lima, Teotista Roldan, Lidia Camacho, Eloisa Parrilla, Carmen Medina, Sonia Gautier, Medina, Milagros, Melissa and Marise Rivera, Evelyn, Glenda, Lynette and Marisela Rivera and Jackie Ford; nephews: Fredy, Norman and Alexi Danois, Jose, Valentino and Josue Parrilla, Jorge and Maximo Garcia, Antonio, Ernesto and Israel Gautier, Paulino Bogan, Jesus and Omar Rivera; daughter-in-law, Dinorah Parrilla; and sisters-in-law: Rosa Aguiar, Belen Rosa, Herminia Ortiz and Mara Rivera.
Other survivors include special friends and neighbors: Cora, Cepeda, the Todman family, Samuel, Mason, Hernandez, Jacobo (N.Y.), Robin and family, Noelia Flores, Angel Linquist, Oswaldo Villafañe, Jean King, Jamil Newton and Dwayne Cromwell; cousins and other relatives: Rivera, Villanfañe and the Continuum Care family; caregivers: Marva King, Chayanne, Suhail and Elicent Parrilla and Medina Roberts (companion); as well as other relatives and friends too numerous to mention.
The viewing will be held at 10 a.m. followed by a funeral service at 10:30 a.m., Wednesday, April 20, at Holy Cross Catholic Church. Interment will follow at Frederiksted Cemetery.
Professional Funeral Services are entrusted to:                                                                                                              James Memorial Funeral Home Inc.                                                                                                                                  Located at 6AA La Grande Princesse
Telephone: (340) 718-8663 Fax: (340) 718-8661