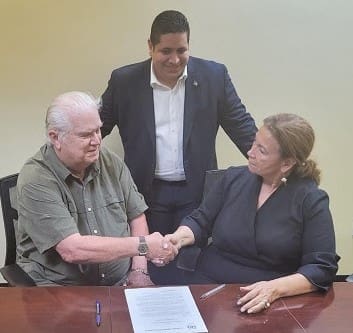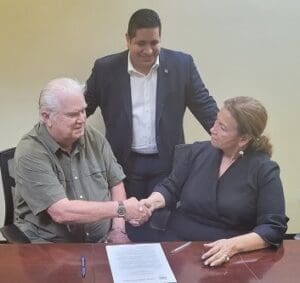 The Small Business Administration Puerto Rico/ U.S. Virgin Islands District Office and the St. Croix Chamber of Commerce renewed their strategic alliance memorandum on Friday in order to ensure that small business owners and entrepreneurs from the area's main islands and surrounding area are able to take part in federal opportunities to enhance revenues, operations and expand.
SBA Regional Administrator Marlene Cintron, on her first visit to the US Virgin Islands since her appointment by the Biden White House in November 2021, joined St. Croix Chamber Board representative John Lewis, SBA District Director Josue E. Rivera and SBA Senior Area Manager Wayne Huddleston to take part in the partnership renewal in person.
"Small businesses are giants of our economy not only here in St. Croix and the U.S. Virgin Islands, but all throughout the nation. By renewing our partnership with the St. Croix Chamber of Commerce, the SBA Puerto Rico and U.S. Virgin Islands District is doubling down on our commitment to ensure equitable access to SBA's traditional funding programs such as our flagship 7(a) working capital loans, 504 loans for fixed assets, and microloans of up to $50,000," said Cintron.
"The SBA, under President Biden and Administrator Isabella Casillas Guzman, will meet small businesses owners where they are, assisting them throughout 2022 and beyond. Partnerships like this one help the SBA chip away at historic barriers that have limited access to capital for too many entrepreneurs for far too long," Cintron said.
SBA Puerto Rico and U.S. Virgin Islands District Director Josué E. Rivera noted that the strategic alliance memorandum would further public-private partnerships while also ensuring VI small business owners would receive robust information about and access to federal programs.
"The District Office and our Branch in Christiansted are extremely proud of the positive impact we've made in the U.S.V.I. small business ecosystem, delivering more than $360.25 million in small business economic aid over the past two years," Rivera said.
SBA Senior Area Manager Wayne Huddleston, who manages the federal Agency's day-to-day operations in the U.S.V.I., thanked the St. Croix Chamber for being such an integral partner over the past few years helping educate the small business community on St. Croix concerning all SBA funding programs and services. "You helped us push the information out to benefit our small business community and we are grateful for further expanding our reach into the community. The deeper the awareness of our products, the more the U.S. Virgin Islands, its businesses and workers benefit," Huddleston said.
John Lewis reiterated the St. Croix Chamber of Commerce's economic development priority of private sector job growth towards its vision of making St. Croix an attractive place for businesses to grow and prosper by working with, and for, businesses on St. Croix through advocacy, networking and issues important to supporting a positive business environment.
"The renewal of this strategic alliance reinforces the Chamber's commitment to ensuring that the St. Croix economy retains and grows its existing small businesses, create jobs and further encourages entrepreneurship," Lewis said.
For more information on SBA programs and services, visit www.sba.gov/pr.