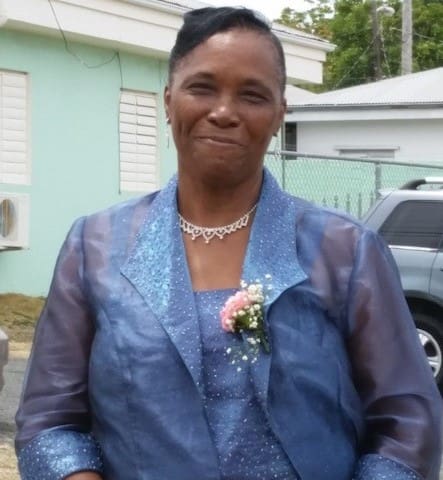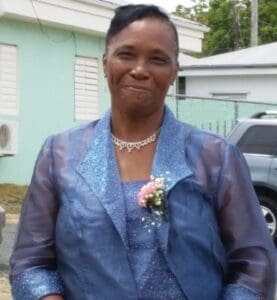 Yonie Cyciel Hendrickson, also known as "Ionie David," of Estate Queen Street died on Sunday, May 12. She was 65 years old.
She was preceded in death by her granddaughter, Jahniqua Hendrickson.
She is survived by her daughters: Enecia Hendrickson and Enesha Hendrickson; sons: Ivon Hendrickson and Spencer Hendrickson Jr.; grandchildren: Spencer Hendrickson III, Kiara Hendrickson, Dhakiya Hendrickson, Tiara Hendrickson, Ahzeira Serrano, Naemyah Serrano, Jahsenya Serrano and Shamira Serrano; sisters:  Judith David, Jean David, Marinet Liburd and Linda Perkins; brothers: Terry David, Leroy David, Alvar David and Keith David;
She is also survived by nieces: Rhenese Herbert, Renell Daniel, Dorinda David, Tersa David, Terika David, Onesha David, Paige David and Simone Johnson; nephews: Alanzo David, Ron David, Dillon Liburd, Diondre Liburd, Rhaheem Perkins, Dimitri Perkins, Ives Johnson and Timothy David; great nieces: Ariana Daniel, Desiree Ponce, Eliana Ochoa and Ayanfe Guillen; great nephew, Nathan Daniel; aunts: Wilma George-Perry and Lilian Payne; daughters-in-law: Lucia Hendrickson and Leslie Hendrickson; and brothers-in-law: Michael Perkins and Myron Herbert.
Other survivors include sisters-in-law: Lori David, Dionne Ali-David, Clover Maynard and Valery Stapleton-David; godchildren: Shaquille Quinland and Dashara Gumbs; special friends: Valerie Herbert, Rita and Elmos Wilkes, Loretta Mills-Elcock, Enid and Eddie O'Garro, Sybil Quinland and family, Donna Lewis and family, Rita Chiverton and family, and Members of the Ebenezer Methodist Church; cousins and other relatives: Vera, Carissa and Jen David, Chester, Duane and Idona David, Marva Claxton, Edith David, Judith Francis and family, and Idona David; as well as other relatives and friends too numerous to mention.
The viewing will take place at 9 am. followed by a funeral service at 10 a.m., Saturday, June 4, at Ebenezer Methodist Church. Interment will be at Kingshill Cemetery.