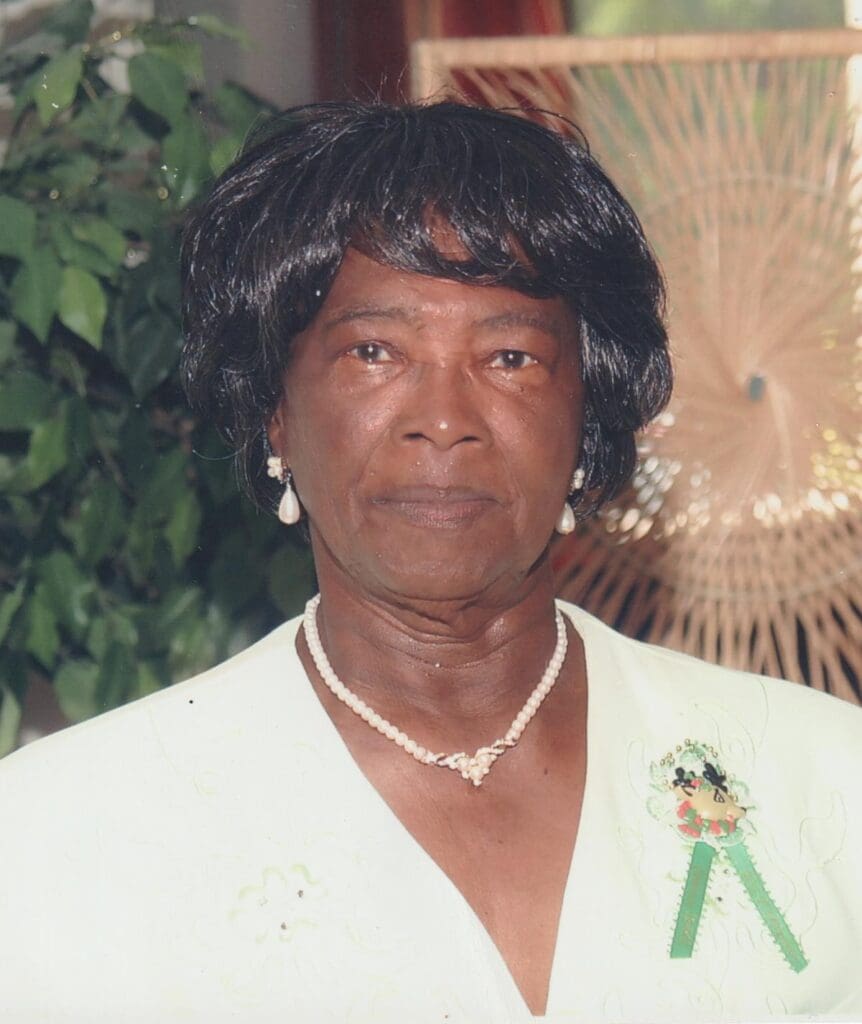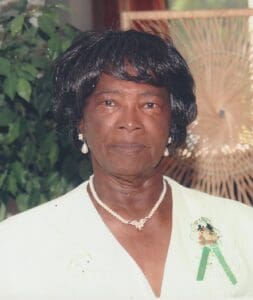 Clarice Monica Saunders of Whim Gardens died at the age of 98 on Friday, June 10.
She was preceded in death by her
Son, Alington Jacob of St. Kitts
She leaves to cherish her memories:
Daughters: Rosalind Browne and Lorna Tobierre
Sister, Doris "Dolly" Jacob-Welsh of St. Thomas together with her family
Brother, Oscar Jacobs of United Kingdom together with his family
Nieces: Eirene Allen, Beaulah Jacobs-Callwood, Mildred Jacobs and Yvette Rivera together with their families
Nephews: Sandy Saddler, Malcolm, Oswald, Michael and Jeffrey Jacobs together with their families
Grandchildren: Eugene Jacobs, Marlyne Heyliger, Jason Jacob, Elwyn Browne, Colin Browne, Cheryl Tobierre-Walters, Melanie Browne, Dekoven Tobierre, Erickson Tobierre Conrad Browne, Corrie Anthon, Edmondson Browne, Fayola Bradshaw, Jahdell Browne, Adrian Browne, Velma Moses, Livingston Browne and Joleena Tobierre
Son-in-law, Joseph Tobierre
Special cousins: Clementina "Rudy" London and Ivy Beard together with their families
Cousins: Together with their families, Helen Harris, Vivian Foreman, Patricia Mills, Petronella Mills, Dr. Terrence Drew and Walter Pemberton all of St. Kitts. Iris Jeffers (UK), Kellyann Saunders, Robert Martin, Shirmel Duggins all in USA, The Beard (UK), Duggins, Jacobs, Martin, Matthew, McSheen, Rawlins, and Saunders families
Grandsons-in-law:  Angelo Heyliger, Stanley Walters, Terry Bradshaw, Kwesi Moses
Granddaughters-in-law: Victoria Jacobs and Barbara Tobierre
Special friends: Merv Valkenier and family (Holland), Robert Carter and family (USA), Ucina Thomas, Ilene Pant, Sylvanie Harvey, Yvette Carrington, Glenda Joseph, Barbara Smith, Edmund David (SKB), Evelyn Woodrup (STT), Evencia Caines, Medrica Sampson, Pastor Beltane Harrigan and family, Marina Mardenbourough, Way of the Cross Baptist Church, Frederiksted Baptist Church, Williams Delight Housing Community, Whim Gardens Community, The Claude O. Markoe Staff and Students in coordination with Human Services Foster Grandparents program (1993-2009).
25 great-grandchildren, 12 great-great-grandchildren and many other family and friends too numerous to mention.
Special thanks and appreciation to Deborah Stevens and Sharon Brown as caregivers.
The Celebration of Life Service for Clarice Monica Saunders will be held on Thursday, June 30, at Way of the Cross Baptist Church Viewing and tributes will start at 9 a.m., and the service will begin at 10 a.m. Interment will follow at Kingshill Cemetery.
All COVID-19 protocols will be established.