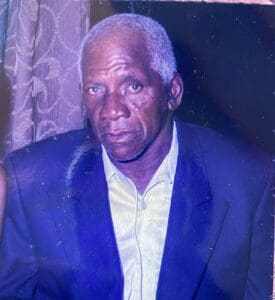 Eric Alexander Benjamin, also known as "Bop," died on June 20 at the age of 87.
Eric Alexander Callwood is survived by the mother of his children, Esther Rose Benjamin; sons: Antonio Benjamin and Carlos Hendrickson; daughters: Erika Benjamin-Callwood and Diane Benjamin; siblings: Marion Peters, Gladys Todman, Juanito Benjamin and Roy Blake; brother-in-law and sister-in-law: Eston Todman Sr. and Phyllis Benjamin; and son-in-law, Jason Callwood.
He is also survived by granddaughters: Tashara Benjamin, Ahzariah Benjamin, Carlesha Hendrickson, Jordann Callwood, Aviva Benjamin, Aurora Benjamin and Andrea Williams; grandsons: Asarheem Benjamin, Elijah Callwood and Josiah Callwood; and great-grandchildren: Le'Moi Monsanto Te'Mori Leonard, Ty' Lahe Leonard, Miyah Henry and Analie Guerrero.
Other survivors include nephews and nieces: Lorraine Niles, Keith, Ira, Hillis, Dwayne and Michael Benjamin, Lawrence Gumbs, Milton Smith Sr., Clarinda "Olympia" Derek, Edwena Freeman, Arlington and Lawrence Todman, Sandra Burrell, Sherwin Blyden, Elesta Justin, Kathleen and Amos Peters Jr., Bridget, Dwight, Mark, Kimberly and Kema Todman, Cheryl Hazlett and Dwight Nicholas; special family and friends: Lyra Anthony, Viola Merchant Williams, Tamzen Merchant Kelsick and Ryan John; as well as other family and friends too numerous to mention.
Relatives and friends are respectfully invited to attend the first viewing from 4-6 p.m., Wednesday, July 6. The second viewing and funeral service will be held at 9 a.m., Thursday, July 7, at the Blyden Chapel across from Cemetery No. 2.
Funeral arrangements are under the care of Turnbull Funeral Home and Crematory Services.