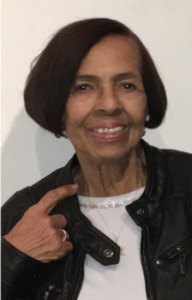 Rita Mercedes Anduze McFarlane Spain peacefully surrendered her body to her Lord on Saturday, July 2, 2022. She was born on January 15, 1928.
She was preceded in death by her husband, James Spain, her parents and several other loved ones.
Rita is survived by four sons and daughters-in-law. These are Alva C. McFarlane Jr and Jennifer Parris McFarlane, Reginald F. McFarlane Sr. and Darlene Proctor McFarlane, Beverly W. McFarlane Sr. and Yvette Gordon McFarlane, and Ronald A. McFarlane Sr. and his wife Sandra Petersen McFarlane.
Alva blessed her with grandchildren Edwina Young, Nanette Baptiste, Manda Gager, Kime McFarlane, Raynessa McFarlane and Janice McFarlane. These are followed by great-grandchildren Leilana Wilson, Leandro Sanchez, Chavious Gordon, Kaori McGahee, Kemora McGahee, Kareem Wynter and K'Shante Springer. Numerous great-great-grandchildren follow them.
Reginald blessed her with grandchildren Sherri-Anne Pimentel, Boyd McFarlane, Troy McFarlane, Tisha Lockhart, Sean Connor, Ryan McFarlane, Kandiss Proctor, Ashley McFarlane, Reginald McFarlane Jr. and Realene McFarlane. These are followed by numerous great-grandchildren.
Beverly blessed her with grandchildren Wayne R. McFarlane, Beverly W. McFarlane, Andre W. McFarlane and great-grandchildren Wayne McFarlane Jr., Malix McFarlane, Tariq McFarlane, Chesley McFarlane, Tafari McFarlane and Paris McFarlane.
Ronald blessed her with grandchildren Ronald McFarlane Jr. and Richard McFarlane and great-grandchild Huey McFarlane.
Rita is also survived by sisters Norma Anduze Parson and Juanita Anduze Benitez, her brother Roy Anduze, and many godchildren, including the Rev. Florence Petersen. From her surviving siblings as well as those who have passed before her, there are nieces, nephews, cousins and special friends too numerous to mention.
Her Celebration of Life Service will be held on Wednesday, July 13, 2022, at Lord God of Sabaoth Lutheran Church in Christiansted at 11 a.m. Viewing will be held at 10 a.m. Interment will be at Kingshill Cemetery, Veterans' Section.
James Memorial Funeral Home is in charge of the arrangements.