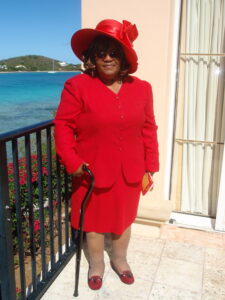 Jeanne Gertrude Richards, born May 28, 1936, departed this life on June 21, 2022, at her home on St. Thomas, V.I.
She was preceded in death by her mother, Iris King-Dawson; her father, Sylvester Richards, and several siblings.  Jeanne is survived by her sisters, Fern Richards-LaBorde, AnaRita Richards, brother, Allen Jr., several nieces, nephews, godchildren, other relatives and friends.
Although Jeanne had no children of her own, she positively impacted the lives of too many to name. Her love for children was displayed in over 40-plus years as an educator and lastly as a principal in various public schools in the Virgin Islands. Many of her previous students remember her as a strict disciplinarian but "she always assured that each child and/or adult, (as she also taught night school) under her tutelage would have the best education possible."
Jeanne's love of children, her God, her church, and these Virgin Islands, was evident as she was an avid worldwide traveler but she always returned to her beloved home on the island of St. Thomas. Although, unique and set in her ways, Jeanne was very giving. Those who knew her well, know that the motto of her Sorority, Eta Phi Beta, Alpha Chi Chapter, "Not for Ourselves but for Others," is a perfect fit for her.
Funeral arrangements are by Turnbull's Funeral Home, 3815 Crown Bay #10, St. Thomas, VI 00802; 340-779-6565.
Service is set for Wednesday, July 20, 2022, at the Sts. Peter and Paul Roman Catholic Church, Main Street, St. Thomas, V.I. Oral or musical tributes will be from 9 a.m. to 9:30 a.m. The Funeral Mass begins at 9:30 a.m.
Written tributes/photos can be emailed to turnbullsfuneralhomevi@yahoo.com by Tuesday, July 12.