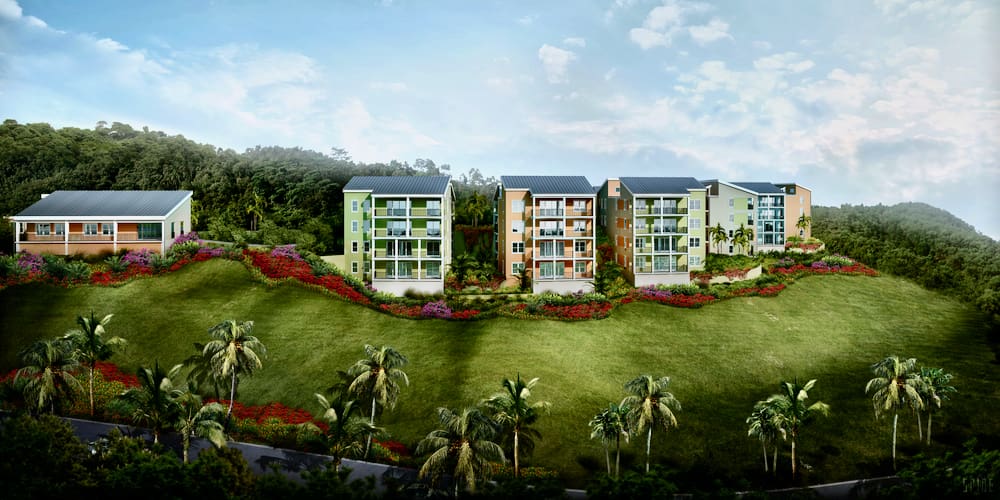 Redevelopment of apartment buildings in Estate Donoe is at least a year behind schedule, and no one is sure when stalled work will resume, said Robert Graham, executive director of the Virgin Islands Housing Authority.
After decades of slow degradation and storm damage, the 1970-built Donoe buildings were finally crushed by the 2017 hurricanes. A plan for new low-income housing on the 10.6-acre site — offering 84 apartments in 14 buildings near schools, job centers, the public library, pharmacies, grocery shopping, banks and public transportation — broke ground in January 2021.
But with roughly 38 percent of the job complete, work stopped, Graham said Wednesday.
The same storms that knocked the buildings offline also obliterated the massive solar farm across the street. This potentially spread toxins like cadmium, arsenic, lead, and other heavy metals. The soil also contained remnants of original asbestos building material, officials said.
The Department of Planning and Natural Resources inspected contaminated top soil removed from the site and found toxins present were within acceptable thresholds for disposal at the Bovoni Landfill.
"It's safe to return to work now based on the determination from DPNR that there's no further environmental action for buildings 1 through 9. It was always safe, the only question was whether the heavy metals or asbestos were within acceptable thresholds. And it has been determined that they are within acceptable thresholds," Graham said.
The DPNR report was apparently not good enough for the housing project's contractor, St. Croix-based GEC.
A restart of the work now hinges on GEC negotiations with Philadelphia-based housing developers Pennrose. The Authority leased the land to Pennrose, which will own the improvements made by GEC, Graham said. As of Wednesday, Pennrose, GEC, and a bonding company were negotiating when work might resume and at what cost.
Graham said he was not able to share why the $57.4 million budget might have changed, but would do so once negotiations were complete.
GEC didn't reply to telephone and email requests to comment on the project.
"Right now we don't know when the project will resume," he said. "Listen, we want this project. We want the contracts to finish the job, and it's way behind schedule. It was supposed to be completed in December 2022. And are a year away from that. If the contractor started back in the fourth quarter, they won't be finished until the fourth quarter of next year."
Graham said none of the buildings were complete but that seven were partially built.
In the meantime, former Donoe housing tenants remain at the front of the line for the new housing, he said.
"They can rest assured that the housing authority is doing everything they can to work with the owner and the contractor to get the job restarted," Graham said.