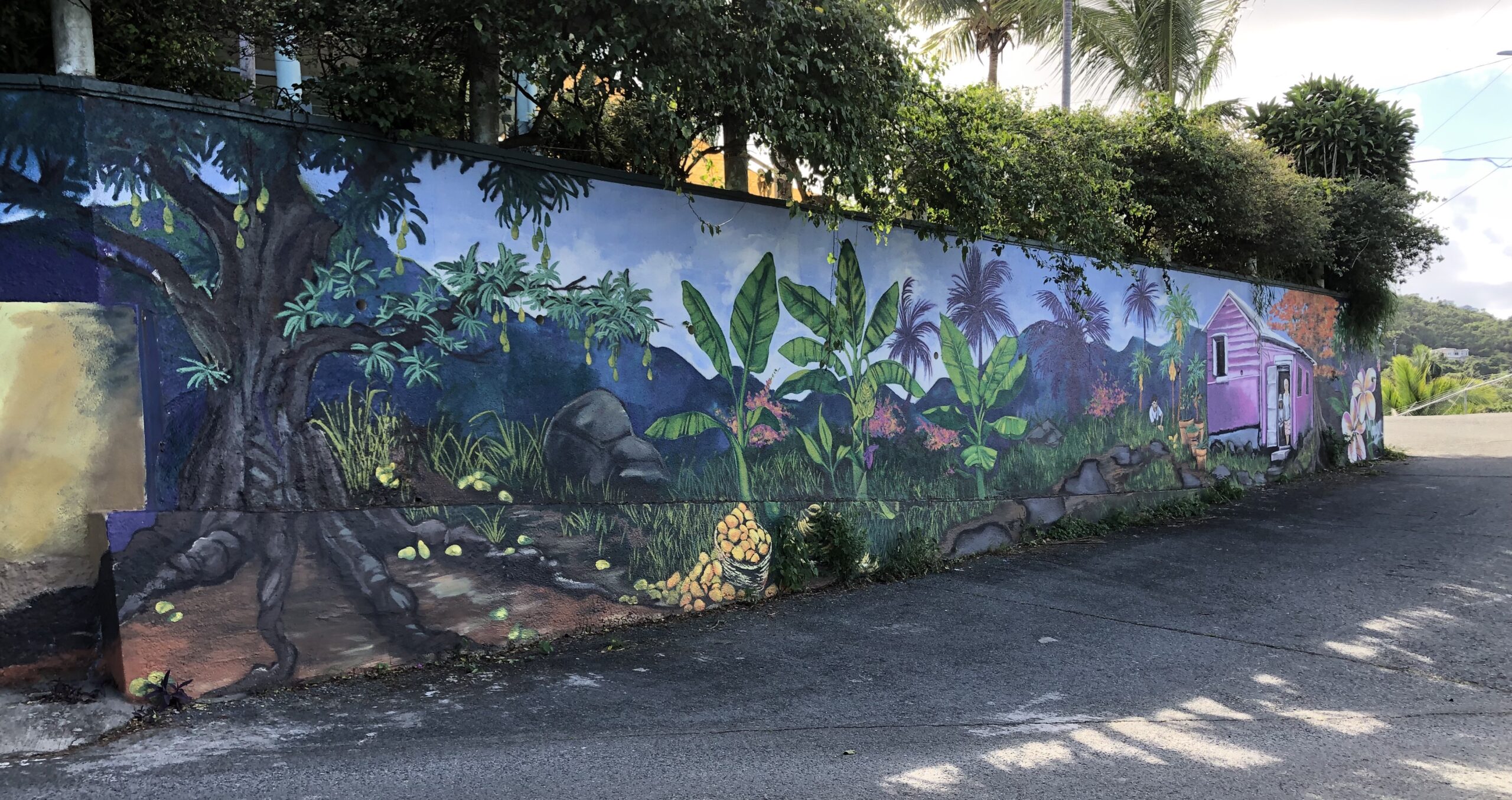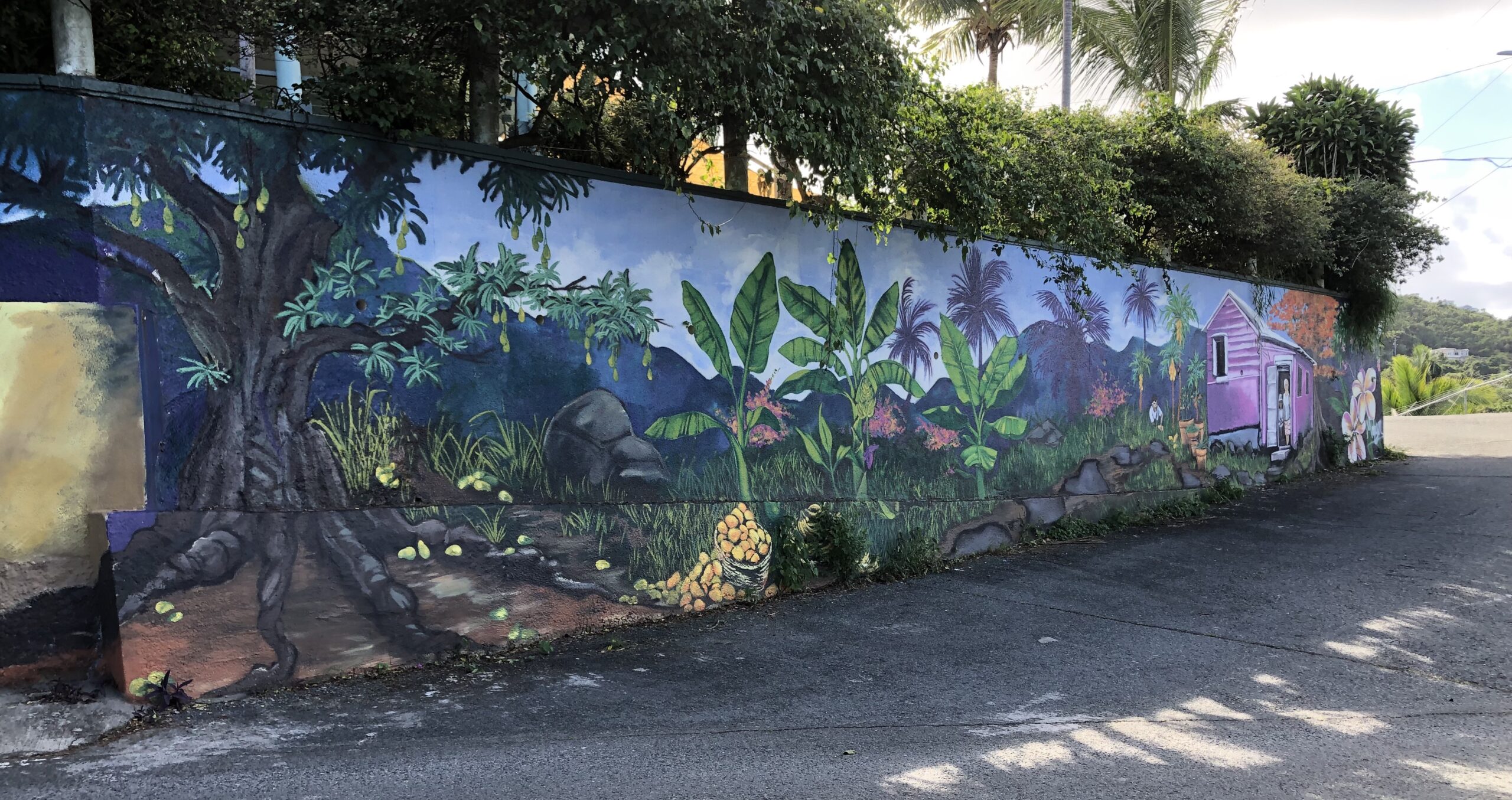 Megan Lyn was seven years old and living in New Jersey when she knew she wanted to be an artist on St. Thomas, a place she often visited since she was a baby, and then each summer after her grandparents moved to the island when she was 10.
"I loved it down here. I was always so fascinated with the culture. It was so different. Every year coming down here, it felt like I was in the doldrums, and then when I hit the airport, touched down, I was in this explosive, vibrant land. … It was always so magical down here. I never wanted to live anywhere else other than St. Thomas. I've always loved it," Lyn said during a recent interview.
"In fact, my seven-year-old self wrote it down — I have it at home, like a 'What do you want to do in 20 years?' — and I said, 'Be an artist living on St. Thomas,'" she said.
Lyn still has that scrap of paper, recently incorporating it into a mixed-media self-portrait, aptly titled "Self," that examines her journey from a somewhat troubled teen to where she is now, happily ensconced in the vibrant St. Thomas art scene.
One of her most recent and notable creations is a strikingly beautiful mural encompassing the two concrete walls surrounding the home of Rita Greaux and Paul Berry at the foot of Barrett Hill Road in Hull Bay. The work was commissioned as a tribute to both sides of the family, reflecting the fishing and farming that was and remains, the backbone of the community.
"Their whole idea was they wanted to represent both sides of their French lineage. Her parents' side was more into fishing, and his parents' side was more into agriculture," said Lyn. So the left wall features a sunset over the ocean — the mother sitting on a wooden porch overlooking the water while the father casts his line from a boat — and the right side, a pastoral scene with a pink framed cottage, the mother on the porch, the father in the field, surrounded by the mountains, palm trees, fruit trees, mangos scattered on the ground, and even herbs growing in pots.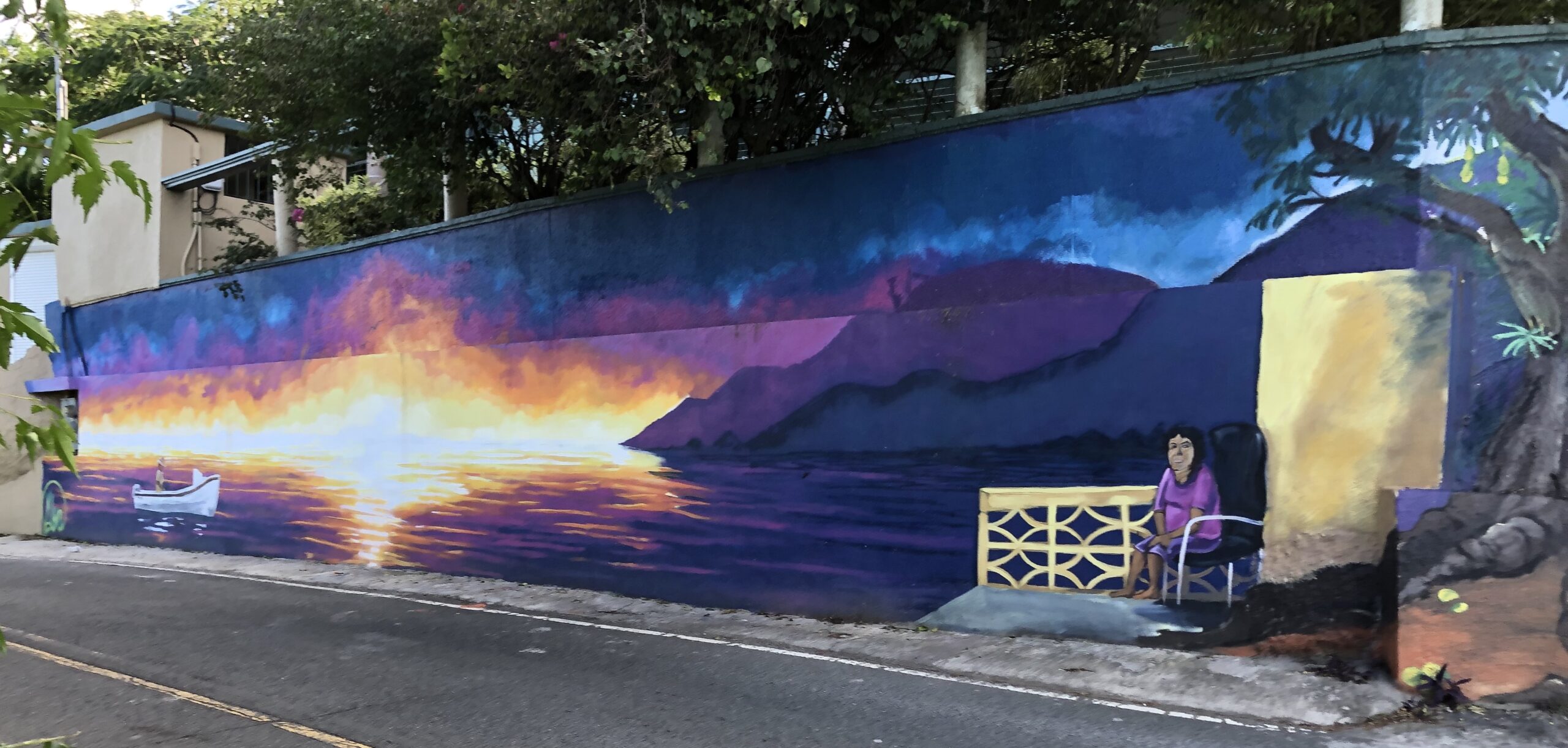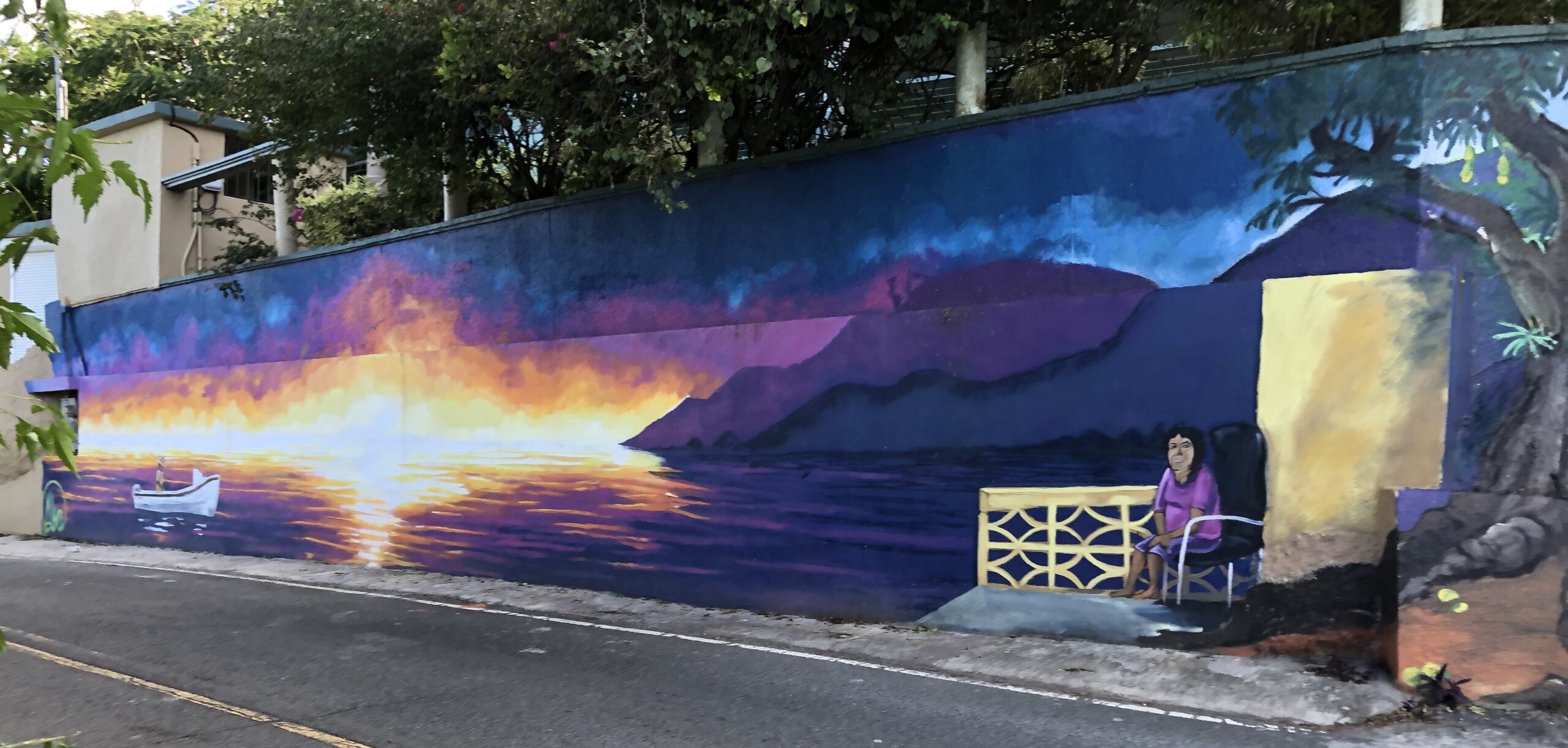 Working on such a large canvas — the walls are 60 feet long and 30 feet wide — and concrete at that, on the sliver's edge of a winding road, balanced precariously on a tall ladder, in often blazing sun, is no easy feat, and Lyn said she battled sunburn, headaches, and two torrential downpours that at one point erased a layer of the sunset she had just completed. All told, the effort took about two months.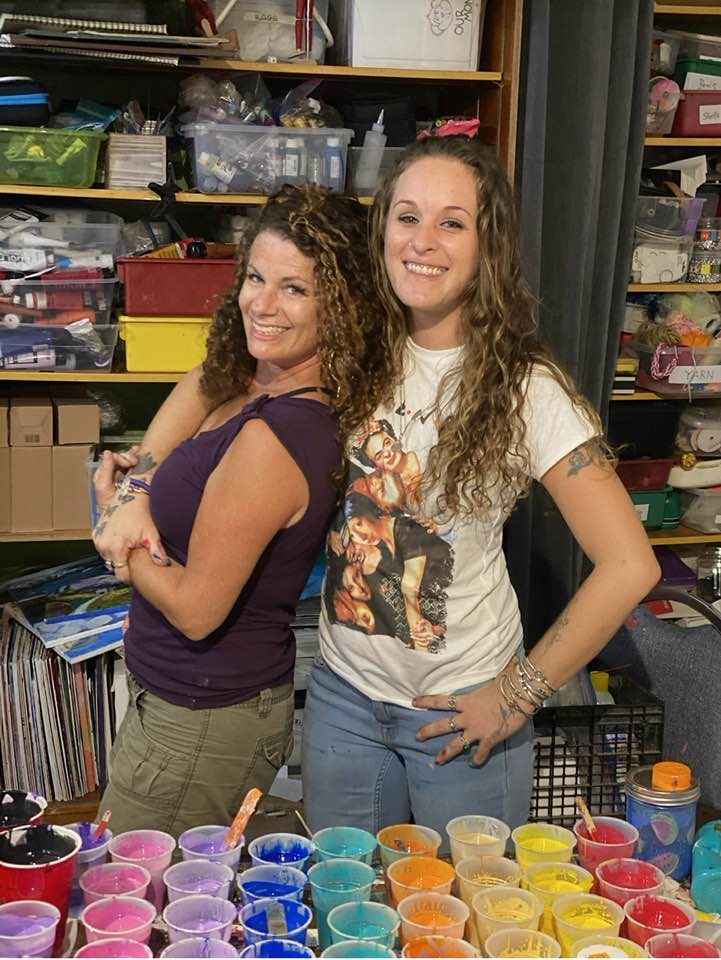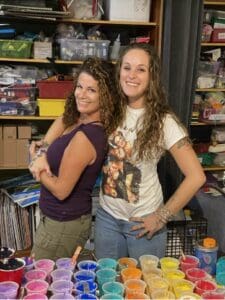 While commissioned as a family and cultural tribute, the mural is also "an amazing gift to the community," there for anyone passing by to see and enjoy, said artist Amy Gibbs, the founder and owner of Art Explorium in Tillett Gardens on St. Thomas where Lyn assists with the weekly (and wildly popular) Wednesday Art Uncorked community art classes as well as myriad other creative outlets and educational opportunities the space offers.
"What I see happen here on Wednesdays, it just gives me so much. You see all these amazing connections being made because it's for everybody. All races, all ages — a senator comes in and he's sitting next to someone who works at the beach. It's really a mix. You never know who is going to come. Every class has its own energy," said Gibbs, who also devotes a lot of time to teaching children, some of them now teenagers that she's helping to prepare portfolios as they head off to college.
"We try to show pictures online to show that it's made for everybody," Gibbs said of the Art Uncorked sessions. "The whole idea is that art is therapeutic, the process is therapeutic, and step outside of your everyday life, step outside of your stress, your worry, your fear, and give yourself a break for a couple of hours."
She starts with a demonstration, puts on music, and offers wine for those who want. Trying to help 25 people, many of them inexperienced, create art all at the same time is tricky, and Gibbs is grateful for the trust she can place in Lyn. "That's very valuable," she said.
"It's a beautiful place," said Lyn. "These are lessons that people — children and adult — can take with them all their lives. Every time I come to work at Art Uncorked I learn lessons that I take and I apply. Connecting through art."
Kindred Spirits and Collaborators
Gibbs received her Bachelor of Fine Arts from the Atlanta College of Art in 1993 before embarking to live in Prague, Czech Republic, where she exhibited in numerous shows, including the prestigious "American Artists Living in Prague" at the U.S. Embassy and at Ars Electronica, a world-renowned festival of art, technology, and science in Linz, Austria, while also teaching children art and English.
In 1997, Gibbs landed on St. Thomas and has never looked back, raising her two children, now 19 and 15, on the island and opening Art Explorium in 2013, providing the classes for kids, including art therapy for troubled children through a Rotary project, as well as evening classes and workshops for adults.
Lyn, on the other hand, is entirely self-taught. When she wants to learn about something, she researches and studies it, and sometimes subscribes to online courses, such as a recent virtual class on the technicalities of surfboard markers. (She customized the boards of celebrated St. Thomas surfer and musician Jon Gazi.) Her work can be seen at the Root 42 Bar and Grill at Flamboyan on the Bay.
"Self-taught is great, but I wish I went to art school so bad. I don't know if I would have loved it the same, having gone to school and just the hard-core structure of it. I had to find art on my own. I found, really, art through sobriety. I'm 11 years clean off my drug of choice. I moved down here and got clean. It gives me the same high that I did have back then," said Lyn.
"I'll literally sit in front of a canvas for hours. I have to remind myself that I need to, like, go pee, or take a sip of water, or sit up straight because my back is going to kill me. It's that involvement with what I am creating that I just am obsessed with now," she said.
Gibbs can relate. Despite differences in how they arrived at their craft, the two are kindred spirits who share a love of art exploration, collaboration, and community.
"That's the beauty of it. The beauty of just getting lost in that creative process. … I solve a lot of things in my life while I'm creating. It relaxes the mind," and gives thoughts and ideas a chance to percolate, said Gibbs. "It's so easy to lose track of time. … How many things can you do that you completely lose track of time and space?" Swimming possibly, though it has physical limitations, whereas art does not, she said.
An Immersive Exhibit, V.I.-Style
Their latest endeavor, their biggest collaboration yet, will be an immersive exhibit at the sevenminusseven gallery on St. Thomas, ala the hugely popular Vincent van Gogh show that has been touring since 2017, amassing some 5 million visits worldwide, or the Sensorio fields of light installation in California that Gibbs visited over the summer.
"It's our first real full collaboration," said Gibbs, and will feature an underwater theme, with jellyfish and sea creatures made from recycled materials, with fiber optic lights. All the structures for the exhibit will be made from recycled materials, such as wine bottles, wire, and other discarded ephemera.
As they dial in the details, Gibbs and Lyn will put the call out to restaurants and others in the community so they can have a drop-off at the gallery and keep objects they could use out of the landfill. They'll also be seeking volunteers to help with the project when the time comes. "We can make those wine bottles into art. Everything will be lit up. We want to engage — we want to do taste, smell, all the senses," said Gibbs.
"So you are fully immersed. That's the whole point of an immersive exhibit — you are pulled from reality with all of your senses by your senses," said Lyn.
"I did a lot of installation work when I was in art school, and I really miss doing that kind of work. Where the entire space becomes the piece. We're excited," said Gibbs.
"Artists that come together, they build kingdoms. One artist can do something very cool but a bunch of artists together can make something that is legendary," said Lyn. "That is what Tillett Gardens was, still is. Collaboration."