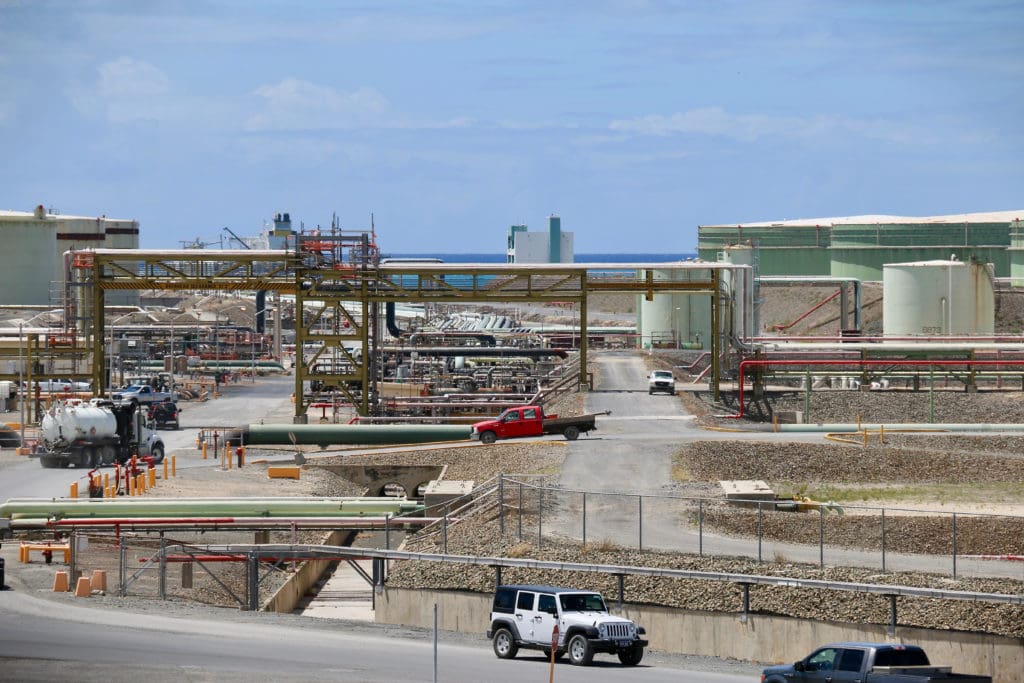 Reports of strong petroleum or other chemical odors in St. Croix this week were almost certainly unrelated to hazardous materials being removed from the oil refinery, Environmental Protection Agency officials said Thursday evening.
Although it was not clear exactly what people were smelling or why, the stink likely originated from transfers of fuel at the nearby container port, EPA officials said in a briefing broadcast online.
EPA experts were at the refinery as hazardous materials were removed. So were layered "concentric circles" of air monitoring equipment calibrated to detect a wide array of toxins that might potentially escape in the process, said Walter Mugdan, the deputy regional director. The monitors detected none of these chemicals.
"We have a very high degree of confidence that the odors people are smelling are not associated with anything going at the refinery," Mugdan said. "We believe many of them are associated with transfers from Ocean Point Terminals, standard procedures that go on routinely but there's obviously heightened awareness given what's going on."
It may be the same effect as gasoline wafting up while filling a car tank, he said. Now the EPA has a hotline available to report potential chemical leaks — 866-462-4789 — people who might have otherwise endured the stink have a place to turn.
Reports of chemical scents to the hotline automatically trigger investigation, he said, including mobilization of EPA staff with hand-held air monitoring devices.
Former Congressional Delegate Donna Christian-Christensen and others asked what exposure to such petroleum chemicals might be.
Mugdan and other EPA officials could only speculate, they said, given that they didn't know exactly what the chemicals were, their quantity, nor the duration of exposure. That said, he speculated that, in general, any reaction associated with direct exposure would dissipate soon after moving away from the chemical.
Meanwhile, chemical removal at the refinery was underway. Some 45,000 gallons of ammonia were removed, a process completed Sunday. The chemical was bound for the resale market, Mugdan said.
Port Hamilton, which owns the refinery that first opened in 1965, was not so lucky with the 279,000 gallons of amines solutions removed. While amines, an ammonia byproduct, are a valuable product used in dyes, drugs, and nylon production, once contaminated with hydrogen sulfide they become a liability, not an asset.
No one would want the St. Croix refinery's amines, said Doug Kodama, the EPA's chief of response and prevention and a superfund specialist.
Work to remove the amines started April 25 and continues. While those in the know originally thought its removal would require 55 shipping containers, with 54 full officials realized they needed six more. They are on their way to St. Croix now and, once full, will be transported to Deer Park, Texas, where the hazardous material will be disposed. After that, steam will be shot through the pipes and other amines storage areas to remove the rest of the lingering gas elements. The steam will be filtered through in-pipe scrubbers to remove the harmful chemicals and let through harmless air.
Preparation for removal of the liquified petroleum gas was complete, EPA officials said and could start, pending approval from EPA and the Department of Justice this week.
After a September 2022 inspection found the plant in dangerous state of disrepair, the EPA ordered Port Hamilton to remove toxic chemicals stored at the refinery.