Teddy Seymour was officially designated the first African American man to sail around the world solo when he completed his voyage on June 19, 1987, in Frederiksted, St. Croix, U.S. Virgin Islands.
Aboard his 35-foot (11m) Ericson, MK I, Alberg hull design, full keel, fiberglass boat entitled Love Song, Seymour circumnavigated the earth making only 12 stops. On Feb. 24, 1986, after years of preparation and with only a small pocket of money, Seymour began his sailing trip from his home port of St. Croix. He finished his trip exactly where he had started, a year and a half later.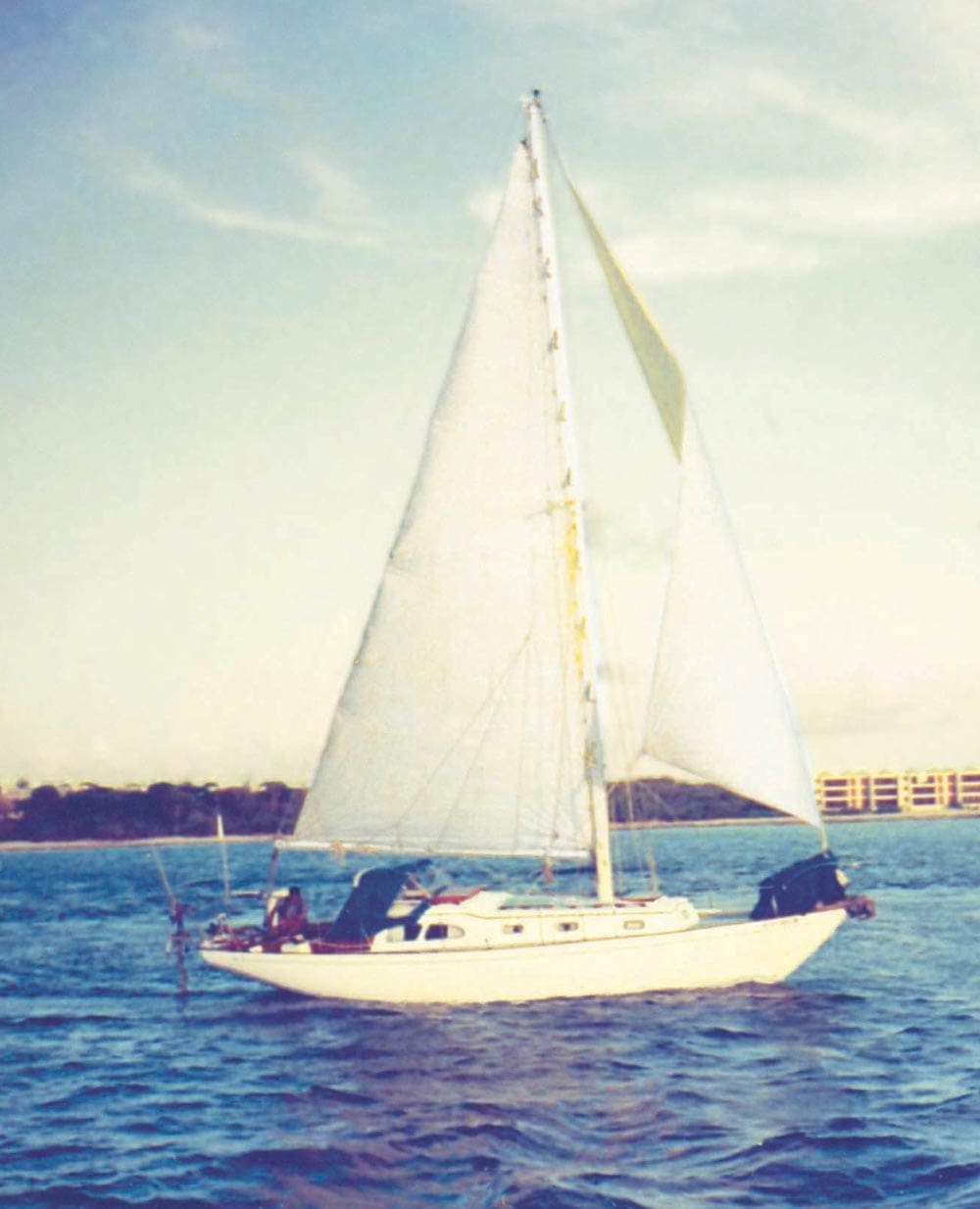 Teddy Seymour was born in Yonkers, NY, Oct. 1, 1941. He passed away on April 11, 2023, in Eugene, Oregon. He was 81. 
Teddy was the youngest of three children born to Ted and Grace Seymour. "We were each two years apart, all of us born in October, with our sister Carol being the oldest," said Teddy's sister Ruth Johnson.
"Money for three cakes in one month was a strain on the budget. However, my mother worked her magic and each of us had a cake on our birthday. We did not have a party. The cake was important to Ted because he had what we called 'a sweet tooth.'"
As we got older, we understood the sacrifices our mother made to keep food on the table, Ruth said. "We saved our money to buy her a mirror for the living room – something she always wanted."
"My brother Ted was an amazing man whom I loved and respected. He was extraordinary. In my opinion, he deserves the title GOAT [greatest of all time] as the first African American to circumnavigate the world solo."
Ted and his sisters lived across the street from the Otis Elevator factory. They could see the Palisades and the Hudson River from their third-floor apartment. Ted spent time with his companions fishing, jumping into the Hudson River, and daring each other to do more dangerous activities. Many of those activities were skills that he used later on his solo voyage.
According to Ruth, Teddy described himself as someone who takes risks and overcomes challenges to accomplish a goal. "He didn't start out with the dream of sailing solo, she said. He just wanted to sail." Somehow, Teddy envisioned a dream that he would accomplish. "No one could fathom that this skinny little Black boy would accomplish this historical feat by circumnavigating the globe solo."
"Our sister Carol was frequently called to the principal's office to take Teddy home from school because he was acting out and kicked the teacher. As a result, he received very little schooling in Kindergarten through 12th grade. Those behavioral patterns continued until the principal recognized his talent for running and assigned him to the track and cross-country coach, who became a mentor. One person can make a difference."
Ted believed the coach saw his talent and was a major influence on him becoming a cross-country track star. "Because Teddy was on the track team, the school won the City Championship," Ruth said.
Teddy won an athletic scholarship to attend college. He was a former All-American cross-country road runner star at Central State University in Wilberforce, Ohio. 
Richard Austin of St. Croix, originally from Dayton, Ohio, was Teddy's classmate. They both ran four consecutive years together at the HBCU [historical black college and university] Central State University.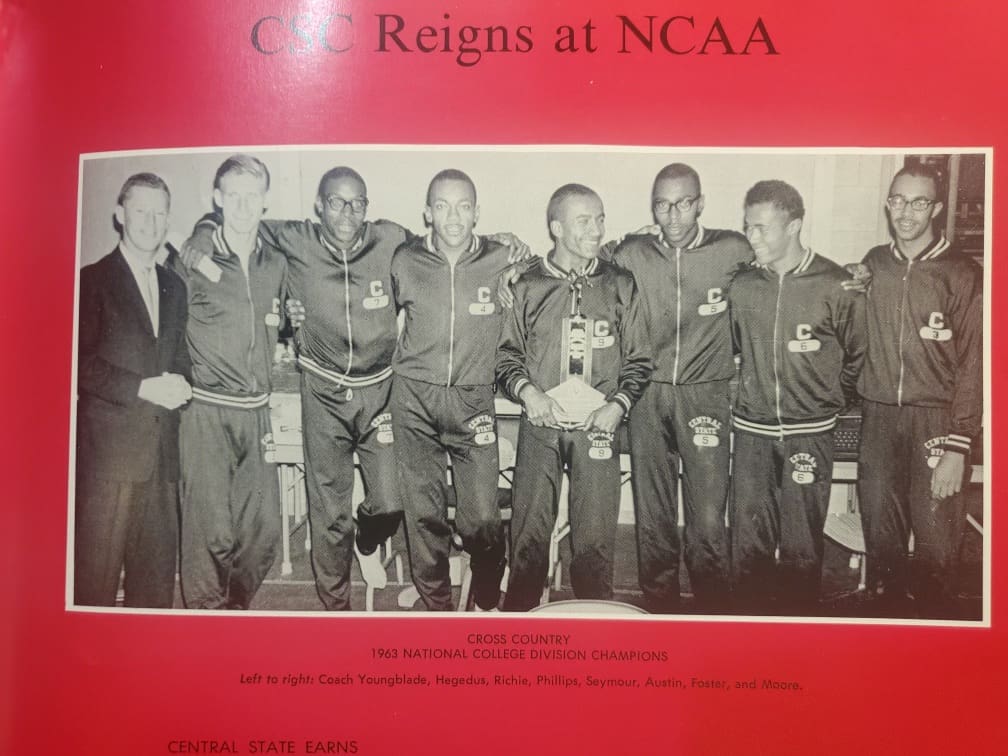 "We enjoyed a wonderful relationship up until his passing, " Richard said. Teddy and I were both on the Central State Cross Country National Collegiate Championship Team in 1962-1963. It was one of the most exciting aspects of our relationship. Teddy had a wonderful college track career because he was an All-American, both in cross-country and distance track. Central State had tremendous track teams with coach David Youngblade, who came to CSU in 1959 on a swimming scholarship.
"David had studied track techniques and, as a student, was hired as an assistant to the track coach. The track teams of the 80s still get together every year in October."
Austin recalled at their 1965 college graduation ceremony, four classmates, in their Dress White uniforms, received their commission in the U.S. Marine Corps. Ted received the rank of Captain.
David Youngblade coached the CSU track team over 55 years ago, he said. "It's the ties that bind to have relationships – it's not about your achievements in life – it's about relationships." 
"Teddy was different. He had his own way of doing things. He had a traumatic childhood in a segregated period of time," Youngblade said.
"People don't appreciate what my guys did in spite of all the obstacles. Somehow they got a college degree. That union card opened up doors.
"It was amazing…the dropout rate way back then. To finish four years was quite an accomplishment. Our school was unique. It nurtured the environment. It says amazing things about my guys."
Coach Youngblade shared that Teddy graduated with three indoor school records: Indoor Mile Record/4.15.1; Four Mile Relay Team/1 mile; and Distance Medley ¾ mile leg/3.8.1. 
Teddy was on the 1962 NCAA College Team. He made All-America, finishing 12th [first 15 make All-America] and was third finisher for CSU on that team.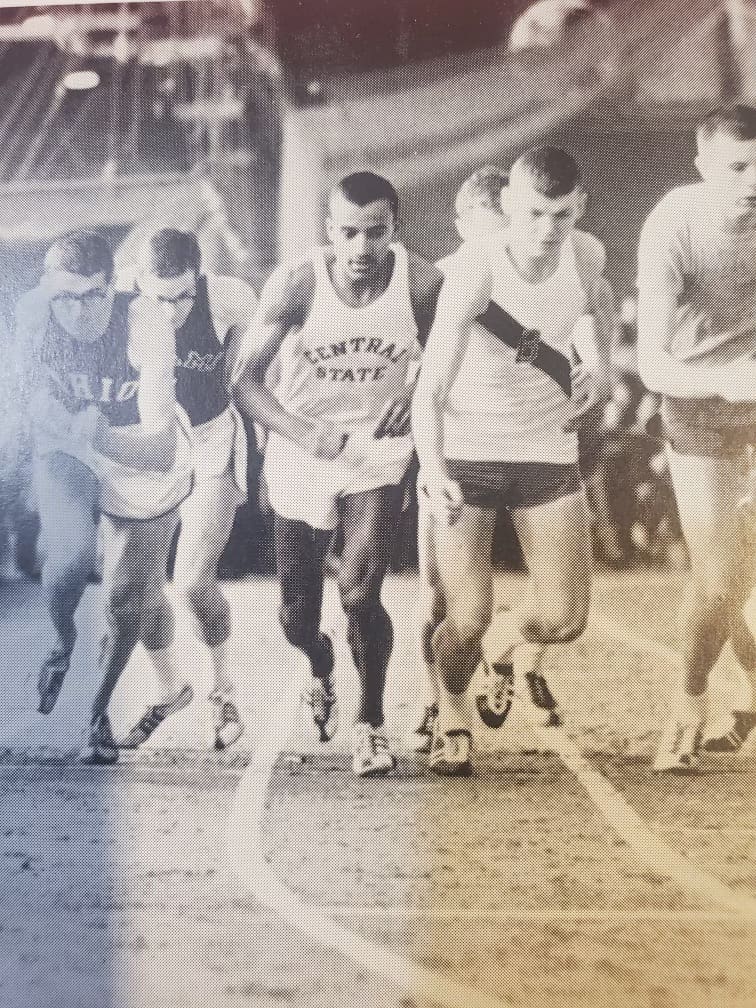 "All of the guys were grateful for the opportunities. At that time, it was a matter of segregation and finances. HBCUs were affordable. These kids had talent, structure, and discipline that prepared them for deadlines and time frames. It was a learning experience for all of us." 
Teddy's distance running prepared him for all that solitude on the boat, Coach Youngblade said. You're out there churning out the miles…often out there by yourself. It's [The Loneliness of the Long Distance Runner].
"There aren't too many people who can call their own tune in life. Teddy found his calling and he was happy on his boat. That is great."
In 1965, he began a seven-year stint in the U.S. Marine Corps, serving in Vietnam. Captain Seymour was a decorated combat veteran and the 31st Black officer commissioned.
After a managerial position at American Can Company in California, he graduated with a Master's degree in recreation administration from California State University. His teaching career started soon after. He loved teaching elementary school in California and later in the USVI.
Seymour sailed from Southern California to St. Croix, USVI, going through the Panama Canal. This began his love for long-distance sailing and would eventually lead to his solo circumnavigation.
Paul Barone tells the story of the relationship his late brother Charles had with Teddy. They knew each other in California and were running buddies. When Teddy yearned for a change of location, Charles invited him to vacation on St. Croix, where they stayed at his parents' retirement home. Teddy fell in love with St. Croix. He returned to the west coast, mapped out a plan, and sailed back to the island to make it his home. 
Around  2010-2012, Paul and Teddy met and became friends, with the bond of having similar experiences as ex-marines and serving in Vietnam. The two enjoyed a friendship over the years, sailed to the BVI, and spoke on the phone twice a month for many years. 
When Teddy relocated to the Virgin Islands, he took a job as a primary school teacher at the Charles H. Emanuel Elementary School on St. Croix.
John Jones met Ted in the early 80s when he and his wife Yemaya chartered a sail to St. John with Capt. Ted. Their friendship flourished as colleagues at the Charles H. Emanuel Elementary School in Frederiksted on St.Croix. 
"We were both primary teachers from 1987 thru 1995. Ted was really good with the kids, which I think was a result of his background as a Marine captain, a runner, and a sailor. He knew how to discipline his students. He was a positive influence – a good foundation – a good role model for his students – being Black and a male teaching in early childhood education."
Ted loved kosher franks and good coffee. When Ted took John's' Boy Scout Troops for a sail, his only request for recompense was kosher hot dogs. He was a connoisseur of coffee and vouched for the exquisite quality of MacDonald's brew, Jones said.
Robert "Tzaddie" Lindsey and Teddy met in 1978 in the town of Frederiksted, where Tzaddie had a woodworking shop. After helping Teddy with his boat repairs, the two men became friends for many years. 
"We hung out sometimes and Teddy stayed with me after Hurricane Hugo. 
He was set in his ways, which I could appreciate because I am too."
"I remember his energy directed toward the stock market every day."
"We kept in touch after Teddy moved to Oregon and talked on the phone every Saturday at 1 p.m. for about three hours," Tzaddie said. "He's a good buddy and I really miss him."
Greg Johnson referred to Ted as his mentor and the reason for his [Greg's] success as a runner. "We met in 1981 and worked out together. The workouts were grueling in speed and endurance about 5 p.m. every afternoon. He was a hard-core guy and 10 years my senior."
"When we raced, I would come out 'looking the part' in my Nike shoes and tights. Ted would appear in a t-shirt with holes and black, baggy shorts. We all chuckled at his image. Ted would finish the race first."
Ted's accomplishments were many and he would never brag about them, Greg recalled. He stayed on his boat in Bugby Hole during Hurricane Hugo. When the weather became really fierce, he dove into the water and stayed underneath until it was safe to come back up on the boat.
We always said, "You the man; You the man, Ted." 
Ted's colleagues told stories about him painting his car during his school prep periods with black paint in milk cartons using a paintbrush. There was a story about the broken lock on his car trunk. Ted drilled a hole in the trunk and used a padlock to keep his sailing gear safe inside.
Long before cell phones, Ted had an 800 number where he could be reached when he was needed. He frequently utilized a public pay phone by the waterfront in Christiansted to check on the stock market. 
According to his friends, Ted dabbled in the stock exchange for decades and was not to be disturbed when he was checking on his investments.
It was on St. Croix in the late 1980s that Gary Jett first met Seymour. "I was working at Howard University. A friend and I went to St. Croix to take a sailing course at the Annapolis Sailing School in Christiansted. There were 4-5 students in the course on a 50-foot sailboat with Ted as our captain. We spent a week sailing through the BVI's. It was a magical time for me. Coming from the cold and snowy places of the northern states to the Caribbean was like coming to paradise. Sunrise and sunset on a sailing vessel is magical. We learned many things that week from our captain Ted. It was an honor to be in the presence of the first Black man to solo circumnavigate the earth. I came to understand that being on a sailing vessel among the islands was a very spiritual place for me. After that course, I was hooked on sailing the islands. Whenever possible during the cold months, I would come down to St. Croix and we would sail the BVI's on his boat, Love Song, and on his next boat, Scrimshaw. Occasionally, I would visit Ted in his classroom, as he was a grade school teacher. I was amazed at the discipline in his classroom, but I should have known…Ted was a Marine. Over the years, a few friends and I would charter boats from companies in the BVI, down island, Grenada, Martinique, and other islands. We would always bring Ted aboard as our captain. Unfortunately, at that time, we very seldom saw other African Americans out sailing the islands. The discipline Ted learned in the Marines has always been a part of whatever he does, from working on his boat to training for races," Jett said. 
"To our sorely missed brother, see you on the other side."
Pat Nobbie said, "Ted and my husband, Steve Nobbie were great friends. Stephen worked on the Love Song, installing some custom woodwork before Ted set sail." Ted, Rita, Pat and Stephen took a long trip to Martinique, St. Lucia and Dominica. "We were anchored between the Pitons and awoke to see a baby elephant trotting on the shore. We drove through cocoa plantations in Dominica, the island of 365 rivers, with the fragrant smell of chocolate, which I'll never forget. We stopped the driver every few miles to jump in a waterfall. The best food was in Martinique. Night sailing all the way back, keeping watch under the stars, seeing turtles and dolphins, was magical."  When they arrived, our babies and toddlers sailed with us, too, Pat said. "One trip to St. Thomas and St. John, Ted caught a huge fish trolling off the back of the boat, cleaned it on the gunwale and popped it in his galley oven. We had fresh fish before we even reached back to St. Croix." 
Pat wrote this one morning on the way back from the BVI:
"Coming out of the hatch
On each new day
To the bright clean world
Painted like Monet"
"Stephen passed away in December 2014. I know they are sitting on a cloud somewhere drinking Heineken, laughing, and watching the sea below," from Pat Nobbie, Mia, Annie, and Christopher.
When Jared Worrell was a youngster, he spent a lot of time with Ted. "He was a great man. I have many great memories learning to line fish with him and many times sailing with him and Maya. He was always teaching us about sailing and making everything fun with us to make us laugh and enjoy our times with him. He was like another father to me. Much guidance to Ted's spirit in the onward journey to the next chapter of being."
Teddy was certified by sailing authorities as being the 161st person to make the circumnavigation solo, but he received little recognition other than mention in a few sailing magazines.  
On June 18, 1992, the Bay Star Banner wrote the following:  
"Lacking corporate sponsors and media coverage, Seymour's 16-month journey was in every bit a solo effort. 'The easy part was sailing around the world,' said the 51-year-old Seymour in a telephone interview with the Banner.'I've almost lost my life on many occasions.'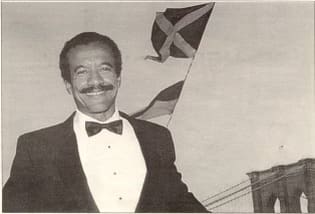 For his historic voyage, Teddy was recognized and received awards by the Joshua Slocum Society (the official certifier of solo circumnavigators), Museum of Yachting Hall of Fame in Newport, RI, Seamen's Church Institute of New York, and Proclamation of Recognition by the Legislature of the U.S. Virgin Islands, New York, and New Jersey.
Richard King interviewed Teddy and wrote an article about Teddy's encounter with an Orca Whale. The online story is at seahistory.org.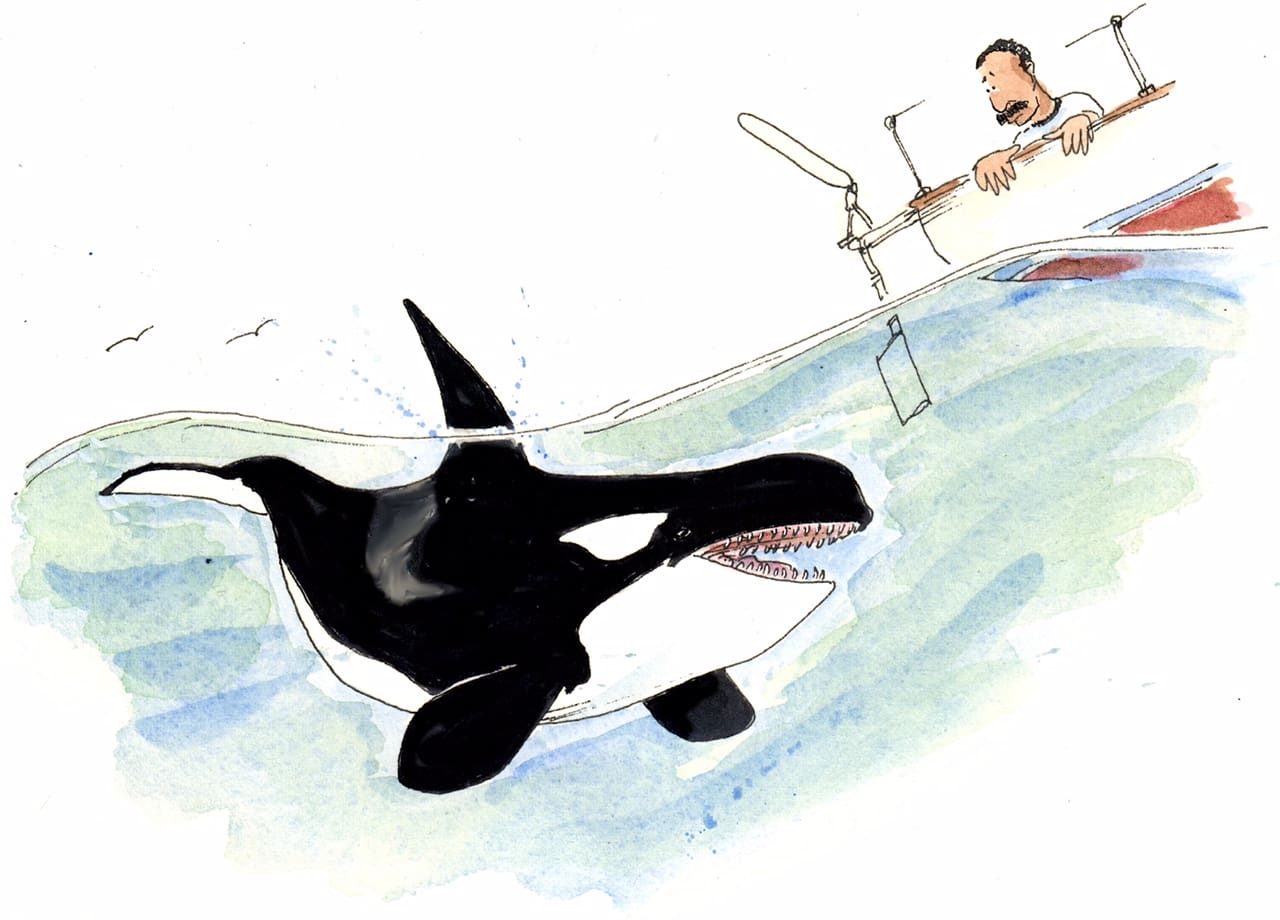 On March 23, 2019, Teddy's longtime friend and running buddy Wallace Williams read the V.I. Daily News headline, "He sailed the Seven Seas," about Black circumnavigator William Pinkney. The article touted Pinkney as being the first Black man to sail around the world solo. Williams wrote an opinion article to the editor with details of Teddy's solo voyage that the V.I. Daily News published Apr. 9, 2019.
The Virgin Islands PACE Runners hosts the Annual Toast-To-The-Captain 8.4 Mile Road Race on St. Croix. It was organized by Williams for his friend, Teddy Seymour, while he was at sea to honor him, knowing he was on a very dangerous voyage (the 33rd annual race was held that year, in February).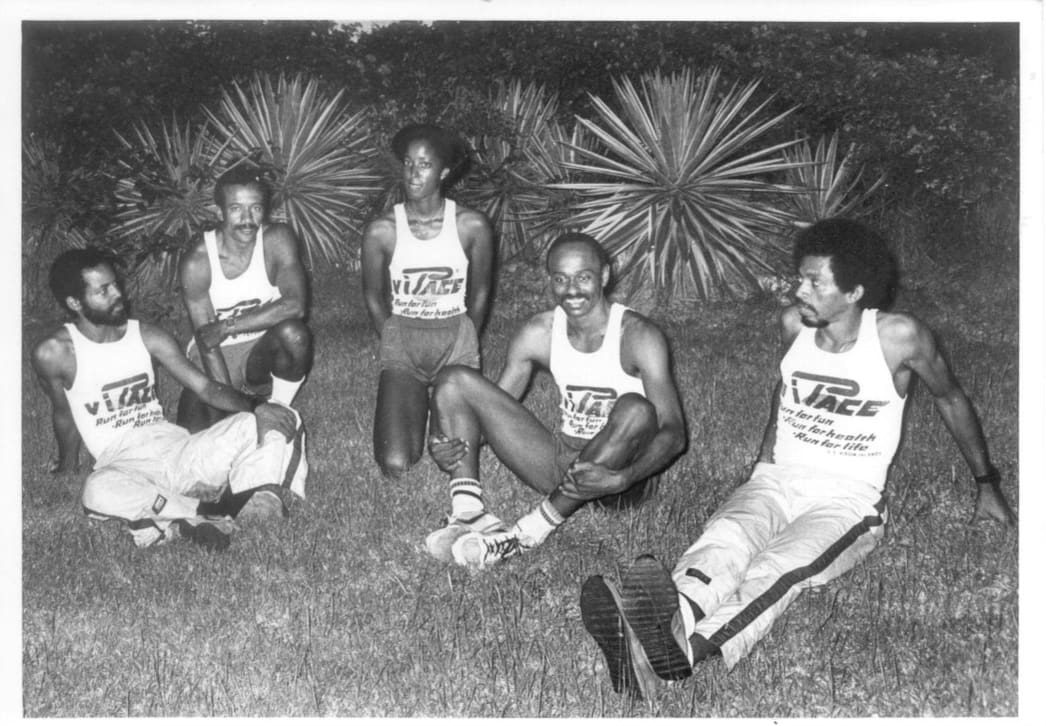 Wallace Williams and Teddy had a long history together. "I met him as a runner, a sailor, a teacher, and as a very pragmatic, goal-oriented person. We used to talk quite a bit. He was a forward artillery observer in the Marines, who called in air strikes, which was obviously a tough situation for him. We went to movies often to see some of the military war films. Ted looked at them from a military/technical standpoint – not that he was proud to have been in Viet Nam. That was a very tough subject for Ted…it really was. He would sometimes talk about very deep subjects but then become upset when he had enough.
"He really loved children. He would invite Marlon [Williams] and me to his classroom. We would talk about running and the Olympics. I would show the students my Olympic uniform and they would 'freak out' seeing the uniforms."
"To see Ted with children was unbelievable. He had a numbers project teaching math. He would get a bunch of key blanks from a locksmith and use them in teaching numbers. He taught them how to count – how to share – he taught them discipline. If students got out of line, he had a punishment for them to stand in the corner. The class would make the decision: "What's wrong with James today? James isn't paying attention. What should James do today? James should go to the corner. James would have to stand in the corner." It was great to see him work with children," Wallace said.
"I have no recollections of him talking about the solo sail. It might have been his goal, but he didn't advertise it. He worked two or three jobs, and when he got it together he researched. With Wallace as his friend and [Florence Williams Library] head librarian, it was Ted's library away from home. Wallace would order maps for him when he didn't find what he wanted in the general collection.  
There were 'Ham Radio' guys on St. Croix who could pick up signals on Ted's solo sail. Ted dropped cards to Wallace when he made stops."The stories he told about his stops were unbelievable," Wallace said. There were tough times in the Mediterranean because of the weather, but Ted was told to sail around South Africa because of Apartheid. 
Wallace received a call from one of the 'Ham Radio' guys that Ted was on the other side of Buck Island. Ted sailed home to St. Croix the next day.
"Vice-President George Bush was on St. Croix at that time, and we couldn't get the media down to greet him," Wallace said.
Teddy is remembered for being a humble man who was a sailor, a runner, a marine, and a teacher.
He loved biology, libraries, jokes, and classical music.
He will be greatly missed by many friends and family members, including his three children, Bruce, Keith, and Maya and his sister Ruth Johnson.
Funeral Service for Teddy Seymour:
June 9, 1 p.m. Please arrive by 12:30-12:45 p.m.
Quantico National Cemetery
18424 Joplin Rd., Triangle, VA 22172
Go to Capt. Teddy's everloved.com by 12:30-12:45 p.m. for Zoom link
Reception after Funeral Service:
June 9, 2:30 p.m.
Madigan's Waterfront
201 Mill St. Occoquan Historic District
VA 22125
For more information:
Capt. Teddy Seymour Memorial Website
seahistory.org (Teddy Seymour's ORCA) by Richard King
Let's not forget Teddy Seymour's contributions to sailing l Opinion l