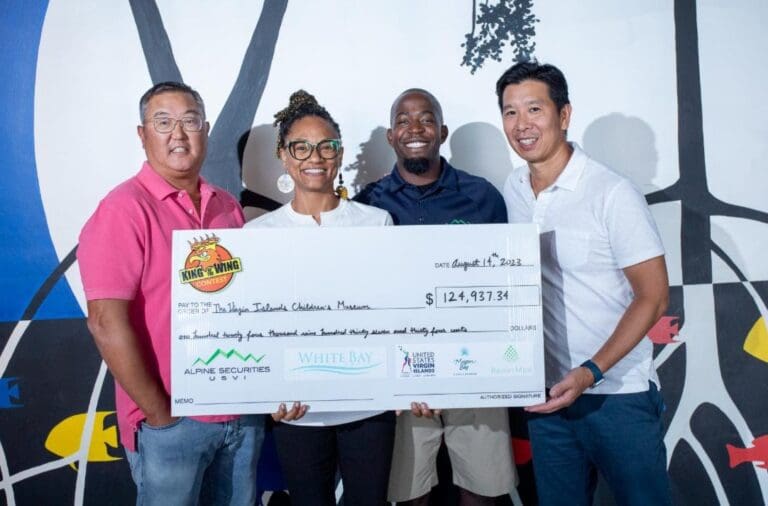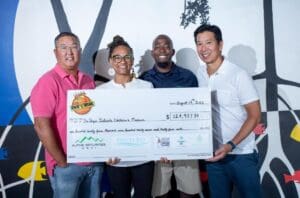 The check presentation ceremony for the 12th annual King of the Wing contest took place on Monday, Aug. 14, at 1 p.m., at the V.I. Children's Museum (VICM) on St. Thomas. Alpine and White Bay Group, organizers of the competition, revealed the donation amount from this year's event that took place on June 10 and presented a check in the amount of $124,937.34 to Executive Director Chantel Hoheb and her museum staff.
The King of the Wing contest is an annual chicken wing cook-off held at Magens Bay Beach. Special guests – rapper, singer and record producer, French Montana personally crowned the winners and performed live for the crowd. Joining the panel of judges this year was mŏkbar, chef/owner, and Iron Chef winner Esther Choi Teams consisting of top local restaurants, businesses, organizations and chicken wing enthusiasts prepared an impressive variety of delicious wings to raise money for a great cause!
This year's winner, in the Restaurant Division, was The Tap Room / St. John Brewers, a laid-back eatery and brewpub in Mongoose Junction in Cruz Bay. The V.I. Water and Power Authority won Best Overall Wings and the Non-Restaurant Division.
All proceeds from this year's event were donated to the Virgin Islands Children's Museum, which is a place where the Virgin Islands community can have unique and meaningful experiences through fun, high-quality exhibits and programs. Located on St. Thomas, the museum's mission is to bring children and families together in an interactive, educational space where dynamic play inspires a passion for learning.
"The organizers and the Children's Museum have to thank the donors and the community for consistently coming out and showing their love and support for the King of the Wing," said Andrew Park, VICM Board member and partner at Alpine. "We could not do it without everyone's help and participation!"
Starting in 2010, King of the Wing has now raised $783,623 for local non-profits over the years. KOW 2023 set records with thousands of people in attendance, 46 participating teams and $124,937.34 raised for the VI Children's Museum! If there are any questions, call Vernon Araujo at 714-2020, email kingofthewingvi@gmail.com or visit www.kowvi.com. You can also follow King of the Wing on Facebook, Instagram or Twitter. To find out more about the VI Children's Museum, visit its website at https://www.vichildrensmuseum.org/.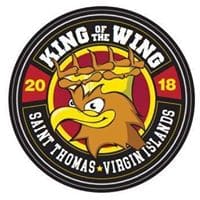 Congratulations to the
2023 King of the Wing Winners 
Overall Winner (King of the Wing):
V.I. Water and Power Authority
Restaurant Division:
1st Place- St. John Brewers – Tap Room
2nd Place- Surf & Turf Bistro / Island Hope Wines
3rd Place- Hot on the Spot
Non-restaurant Division:
1st Place- V.I. Water & Power Authority
2nd Place- Sunfari / Patagon
3rd Place- Viya
Best Decorated Booth:
Mystic Valley
Special Seasoned Participant Award
Caribbean Saloon for being the only team to participate all 12 years!
Thanks to all our judges and especially the celebrity judges Esther Choi and Jaeki Cho.