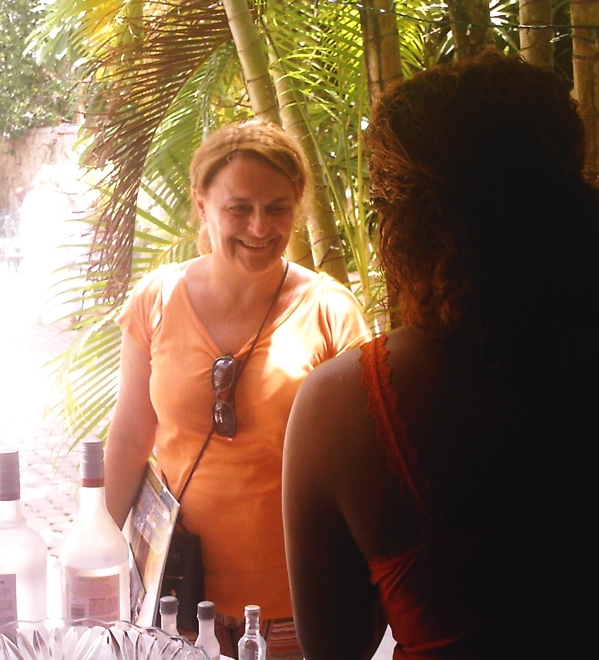 Paolo Ventisette's reaction to three days touring St. Croix was similar to that of many visitors.
"It's a paradise," he said Monday. "Really, it's really a paradise."
But unlike most tourists, Ventisette and his 10 traveling companions can do something about it. The 11 visitors from Italy all work in the tourism industry and were stopping at the Caribbean Arts Center Museum for a rum tasting as part of their weeklong tour of the islands, sponsored by the V.I. Department of Tourism.
When they get home, they'll have plenty to tell their clients about why a visit to the territory might be worth their time.
In three days on St. Croix, the tourism operators stayed at the Buccaneer, visited Point Udall to the east, extensively toured Christiansted (and bought many, many Crucian bracelets) spent a day at Buck Island, and finished up on Monday with a tour of the west end of the island.
Then, after a luncheon at the Carambola, they were scheduled to board a Sea Born float plane to travel to St. Thomas, where they will spend another three days getting to know that island. They'll finish off with a day on St. John, visiting V.I. National Park.
Buck Island made a major impact on the visitors, especially Gianluca Sposito, who said the beach there was "amazing." Buck Island, he said, was as beautiful as any place in the Caribbean that he's seen.
Sylvia Brunetti said she preferred the west end to the dryer east end of St. Croix.
"It's so green," she said.
While all the tourists loved their stay on St. Croix, they agreed that the territory is a hard sell for the typical Italian tourists. For most Italians, visiting the Caribbean means going to a resort in the Dominican Republic, Cuba or Mexico. There they stay in a place that's as much like Italy as possible, but with better weather and beaches.
There's also an investment in time travelers from Italy have to make. It takes 22 hours of flying to get to the territory, and they have to spend a night in some layover city. The way the planes are scheduled, they said, the planes from Italy typically arrive in New York or Miami after planes bound to the territory from those cities have already departed. So the Italian tourist is likely to plan to spend several days in that city before coming south.
That's an investment of time and money that has to be sold to the tourists.
But the party from Italy agreed that the trip would be worth it, because of what they had seen of the island's many resources. And St. Croix was just the start. They still have two more islands to visit.
The tour is being conducted by Olga Mazzoni, who works for the V.I. Department of Tourism as its official representative in Italy. The rum tasting was presented by Cruzan Barrel.