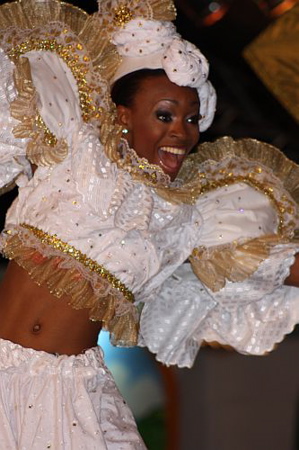 The three contestants stood on stage a little after 11 p.m. Saturday, trembling with anticipation in their sparkling evening gowns as they waited for the judges to announce their decision.
But before the awards went out and the envelope was even opened, many of the spectators packed into Lionel Roberts Stadium appeared to have already made up their minds.
"Queen Shawntay," some screamed, piercing the silent night. "Yeah, Shawntay!"
On stage, the contestants shifted and continued to smile, as the event's master of ceremonies – beloved radio personality and Carnival stalwart Irvin "Brownie" Brown – began to hand out the awards. Trophies for the first four were piled at the feet of Charlotte Amalie High School senior Britanny Robinson, who clutched at a bouquet of long-stemmed red roses as she waved once the audience burst out in applause.
Robinson picked up the People's Choice/Popularity award, Miss Photogenic, Miss Cooperative and Miss Congeniality – fitting, it seemed, as she lit up the night with her smile and easy grace while she moved through the competition.
The judging for this year's Carnival Queen Selection show actually began about two months ago, when the contestants were first introduced at ceremonies held on St. Thomas, and it was clear from the awards she received that Robinson had made her mark early.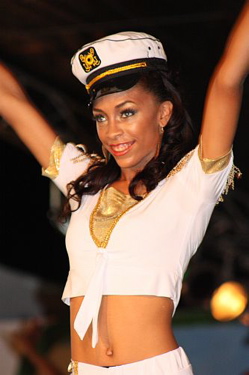 But it was what unfolded on stage Saturday night – the costumes, the talent showcase and the final question and answer segment – that really seemed to sway the judges, who awarded Best Historical/Cultural Costume, Best Talent, Best Evening Wear and Impromptu to 18-year-old Shawntay Henry.
Henry – also a CAHS senior – is no stranger to competition, or even to winning competitions. Two years ago, she became the first U.S. Virgin Islander to win the national Poetry Out Loud Competition – a feat that resonated in her performance Saturday as she used the spoken word to pay tribute during the talent segment to Queen Coziah, a legendary local figure who fought in the late 19th-century for women's rights.
Swathed in white, from a gold trimmed turban to a full flowing skirt, Henry invited the audience to learn the bamboula, the dance for which Coziah was famous. Henry urged onlookers to read the poetry of her body as she danced, and when she finished, the stadium erupted in applause.
But Henry also had one more opponent to topple. The lone contestant from Ivanna Eudora Kean High School, 18-year-old Razzilee Oquendo had just as much of a cheering section, which was evident by the blasts from the air horns that echoed through the night. Playing up the rivalry between the two schools, Oquendo accentuated her outfits with variations of red, from her bathing suit in the swimwear competition to her evening gown – a dazzling affair with a white crystal wraparound collar attached to the crimson bodice.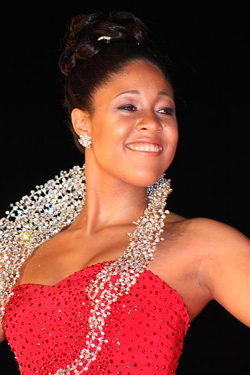 Oquendo's performances paid tribute Saturday to Guy Benjamin, the mothers of children affected by the recent earthquake in Haiti and to the Broadway stage, which popped up during the talent competition as Oquendo sang and danced her heart out in a segment dubbed "Broadway Presents V.I. Carnival 2010."
For weeks, discussion has bubbled around the faceoff between Oquendo and Henry.
But after the awards were presented, it was clear that the crowd had called it. Henry's face lit up when she received her trophies, and she started to cry while the event's master of ceremonies, Brown, opened the envelope and said, "And this year's Carnival Queen is…."
When Henry's name was announced the stands began to empty, and the bodies began rushing to the stage, anxious to snap a photo with their cell phones or cameras. She met them at the end, reaching her hand over like a rock star greeting fans at a concert.
This is the 12th year in a row that the island's Carnival Queen has hailed from CAHS, according to the school's principal Carmen Howell, whose T-shirt boasted pictures of both Henry and Robinson. "So we've grown used to this."
As the screaming continued and the music died down, Henry remained on stage until more than half of the stadium had gone home, still giving out hugs and receiving congratulations from her supporters.
"I'm at a loss for words," she said later. "It's such a wonderful feeling."
Henry said she means to live out the reign of 2009 Carnival Queen Karence DeCosta, whose life was cut short last year after she died in a car crash a few hours after her high school graduation. DeCosta's performance during last year's Queen Selection Show was screened to the audience Saturday night – replacing the traditional last walk, when the previous year's Carnival Queen makes her last appearance on stage with the crown.
Gov. John deJongh Jr. and Lorna Freeman-Dennis — DeCosta's chaperone for the 2009 competition – were also on hand to make presentations to DeCosta's mother, Karel Dore, after the audience was asked to stand for a moment of silence.
DeJongh summed up what this year's queen contestants had to say during the question and answer segment, when they were asked to describe two changes that the territory's residents should "make today" to ensure their future tomorrow.
Their answers put out the call for parents to become more involved with their children, for education to be made a priority issue and for there to be a substantial drop in crime. And it's time for those things to happen, deJongh said.
Dore, wearing a turquoise shirt with her daughter's name on it, continued to dab at her eyes as the presentation continued and ended with Freeman-Dennis performing Beyonce's "Halo" — the last song she said DeCosta had practiced before her death.
"She was simply gracious … simply a lady," Freeman-Dennis said during the presentation.