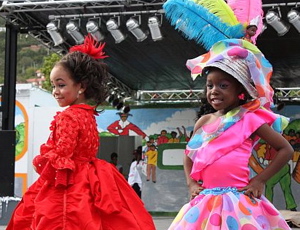 Mezo Battiste knows how to spin a top.
Standing on stage Sunday night, he winds the string around the red toy, flicks his hand back and releases it, while dozens of children line up in front of him, watching in awe. Then, quickly – before it stops – Battiste takes the string and picks up the top, putting it into the palm of the closest youngster.
The top continues to spin in his hand, and the children gasp, all itching to try it out.
"There's no trick to it," Battiste said later about his performance. "But it is something you gotta know how to do."
Battiste said traditional games such as top spinning are something he grew up with – an "old time thing," he said he's tried to pass on to his three grandchildren.
"They're all here with me tonight," he said, pointing them out. "They're going to help teach the other kids what to do."
Top spinning was just one of the many amusements featured during this year's Traditional Games, an annual part of the Carnival festivities aimed at keeping the innocence and fun of times past alive in the present day. There were no video games or television sets, but the dozens of youngsters that came to Lionel Roberts Stadium Sunday with mom and dad didn't seem to mind.
Instead, the field was littered with tots blowing endless streams of bubbles, snacking on gooey ice cream cones or snuggling up in their strollers with a Dora the Explorer doll. There was also no shortage of youngsters for this year's Toddler's Derby, which pitted baby against baby in the ultimate crawling or walking competition.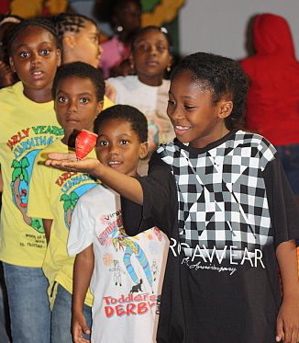 "This little girl was crawling early," Letishma Smith said of her seven-month-old daughter Kaielle Corea, who won the first crawling race. "She was moving around at five months, so we knew she had it in the bag."
The costumes came out during the Best Dressed Doll Competition, a highlight for the young girls in the crowd who moved closer to the stage as four-year-old Taezha Maduro and five-year-old Kalieh Rondon glided over the stage dressed in their petite wear.
Maduro, the winner of the competition, modeled a "Bacchanal Barbie" look, while a shy Rondon sashayed around dressed as Marie Antoinette.
This year's Carnival events continue Monday at 6 p.m. with the traditional Carnival at Schneider Regional Medical Center.