At 6:30 a.m. Sunday, the conch shell will be blown in Christiansted Harbor, signaling the beginning of the 22nd annual St. Croix Ironman 70.3 Triathlon.
Waves of swimmers will dive into the sea from the beach on Protestant Cay, swim 1.5 miles, then jump on their bikes at Fort Christiansvaern and pedal 56 grueling miles around St. Croix. The last leg is a 13.1 mile run in 80 degree temperatures.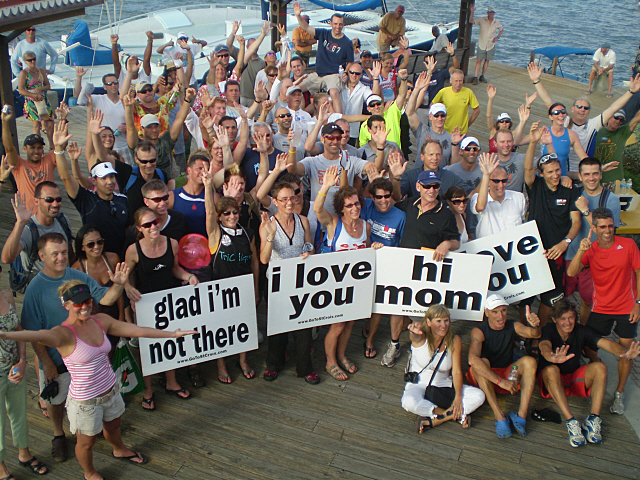 The top male athlete will likely finish around 10:30 a.m. and the first female should come in about 20 minutes later. Craig Alexander is favored to win in the men's race and Mirinda Carfrae is expected to be the first woman over the finish line back at the fort. The purse is $50,000 divided among the top 10 finishers with the first-place male and female taking home $7,000 each.
Tom Guthrie, race director, said early Friday around 600 off-island athletes had registered for the triathlon. He said back in 1988 there was half that amount that took part in the race.
"The great thing about the race on St. Croix is it's a qualifier race for two major world championships," Guthrie said.
He said there are close to 800 volunteers that do everything from handing out water to giving massages.
The Christiansted Retail Association sponsored Jump Up Friday evening where visiting athletes and locals enjoyed a rousing street party with food, entertainment, and shopping.
Ryan DeCook, from Michigan, was going to eat dinner at Angry Nates, then rest up and relax. He said in preparation for Sunday he will drink lots of water and load up on carbohydrates and electrolytes.
Julio Moreno, a race participant from Ecuador, was drinking Happy Man Tea at Lalita, a vegan and raw food restaurant. "I'll let you know tomorrow how the tea makes me feel," Moreno said, laughing.
A group of athletes from Michigan, who race and give back to the local community, were networking and signing up volunteers to resurface the basketball court Monday at the Boys and Girls Club in Christiansted. Billy Downs of missiontri.com said anyone is welcome to help starting at 10 a.m.