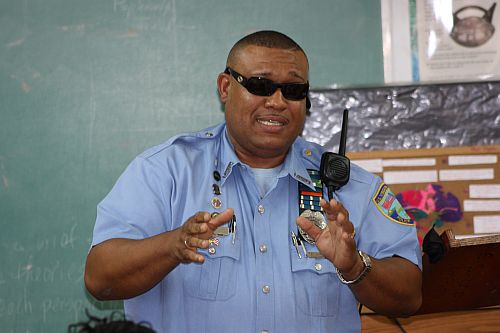 For the past 11 years, Officer Roy Chesterfield has been fighting juvenile delinquency on the inside by targeting students in the local public schools and letting them see firsthand the consequences of their actions.
And the 35 students graduating Wednesday from Chesterfield's "The Law and You" program at Ivanna Eudora Kean High School said they couldn't be more grateful for his efforts.
"Before I became involved in this program, I never used to ignore people when they came to me with all their problems," said Kean senior Samorra Pratt. "I used to get into fights. But the program has taught me how to control my temper, how to let things go and how to really deal with these problems when they come up."
For Chesterfield, the focus of the program is "responsibility" and really showing the students that they alone will be blamed for their actions. Parents do play a role in disciplining their kids, but at some point, the student ultimately makes the decision to carry a knife or fire a gun, he said.
"I'm trying to change their mindset, so they can grow, grow up to be healthy, productive adults," he said Wednesday, at ceremonies held at the St. Thomas high school.
Chesterfield's methods are direct. In order to promote high standards, he makes sure his students bring in grades of 80 percent and above, or tells them to do push-ups. And to deter them from turning to a life of crime, he takes them on field trips to the courts, jails and the local morgue, where the students get up-close and personal with everything from the inmates to the dead bodies waiting to be processed.
"What was going to the jail like?" District Police Chief Rodney Querrard asked the graduates Wednesday, after making a brief presentation at the ceremony.
"Sad," many said in unison.
Chesterfield said the goal of the field trips is to show the students all three components of "bad decision making."
"It's more of a psychology class, where the students get to study behavior, and behavioral patterns, so they can really come out and make more informed decisions," he said. "They learn about what the signs are, what their rights are and how to stay out of trouble."
Some of the students said learning about their rights showed them exactly what not to do when they suddenly find themselves in the midst of a confrontation. Under the right circumstances, even self-defense might be a crime, some said.
"We were taught about how to behave in certain situations," said 17-year-old Tristan Gerson, currently a junior at Kean. "Like if someone comes to fight me and I go to defend myself, I know now that I can't use weapons in the fight because then I might end up in jail."
Chesterfield said his experiences with the students often take him well beyond the realm of juvenile prevention and into the very personal aspects of their lives. That's why the program also offers research and service components, where students actually work on solving crimes committed in the schools and help Chesterfield pinpoint what areas of the campus are safe and unsafe.
Speaking during Wednesday's ceremonies, Querrard told students to pass on the lessons they've learned in the program to others, and show them that fighting is never the answer.
"Take whatever you get from this program literally, take it seriously," Querrard said. "This is our way of getting this kind of information out to you. The word 'retaliation' is the word of the day — please don't get caught up in it…. It's not worth it," Querrard said.