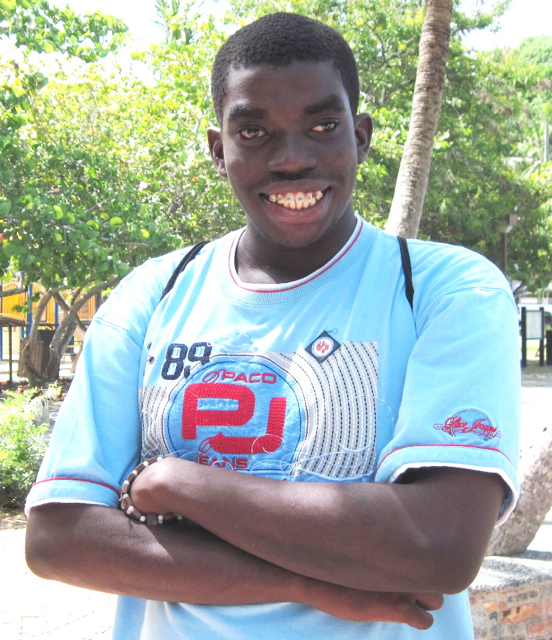 Timmy Newton bubbles with excitement when he talks about what's ahead.
"Graduating, summer vacation, college. It's like overwhelming goodness," he said.
Newton, 19 and a St. John resident, is graduating from 7th Day Adventist School on St. Thomas. His experience as a commuter will stand him in good stead because in the fall he's going to the University of the Virgin Islands with the help of a Rotary Club of St. John scholarship. The four-year scholarship, called the Javon Jade Alfred scholarship, gives Newton at total of $12,500 to help with his education.
"We picked him because his grades were good, his community service and the Children's Carnival Village. We think he'll do well," said John Fuller, a member of the Rotary's Scholarship Committee.
Newton volunteered for many years teaching computer skills to both senior citizens and young people. He's also volunteered several times at the annual Rotary-sponsored Children's Carnival Village held in conjunction with St. John Festival.
In his scholarship application, he wrote an essay on excellence.
"You should try to strive to live life to the fullest. You shouldn't aim for second best but should always aim for the top," he said, outlining what he wrote on his essay.
He plans to study computer science at UVI since he's excellent at computer video games. He said he'd like to design computer games once that part of his education is over.
"I think I can come up with some good ideas," he said.
At UVI, Newton also plans to explore extracurricular activities that aren't available on St. John.
"I heard they have martial arts," he said.
However, he plans to head for chef's school, probably near his sisters in Florida, once he's wrapped up the computer science portion of his education.
Ticking off his culinary repertoire, he said he can do turkey burgers, noodles, mac and cheese, and most recently, coleslaw.
"Simple things for now but I want to expand on that," he said.
He's spent the school year focusing on his studies, but said he'd like to find a summer job once graduation festivities are finished.
Of course, he plans to make time to improve his baseball skills. He said he's good at hitting and catching, but want to brush up his pitching skills.
And he definitely likes to go to the beach. Maho Bay Beach is his favorite.
"It's so peaceful and tranquil," he said of the beach.
When he has time to relax, Newton said he takes care of his nephew, Kobe Liburd, 8, and plays video games. "Super Smash Bros. Brawl" is his current favorite.
"It's kind of violent, but just punching and stuff. No blood. No gore. It's a lot of fun," he said.
And he reads. He's currently reading "Eragon," which he explained was about a boy who finds a blue egg that hatches into a dragon.
"And he has to save the world," Newton said.
Born on St. Thomas because St. John has no hospital, Newton grew up on St. John and went to Pine Peace School, now Gifft Hill School, for his elementary education. He lives in Cruz Bay with his mother, Yvonne Morton. He has five sisters and brothers scattered here and there.
His father, Robert Newton, said he's most proud of his son.