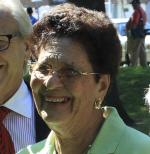 It's been five cancer-free years for Veronica de Laubanque, and she celebrated that anniversary Friday in Philadelphia with other cancer survivors, family, friends and current cancer patients.
Along with 150 survivors, the 83-year-old de Laubanque, who lives in Estate Tutu, returned to the Cancer Treatment Centers of America's Philadelphia site to be honored at the center's "Celebrate Life" ceremonies. The event commemorates the courage and tenacity of survivors and the important example of hope they offer to current patients.
De Laubanque's family traveled with her from St. Thomas for the event.
"I have my son with me, my daughter and my sister came," De Laubanque said. "It is a great day for me. Oh yes."
The celebrants participated in several events, including a tree-planting ceremony, hope rounds (visiting current patients), and a dove release. De Laubanque's watched as her name was unveiled as a bronze leaf on the Center's Tree of Life.
Five years ago when she discovered she had cancer, de Laubanque initially learned about CTCA through a friend of her daughter. She had breast cancer surgery December of 2005. Since then, her periodic checkups have all remained cancer-free, according to a release from the center.
"I took sick and they [St. Thomas] didn't have a cancer center then," de Laubanque said. "I really don't have any other experience, but the people are very warm, loving and caring and treat you like a real person. I would say they are one of the best hospitals."
De Laubanque volunteers with the local chapter of the Cancer Society and next weekend will be manning the survivor's registration table at the American Cancer Society's Relay for Life at Charlotte Amalie High School.
De Laubanque encouraged others with cancer as part of the group's hope rounds at the hospital.
"They have to have faith and hope and don't give up," de Laubanque said. "You just have to keep on fighting and believe. All things are possible if you only believe."